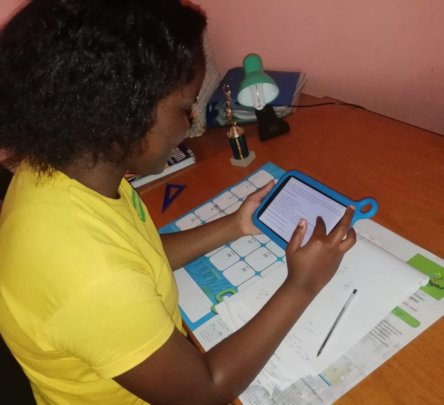 While 2020 was a year full of challenges due to COVID-19, we are proud to have been able to adapt and continue providing academic and psychosocial support to learners in our programmes who needed our support more than ever.
As soon as the national lockdown was announced, we immediately shifted our programmes online. We established WhatsApp groups, categorised by grade, and by subject stream. With the support of our donors, who provided funding towards data, we managed to purchase data bundles for learners in our programmes to ensure their learning continued. We also managed to purchase cell phones for learners that were in Grade 12, to ensure they received adequate support in preparation for the final exams.
The participation and engagement rates in the WhatsApp groups met our expected target of 40% and 60% of the learners respectively, therefore the uptake of the online tutoring was positive. Given the realities of device access and data challenges, we were encouraged by the number of learners we were able to reach.
There were opportunities that emerged out of the crisis. With the shift to online learning, we had better access to and participation of the grade 12 learners. Ordinarily, a lot of schools have their own after school activities, which are unfortunately not geared towards learner individual support. For 2021, we will continue supporting Grade 12 learners with online support and provide data.
We were very fortunate to have the support of our donors and parents during this pandemic as they enabled us to continue to provide support to learners. Our mission remains the same: To enable disadvantaged youth to pull themselves and each other out of poverty and into tertiary education and/or employment. We will continue to be the beacon of hope for young people in under-resourced communities.
"The WhatsApp groups have helped me through hard times of studying. Studying by my own the whole day is not an easy thing to do but I chose to study 5 hours at midnight while watching 319 and I'm grateful that IkamvaYouth has exercises for us to practice with and thank you for being there for us through hardships" - Thembela, grade 12
"The online platform has challenged me to know the learners better in order to keep them motivated and committed. Learners appreciate a word of encouragement every now and then and the airtime incentives also encourage them to participate. I have seen learners practicing peer to peer support more on the platform. I am happy by the progress I see daily from the learners." - Mashudu, tutor