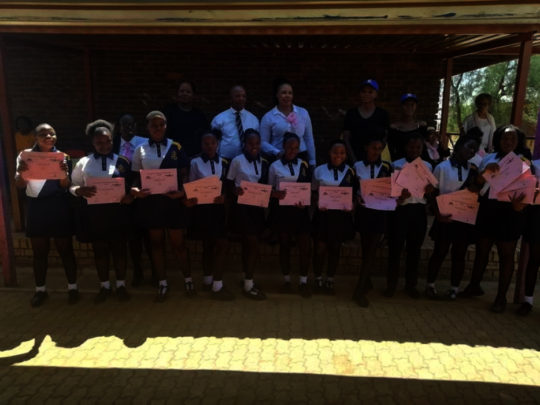 "No country can ever truly flourish if it stifles the potential of its women and deprives itself of the contributions of half of its citizens". Michelle Obama
The IY Mahikeng branch has inspired young women in their community to excel academically, expand their intellect, enabling them to one day access post-school opportunities and reach their goals. Success stories shared by the Mafikeng Branch reassures us at IY, our donors and supporters that we are, indeed, contributing towards changing the lives of learners across our branches.
Setumo Secondary School, Mahikeng held an awards ceremony, awarding their top-performing learners. Seven out of the top 10 performing learners from the school are Ikamvanites from the Mahikeng branch. All seven young women have been consistent in attending IY tutoring sessions and workshops. On the prize giving ceremony, the girls left the stage calling out IkamvaYouth's name in excitement.
With our track record of achieving 85-100% matric pass rate, we are confident in the young learners' performance as they sit for their exams in the final term.
We connected with one of the top learners, Kesaobaka, (Grade 12), who joined IkamvaYouth in the second term of 2017 while she was in Grade 10 and she had this to say: I joined the programme in Grade 10 after failing Maths and Physics. I was hurt and disappointed in myself. I wanted help from everyone I thought could help me improve my marks. The IkamvaYouth staff came to our school to recruit learners. I never looked back. I joined and convinced a few of my classmates to join as well. Ever since joining the programme, my marks improved and today I am one of my school's top ten of high performing learners
Full circle stories are always moments of pride for the organisation. Not only do we celebrate the leaners, our volunteer tutors also bring the IY success stories full circle.
Onalenna joined IkamvaYouth's Mahikeng Branch in 2016 as an Accounting, Economics and Business Studies tutor while she was still studying. She was, at the beginning of the year awarded a BCom Logistics Management degree from the North West University, Mafikeng Campus. She became one of few graduates from her community who managed to complete their studies. She is grateful for all the assistance and financial help she received from various individuals and to IkamvaYouth for believing in her and help to realise her dream of getting an education. She says,
"I would like all people, young and old, to realise that education is the only key to becoming free and independent. Taking your education seriously, even when the road is an uphill one, gives you the opportunity to climb out of poverty".
We are grateful to all our supporters and partners who invest in creating these IY stories, impacting young women such as Kesaobaka and Onalena. Your contribution has not only reached these young women, but many learners and tutors from across our 17 branches.