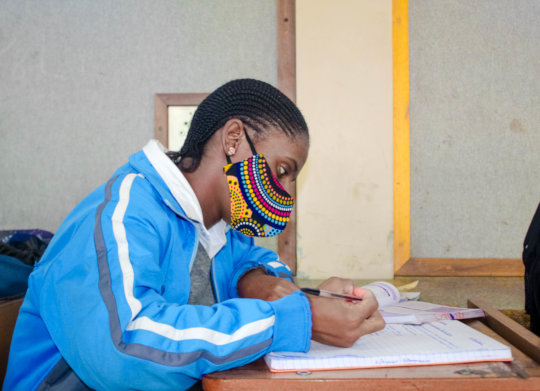 The impact of COVID-19 on the schooling system required innovative solutions to ensure learners, especially those in under-resourced schools, received adequate support that would bridge the learning gaps of the 2020 schooling year. Out of that need, emerged an innovative NGO-business partnership between IkamvaYouth and Shell.
Leveraging on our successful model and existing resources, IkamvaYouth in partnership with Shell, initiated the "Last Push" Science, Technology, Engineering, and Maths (STEM) Support Project in Limpopo.
COVID-19 exacerbated already existing challenges in the province. Limpopo province has consistently performed poorly, with the matric class of 2019 achieving only a 73.2% pass rate, subsequently, the province came out last in comparison to other provinces. The STEM results in the province have also been lagging. An intervention was therefore imperative to ensure Grade 12 learners were prepared for the National Senior Certificate examinations. From October to December we implemented the project, reaching more than 450 learners in the Malegale and Schoonoord circuits, located in the Sekhukhune District, Limpopo.
The project required us to innovate and customize our model to meet the urgent needs of learners in Limpopo. While the IkamvaYouth model utilises volunteer tutors, the time frame of the project required immediate alternative solutions. We, therefore, worked with Maths and Science teachers from the 12 schools to offer the extra support in these subjects. It was imperative for the learners and teachers to understand the IkamvaYouth learner-driven pedagogy, where no teaching but only learning happens, and emphasis on the importance of peer to peer support.
We familiarised the teachers and learners through practical demonstrations where learners lead the discussions and the teacher facilitates focussing on key concepts of a given topic. Schedules were drawn up with teachers as regards when the sessions would be held. Teachers were required to work with a maximum number of 30 learners to enhance individual attention.
"Before we met IkamvaYouth, at my school, my learners were lacking confidence in answering questions. My learners had this fear that Mathematics is difficult but after IkamvaYouth intervention, I started to see my learners participating more, having confidence in challenging difficult questions, the slow learners also started to respond and answer difficult questions. The intervention helped a lot. I am confident that those learners with less than 20% in mathematics will jump to 30% or 40%. It was a short time but with a huge impact. As an educator, I learned a lot of strategies on how to extract certain information. I thought working with past question papers was enough but the IkamvaYouth model can extract hidden information from learners." Mr. Ramonyai, Lamdzanvho Mathematics Teacher
We understood the importance of holistic intervention, all learners were provided with stationery packs, consisting of writing pads, pens, pencils, rubbers, sharpeners as well as calculators. This was set to motivate the learners and ensure they did not worry about stationery during their final examinations and during the 'last push' sessions. Schools were also provided with textbooks for Maths and Science. The learners received a warm meal for every session to keep them energised and focused.
While there were many lessons drawn from delivering such an intervention with limited time, the project uptake from Circuit, District, headmasters, teachers and learners was encouraging. We are proud of the partnership with Shell, for the impact we had on learners, ensuring they were better prepared for the final exams. There is still a lot of work to be done in the province, and in alignment with our goals to grow our reach, we look forward to more opportunities to reach more learners in the province and ensure improved results.
"IkamvaYouth methods are helpful. I never thought of working with my peers and taking the lead during group discussions. Their facilitators were not teaching but rather working with us and asking each other questions. Our teachers were also wonderful because they were not implementing what they normally do in classes instead they observe and engage where there is a need. Most of the sessions we were working together as learners." Sweetness, Moleshatlou High School