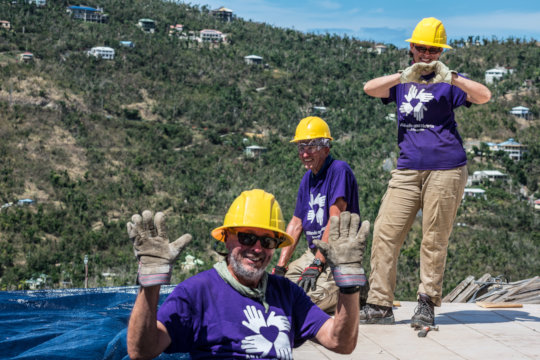 It's hard to believe that two and a half years have passed since highly destructive hurricanes Irma and Maria raged through the Caribbean. This project page has been quite special to us as it covered the programs we operated in response to these storms in St. Thomas, St. John, Tortola, Dominica, and Puerto Rico. We are grateful to each and every one of you, our supporters, for standing on the side of families impacted by these disasters and helping our teams support them through a variety of disaster recovery services. Over the last year, we have reported on these programs as one-by-one they came to a close. It has been an absolute privilege to serve these communities, and I am so proud to share with you today our final Puerto Rico program report, and the last update that will appear on this project page.
We launched our first programs in Yabucoa and Barranquitas in mid-January 2018, with the goal of ensuring families had waterproof, hurricane-resistant roofs to weather any future storms. In addition, we installed external doors and windows and sanitized homes from mold. Shortly after, we launched a satellite program in Toa Baja. With the assistance of our senior technical advisor, we expanded our scope of work to include repairing and rebuilding corrugated galvanized iron roofs, specifically designed to withstand future disasters. Thanks to the help of 3,536 volunteers, we completed 1,705 jobs across all programs and reached 12 municipalities. The nature of our work can sometimes make it difficult to process the magnitude of our impact. Together we have worked 249,383 hours and impacted 7,841 people. Take a moment and read that again; then remind yourself: Together, we have accomplished something extraordinary!
Beginning in early 2020, numerous earthquakes rattled the island, and thousands of aftershocks led to more damage and heartbreak. The string of powerful earthquakes forced thousands outside — many who continue to live in inhumane conditions. After DART conducted a thorough island-wide assessment, we opened a satellite site to partner with World Central Kitchen in providing meals to affected communities. Together, we served more than 294,500 meals. Additionally, we supported a grassroots volunteer group, Brigada de Todxs, in constructing sleeping cots for those living in evacuation shelters.
Unfortunately, the global coronavirus pandemic accelerated our planned March 31st end date by a couple of weeks. By early March it became clear that in order to keep all our people safe - staff, volunteers, and beneficiaries - we would have to suspend global operations. This abrupt departure was emotionally wrenching for the team, which, for the past 2+ years, had poured themselves into making homes safer and public spaces welcoming and functional again. Given the disruption COVID is causing around the world, we are reassured in the knowledge that the communities we leave behind are stronger because we helped build resilience into structures and hope within people.
The end of a program is something we all anticipated, yet it still catches us by surprise. A part of our hearts will forever remain in Puerto Rico - our work on the island has transformed what we as an organization thought was possible. Today there are 605 homes that no longer need blue tarps, thanks to the work we accomplished together!
From the entire team at All Hands and Hearts, thank you.