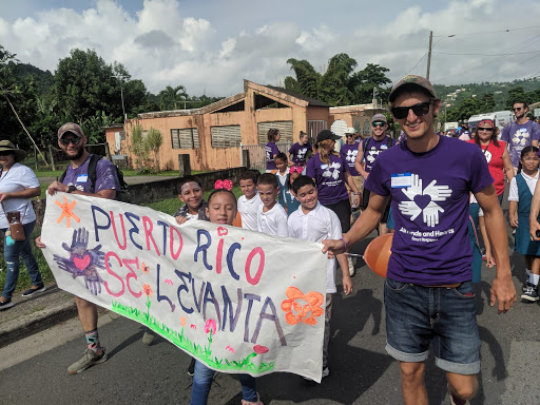 Greetings friend!
Since our last update, an important anniversary passed in Puerto Rico. Now more than two years ago, two back-to-back hurricanes devastated the homes of thousands of residents on the island. Roofs were torn from homes, and heavy rainfall left streets inundated with water. A great deal of work remains to be done, but these communities have shown how resilient they are time and time again. It's been an honor and privilege to stand by Puerto Rico through it all.
All Hands and Hearts is still in Puerto Rico nearly two years after our teams arrived, more committed than ever to support the recovery of the families still reeling from the impact of these storms. As I mentioned in our last update, we plan to remain in Puerto Rico through the end of March 2020. Until then, our teams have a lot to do!
September 20th was the two-year anniversary of the storms, and community members in Yabucoa (where our teams have been based for the past year) gathered to shed light on this important day. Our team joined the community and the local schools in a walk of remembrance, honoring the lives lost after the Hurricane. Winding through the neighborhood streets, they sang songs about resilience and proudly chanted "Puerto Rico se levanta".
Beyond the work our teams are doing on homes, they continue to find community revitalization projects that we hope will help remind the families we work with that recovery is possible. In Yabucoa, this has meant repairing damage sustained to community centers, parks, and baseball fields. As we speak, teams are in the final stretch of work on Mendez Baseball Complex and Limones Baseball Field.
To date, our team in Yabucoa has empowered 2,993 volunteers to make a difference in the lives of 7,719 people. With their hard work, more than 400 roofs have been repaired!
Thank you for continuing to support the work we are doing in Puerto Rico - it means the world to us!