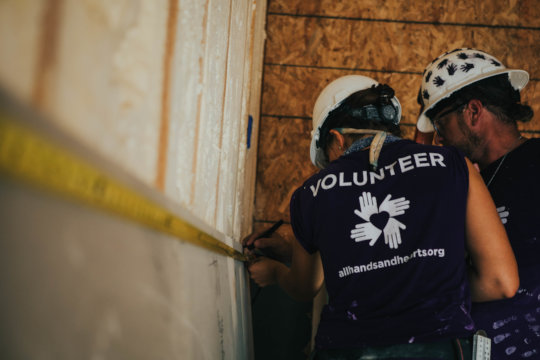 Greetings Friends,
I sincerely hope this update finds you well, and in good health. Today, I have a brief update to share with you about our Hurricane Harvey relief program as well as our operational pause in light of COVID-19.
With respect to the global pandemic, our top priority is and will continue to be the health, safety, and well-being of our staff, volunteers and the communities we serve. For this reason, effective March 12th, All Hands and Hearts temporarily suspended all operations, withdrawing over 400 staff and volunteers from seven program locations in the US and around the world in 72 hours. After careful consideration, our leadership team has now determined that it is unlikely we will be able to restart our volunteer-driven operations before September 2020. However, our commitments to beneficiary communities remain resolute. As of September 1, we expect to begin reopening programs on a case-by-case basis, based on local government guidelines and the advice of medical experts.
We know that the poor and vulnerable populations we serve are already feeling a disproportionate impact from COVID-19. Stay-at-home orders, closed schools, layoffs, and medical shortages land differently on those sheltering in a damaged home, in a community without internet or one without a clinic, or for those already struggling to afford basic necessities. Our goal now is to sustain our model and prepare to meet the challenges that COVID is already injecting into the disaster recovery landscape, so we can serve our mission over the long haul.
At the time of suspension, we were in the early stages of work on two homes in Coastal Bend, Texas. If these homes were left incomplete, the families wouldn't be able to return home safely (an added burden in an already difficult situation). To ensure these families had somewhere safe to go, we hired vetted, local contractors to finish the work. We are incredibly eager to return to Coastal Bend as soon as local conditions indicate it is safe to do so and continue serving families that still need our help.
I look forward to keeping you updated as plans progress, and the situation surrounding COVID-19 evolves.
Thank you!