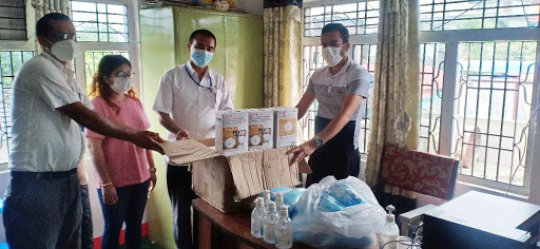 Dear Friends,
I am excited to say we received funding externally which we were able to provide to our partner, Relief Nepal, in support of their ongoing COVID-19 relief efforts. They provided us with the following final report, which outlines the impact their team has been able to make in just a few short months.
Relief Nepal distributed 140 KN95 masks, 9,000 non-surgical masks, 70 bottles of sanitizer, 97 packages of gloves, and 42 pairs of protective boots to Security forces, Garbage collectors, and quarantine centers working on the frontline to combat the global pandemic through the DDMC (District Disaster Management Committee).

They provided fifty Quarantine beds to quarantine centers in Dudhauli municipality to improve their ongoing treatment and increase their overall capacity.

Due to COVID-19, most daily wage workers lost their jobs, which greatly impacted the ability of these workers to provide nutritious food to their growing families. Relief Nepal delivered 75 units of food packages to pregnant and lactating women in the community intended to improve both their health as well as that of their child(ren).

They helped provide one TV set to the two Quarantine centers of Dudhauli District to improve the environment of the centers, making patients feel more comfortable through the duration of their quarantine and/or medical treatment.
Relief Nepal is making an incredibly meaningful impact in the lives of their community members faced with the challenges COVID-19 has presented. We were told that the Kamalamai Municipality and Dudhauli municipality have both praised their efforts, and we are sincerely grateful that we had the opportunity to support their work on the ground during such a difficult time.
Thank you for following their progress!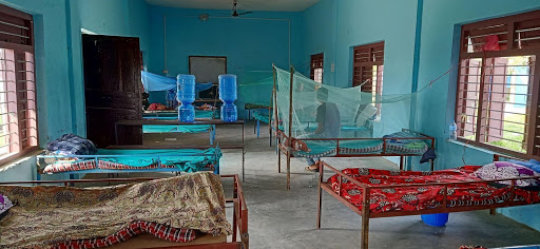 Hello Friends,
I want to once again say how much we appreciate your support of our relief efforts in the aftermath of the Louisiana Hurricanes, and take some time to provide you with an update about our work now that things are in "full swing". After initial assessments following Hurricane Laura, our teams established a base in DeQuincy, LA, near Lakes Charles. Since September (and continuing after Hurricane Delta made landfall in October) a small team has been conducting chainsaw work, debris removal, and roof tarping to help get folks back on their feet.
It's clear there is a great need for longer-term recovery activities as well, as more people return from evacuation to find their homes uninhabitable. Many are having to live in tents, whilst others are turning to couch-surfing. In order to address these needs, we're continuing to work closely with other local organizations, and are planning a transition to recovery phase activities in December, starting with a resilient roof repair program.
I am excited to say we have committed to staying in Louisiana well into the new year in order to continue this important work. I look forward to updating you again soon!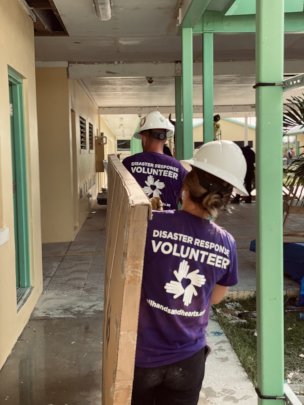 I am so excited to report that as of early September, our team has been back in Great Abaco continuing the volunteer-powered recovery work which we had to pause earlier this year. We made several adaptations to our base model, all of which are helping us keep volunteers, staff, and community members safe while we continue this important work. You can read more about these adaptations here on our website.
Since returning, our team has hit the ground running. Work is continuing at Every Child Counts School (ECC), where efforts are being focused on several portions of the school which sustained damage (including the residence area, sochet hall, the training center, and the playground). At Central Abaco Primary School (CAPS) our work is almost complete, which means an initial 250 students will be able to return to school at the end of October. Our teams are also returning to our home response and recovery work with a focus on muck and gut, mold sanitation and roof repair.
Our Project Development Team is continuing to iron out the details for our planned second program in The Bahamas. I will share updates about the timeline as soon as I have them! With your support and the help of 501 volunteers, we have completed 200 jobs so far. This translates to a positive impact on 2,255 lives!
Thank you

WARNING: Javascript is currently disabled or is not available in your browser. GlobalGiving makes extensive use of Javascript and will not function properly with Javascript disabled.
Please enable Javascript
and refresh this page.