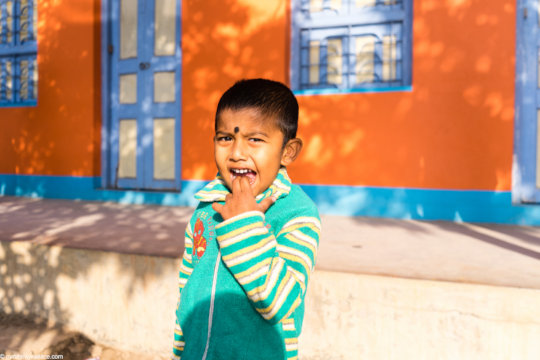 Sonu, a 7 year old boy lives in Swarupnagar village of North 24 Parganas district, West Bengal. For the very beginning, he has been neglecting his teeth which are common phenomena in rural areas. Since a month he has been suffering from toothache, but his father was clueless where get his son treated with the trivial money he makes. In rural area, qualified dentist with all modern apparatus is a next to impossible scenario. Fortunately, one of his friends who were treated by Rural Health Care Foundation earlier advised him to visit or clinic. Taking his advice, Sonu's father brought him to our primary healthcare centre at Swarupnagar.
At the centre Sonu got himself registered and guided by our paramedical staff was taken to the dental department. After observing him, our dentist Dr. Nayak found out that he has deep cavity in one of his tooth which needed extraction. Therefore, Dr. Nayak prescribed Sonu with medicines and asked his parents to bring their son for extraction after four days. After four days, Sonu visited our centre accompanied by his parents. With utmost care Dr. Nayak extracted his tooth and prescribed medicines that are essential for post curative care. He was asked to report back after a week for the follow-up so that the doctor ensures recovery. Instructions were given to him by our paramedical staff regarding awareness of dental hygiene which he should follow along with his family.
Sonu is doing well today, which was evident after observation during the follow-up and now he brushes teeth twice as a day as suggested by the dentist.
It has indeed been overwhelming to receive funds from supportive donors like you that have allowed us to set up and operate twenty-four primary health care centres (16 Rural Clinics and 8 Urban Clinics) in and across West Bengal, India, reaching out to over 1.9 million people till date. Each centre runs four departments namely General Medicine, Optometry, Dentistry and Homoeopathy. At the cost of INR 70 ($ 1), patients are provided diagnosis and free medicine for seven days. The centres also provide free spectacles to those in need. Besides this, each primary health care centre, in collaboration with other organizations, facilitates free cataract and cleft lip/palate surgeries for those in need.
The task at hand is huge and our intention over the last few years has been to spread out and serve as many people as we can, by establishing more such healthcare centres. The need in the current times is to scale up our existing operations to other districts of the state. In order to operate and set up new centres, we require constant funding. The funds would be used for purchasing medical equipment, hiring medical as well as support staff, staff at the Head Office, setting up infrastructure at the clinics, purchasing medicines etc.
Since the Government run medical facilities are sparse in these rural areas, news of patients benefitting from the treatment received at our clinics spreads to the neighboring villages, resulting in constant increase of footfall of patients at our clinics. We therefore feel the need to reach out to more such areas addressing the needs of more patients.