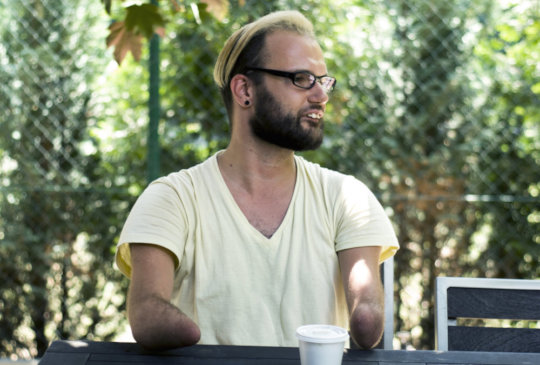 Martin told me his extraordinary story on one sunny august afternoon in the garden of the Amnesty International office in Bratislava, Slovakia. I picked him up at the railway station after a long journey from his hometown, Košice. It was easy to spot Martin even a large crowd because of his appearance – he is missing almost a half of his both arms and one leg, instead of which he wears a prosthesis, but he also has a stylish blond highlights in his hair.
Martin labels himself as a "minority within a minority". "I am a part of the LGBT community, I am gay, but people don't care about that once they see I have no arms."
Born with a handicap
On one hand, Martin would like to know why it was him who was born with a handicap. On the other hand, he understands, that he just has to accept it. "I don't know why I have this handicap. It was in 1986, my medical records say that it was an infectious disease. I had to deal with myself when I wanted to ask my doctor why she let it happen, why she hadn't told my mother and I earlier. But then we realized with my mother that it doesn't really matter – knowing why will not bring the years back. In the past, I would have done it, I would have confronted the doctor hard, but it is a dead end, a person has to move on."
A court assigned Martin to an institutional treatment. It took him some time to stop holding a grudge against his mother. Martin now doesn't see his childhood as black and white: "The only thing I felt sorry for was the fact that I was brought up in the institutional care, which I felt was really unnecessary. On the other hand, my mother needed some help, she had never been around a person with a handicap so she had not known how to take care of me. She put me into the institutional care, but she still took care of me… At first, I did not believe her, because I was a teenager, and in that age, we are ignoring whatever parents or adult tell us. "
Martin had to find a way not only towards his self-acceptance, but also to his mother: "After twenty years, I met a nurse and she confirmed to me, that my mother was often with me. That's when I realized that it is about time for me to start trusting my mother a little bit and stop blaming her from something which is not even her fault – she took care of herself, she didn't smoke or drink, she was an example of a woman who was responsible when she was expecting a baby, and what happened, just happened."
Childhood in the institutional care
Despite everything, Martin thinks well about his childhood in an institutional care. "I grew up in an institution which and now I think of it as a good thing. I learned how to take care of myself, I had good relations with the nurses and the staff, and I even visited them at their homes a couple of times… there were children who didn't get a chance to go somewhere outside and I went to my mother's but also to other families, so I got to know the family life a little bit. It was nice, but of course, I ignored it as well…I hated the world around me, I hated myself because I didn't have arms, but not only I was missing my arms, I didn't even have one leg – I had to wear a prosthesis."
"Once in a month I went home for the weekend. I always came back on Sunday with something my mother gave me, for example a cocoa. It was just a small thing, because my mother couldn't afford more and she was divorced, but she always tried to make my life nicer. She used to give me 400 crowns, which was big money back then.
Rebel at school, "rehabs" and end of a swimming carrier
Martin recalls his years at school with nostalgia. "My school was nothing unusual – the only difference was that there were not 30 children, but only 15, because we all needed more individualized approach. Teachers treated as children without a handicap, but because there were less of us, we had even stronger bond between ourselves."
As most of the kids, he enjoyed breaks during high school. Besides the breaks, he enjoyed mathematics, and surprisingly, physical ed. He pushed around other kids, which they didn't like: "For example, when they had to make circles with their forearms, I could do it, because for me, it was as natural as making circles with wrists is to you. Some of my classmates couldn't do it though and I provoked them and got good grades.
Martin was always a unique student, who was not afraid to rebel. He told his German teacher that he would not learn German. He told his Slovak teacher: "I refuse to learn literature, I do not care about it! And she was the sweetest woman, she started to cry and asked me how I could told her that, that I would ignore it, when she liked me so much," remembers Martin semi-seriously.
After school, they used to go to rehabilitations, which they called "rehabs", or HW (healing by working). They learned how to tie their own shoes, how to spread butter on bread, or how to plug light bulbs on a board so they would light up.
"I used to be an active swimmer, attending swimming competitions." However, Martin admits self critically, that his carrier as a swimmer ended once he started to drink beer with his friends. "After I quit, I regretted it, because my coach promised me a star carrier – I could have gone to the Paralympics." He adds with a smile that thanks to swimming, he still has good figure, which he benefits from.
He remembers the time when a new gas station was build near an exit to Miškolc. We met men and women working at the gas station and as you, healthy people sit with your friends on the street or in front of a bar, us met in front of the institute."
There were good times, although back then I hated it. Now, when I recall it, those were the best times of my life and I don't regret being there. Now I know that it was the best school of life which taught me how to live in a group of people."
Farewell to the institutional care, vulnerability and integration to society
Martin left the institution when he was 19 and began a hard period of integration. "On one hand, I said thank God, I shut the door and told myself never to come back, I didn't even wanted to turn. On the other hand, it was a weird feeling to move out and move all of my staff – it was a strange feeling that something new was coming up which I was afraid of."
Martin questioned himself about how he would manage to live independently. "How would I get my ID, as I was always with somebody before, I knew there was always somebody who was there for me if I didn't understand something – a person needed to have somebody to lean on just in case, and suddenly it all stopped… my mother didn't have the time, because she was working and she had to take long shifts in order to earn some money."
"I thought that everyone on the bus wanted to kill me, everyone was looking at me – "he doesn't have arms, his teeth are poking out, he doesn't have a leg"… and I was very self-conscious at that time. Even now, when somebody laughs at you, it destroys your self-confidence, which often takes a long time to build, and somebody just comes and destroys it in a second."
Living libraries
He got to know about the Living libraries project in 2007 "on accident, through an aunt of my confirmation daughter and that's the moment when everything started to change." At my first big Living library at lake Zelena Voda near Trencín which was organized by Iuventa in 2007, he learned to say his story thanks to radical simulation led by Ms. Janette Mazini. "At first as a reader, she shouted at my confirmation daughter Veronika. She wanted us to prepare for all types of readers, so then she turned around to the other extreme and was very nice to us."
"To tell your life story couple of times one after another is very difficult. It is not very easy to go through a self-reflection five times in a row, with only small breaks. You always tell your story in a different way, as we are not machines. We have living books who cannot do it, not because they would not want to, but because they are too tired to do it."
Martin, as a living book with most experiences explains that it is important to train new living books, but also new librarians.
"Thanks to Living libraries, I learned to accept myself. I had many issues before, I was self- centered and I thought that everyone should adjust according to my needs. Living libraries taught me that I should be the one who should adapt. If I want to be around "healthy people", I couldnt ask them to treat me in a way that "look he does not have arms, he does not have a leg, lets behave around him differently", it does not work this way…"
Work experience in Germany
Martin spent 10 months as a volunteer in Germany at special school for children coming from poor social backgrounds, with behavioral disorders, hyperactive and also handicapped children. In this way, Martin's high school rebellion got the best of him, as he had to learn German language from scratch. His experience with living in Germany taught him a lot about global education, prejudices and stereotypes. Until that, he saw people from different nationalities differently: "People from Turkey or Pakistan looked the same to me, I could not see the difference between people from China and Japan… Originally, I did not want to spend my time with any of the minorities, I wanted to work with a group of regular people, not from poor social background, or handicapped in a way… I had too much of them… and then my mother asked me: "Are you crazy?"
"Sometimes, those children made me really angry, sometimes they were amazing, but their behavioral disorders showed very often and all I wanted to do was go outside, shout and never come back. But then I recalled what the director of the school always said – that everyday is a new day, and we have to give it a chance."
Studying photography
Martin started to study at private film high school (Súkromná stredná umelecká škola filmová) after he met one of their alumni at Living library. He studied photographic design and video.
His beginnings were surrounded by worries. "I did not know if I would be able to afford it, how the teachers and students would approach me. These worries were useless, the director was nice and until I didn't have my one camera, I could borrow a school camera even for a week. "
Martin appreciates that the teacher at school never treated him differently. "Once, my art teacher told me to draw and I was not in a mood, so I told him that I wouldn't, because I didn't know how to draw. And he asked me: "You don't know how because you cannot draw with your hands, or because you are lazy?" I responded that it is because I was lazy. And he told me: "Here, there is a paper, you can draw." I stopped then and I thought that he could have been more considerate, but then I told myself that he actually approached me as a normal person. They forgot that I had a handicap, they thought of me as being healthy."
Plans for future
Martin takes pictures while working on projects, although this is not something he genuinely likes. He'd rather take picture of people, acts or portraits. He is building his website and a portfolio. Besides that, he likes to cooperate with NGOs, which he has been doing for about a year now. "I don't need to buy a big house, but… well, ok, a Jaguar yes."
I asked him if he could drive a car with his handicap, and he confirms, but he also adds that nobody wants to let him try to drive.
Martin would like to try to live abroad. "There not that many opportunities here in Slovakia, people have various complexes. I come to a job interview, where they see me and a person in a wheelchair, and they prefer this person over me, because they think a person in a wheelchair could write on a computer, whereas I don't have any arms, so I will not be able to do the same. But I have many certificates that say that I have done it… I was at a job interview in Košice for a company working with computer technologies. They had an e-shop and wanted me to work with the department on cameras and video, manage their Youtube channel, shoot videos. I liked it, because it was something I would like to do and I could help those people but in the end, they told me that they found somebody else – I was probably too handicapped for them."
I am grateful that thanks to the Living library project I can meet with such strong and inspirational people like Martin. Despite the fact that he told his story around 500 times, he is still full of emotions, and the reader has the feeling like he is living his story with him. I wish Martin, in his own words, "gets a chance" for a fulfilling job and a nice partner.