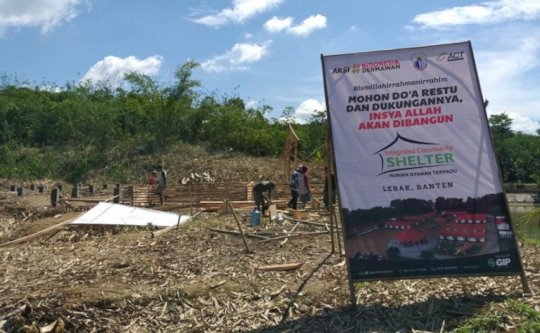 Dear our respected donors,
On this occasion please allow me to deliver our deep gratitude to all of your generousity to support Indonesian communities who were affected by floods in early January 2020. The floods caused a lot of casualities and all of you will be remembered in our heart, and all of you are the hero for survivors.
On behalf of ACT Foundation, I really hope that you, your family are doing very well for this uncertain time that almost every country face COVID-19 and in Indonesia the numbers of COVID-19 are increasing significantly. There are 6,760 positive, recovered 747, deaths 590 as of April 21st, 2020 on https://www.covid19.go.id/ official website.
Furthermore, I kindly inform you that ACT Foundation is a non-profit, a non-government-organization, engaged in the handling of humanitarian disasters (natural disasters and social disasters), emergency relief, recovery, renovation of schools, clinics, public facilities, health programs included malnutrition, famine, children, health and sanitation issues, economic empowerment, community development in Indonesia and foreign countries
To deliver updates on the project https://www.globalgiving.org/projects/emergency-response-the-flooding-across-jakarta/ that We have been implemented since January 2020, and now We have been working on recovery phase that directly benefit for floods survivors in Jakarta, Bogor, Depok, Tangerang, Bekasi, and Lebak-Banten Indonesia.
The recovery phase is a crucial phase for survivors to continue their daily activities just as before disaster occurred. Most survivors have been lost their valuable belongings such as houses those damaged by flood and most of them are underpreviliege family. Meanwhile, COVID-19 affected Indonesia as well that impact for survivors to continue their daily life.
ACT Foundation have been running the construction on Integrated Community Shelters (ICS) for survivors since early March, 2020 before COVID-19 face Indonesia. At the Integrated Community Shelters (ICS) area, there are 52 unit shelters and each unit will benefit for one household family (5-6 person family members), 20 public restrooms, warehouses, medical-mini-clinic, public kitchens, playground for children who will inhabit at the Integrated Community Shelters (ICS), and the construction will take about 8 weeks.
Hopefully, the construction will not be hampered by the weather and We could reach the target of finishing the Integrated Community Shelters on time. It has been raining, and the road to the construction site has been muddy. Vehicles can only reach the main road. To reach the construction site, the workers must carry the building materials. There's no difficulties on the stock avaibility of the building materials.
The Somang villagers will inhabit the shelters. Somang village was hit by flood that destroyed houses, it was declared a flood-prone area by the local government. Minggu, the Secretary of Sukarame Village, said that the presence of the Integrated Community Shelters highly anticipated by the residents of Somang Village. The local community leaders / chairman of village has identified the families who will inhabit the Integrated Coummunity Shelters from ACT Foundation. There are no specific criteria or priorities that We set for the beneficiaries, whether they are old or young. We make sure that the villagers whose homes were damaged or washed away by flood will receive a shelter.
Syarif, one of the local residents, felt greatly assisted by the presence of the Integrated Community Sheters for the residents of Somang Village. Syarif's house was damaged by the flood, and he is grateful that the generous people have helped residents to find temporary shelter. We, the Somang villagers, are very grateful to the generous people who have helped us here, who have alleviated our burden here.
Moreover, I kindly inform you that ACT Foundation also response on the COVID-19, at your convenience time please take a look and click https://www.globalgiving.org/projects/emergency-response-coronavirus-aid-distribution/
Finally, thank you very much for your kindness and sincere support for Indonesian community. What an amazing support from all of you! Your hands are very helpful for Indonesian community. Please stay safe and healthy.
Warm regards,
Mohamad F. Amrullah