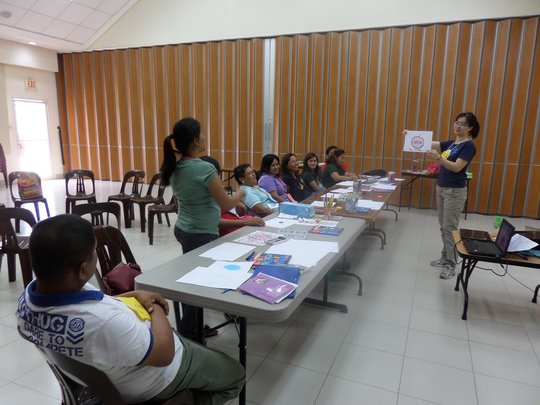 Months February - May 2015 were the last 4 months of the 11 months long Family Counselling training which was in fact, the second stage of IsraAID's MHPSS program.
The training was facilitated to homogenous groups of participants who are in teaching, health, social welfare, or protective professions. The program provided the participants with an in-depth learning experience around relevant topics with a focus on Family Counselling in all its many aspects: Adolescence, Child Abuse and Neglect, Group Facilitation, Children and their emotional needs, Family Dynamics in Crisis Situations, Gender Based Violence, Elderly, Loss, grief, and mourning in the family, Domestic Violence, Illness in the family, and Substance abuse and its influence on the family.
The second stage encompassed four mainly homogenous groups, 20-23 participants per group. These groupings represent the different professions that are in direct contact with the general population in both disaster response and in day to day life.
Department of Health: midwives and health workers
Department of Education: teachers, guidance counsellors, school nurses
Disaster Responders: police, religious sectors, prison officers, firefighters
City Social Welfare and Development: social workers.
Each group received two days of training per month, facilitated by a therapist who is a specialist in the designated area. The specialists conducted these trainings over a period of two weeks, four days per week, two days per group. One day per week was devoted to preparation and follow-up evaluation of the sessions.
The participants were given 'homework' assignments for the periods between the trainings which were focus on implementing what they have learned in the field. The 'homework' consisted of facilitating individuals and/or groups using the content and techniques they learned in the training.
"I was able to apply or put into practice what I have learned. Learning by doing is more effective than just listening or taking down notes. You will remember the things you learn when you put it into practice. I have personally understood how to help children, especially boys to express thoughts by putting it into concrete things/describing rather than directly asking about it." (2nd stage participant).
FEBRUARY
February's training focused on Grief, mourning and loss in the family, facilitated by Doctor of Philosophy in Psychodrama therapy, Esti Avnon-Kalev, an Israeli Art Therapist and Head of the Psychodrama training in the Graduate School of Creative Arts Therapies at Haifa University.
This topic is usually not discussed much in the Filipino culture, as it is considered insignificant by many. But in fact, no one is exempted from experiencing loss. One way or another we all have experienced or will experience loss in our lives.
It is evident that the February training introduced new ideas and tools in coping with loss in the family. It can be noted that the participants gained knowledge and practical tools through the activities facilitated, providing them new way of looking at Grief, mourning and loss in the family and the needed confidence to practice what they learnt in the community.
The following are the feedbacks given by the participants to the question: "Do you think that this training is important after the super typhoon Yolanda?"
"Yes, because a lot of people suffered from pain, trauma, grief and loss so what we learned today would really help us."
"Yes, the topics are important after the wrath of Yolanda because it helps to ease the pain and trauma experienced."
"Yes, because in day to day life we can use this experience and help others in dealing with their situation."
"Yes, because it helped me gain techniques on how to handle one's life after experiencing loss in the family".
"Yes, because it is helpful in times of emergencies so that I can manage my mourning first before rescuingothers who are mourning."
"Yes because we all know that all of us have lost properties and even loved ones. It would help us overcometrauma and deal with it."
"Yes, because many victims kept their trauma within themselves and don't know how to release it. A traumathat is unattended is not healthy for the individual."
"Of course it is. It helps survivors to understand and appreciate the brighter side of life despite the calamity. It can somehow lighten their loads-emotional and psychological."
"Yes, because it will help people who doesn't know how to resolve their problems in times of grief and trauma in life."
"It was very heavy not only for me but for most of the participants. It was like going through the process of the loss again, the pain and everything that was unconsciously buried in the depths of yourself. I could say that the activities were really helpful in dealing with it and it may not change me the soonest but I know that a part of me was set free and will slowly heal and the void in me will be filled with something more meaningful. There may be shades of black in my life but other colors have always been there too to remind me that life is a beautiful rainbow".
MARCH
March's training focused on Domestic Violence, facilitated by Iris Hertz, an Israeli therapist, holding a Master degree in Dance and Expressive therapy.
The training explored many different aspects of Domestic Violence, discussing and understanding where domestic violence really stems from and how it's related to ones' personality and history.
March's training has demonstrated that the groups' cohesion and teamwork were developed, thus creating a positive atmosphere, where the participants felt more comfortable in sharing ideas with each other. It is also evident that the training contributed to participants' ability to better understand community members suffering from domestic violence and that they now have appropriate tools for meeting challenges when assisting their significant others and community members, together with the needed confident to use these newly acquired tools.
The following are the feedbacks given by the participants to the question: "Do you think that this training is important after the super typhoon Yolanda?"
"Yes, because I learnt more and now I can handle myself and apply it in my work with the community."
"Yes, after every disaster, the aggressiveness of a person arises so domestic violence comes in the home."
"Yes, because now we can help not only ourselves but other people also."
"Yes because there are still a lot of people in my community who suffer emotionally, physically and mentally."
"Yes, the topic is very important as we deal with it in everyday life. The training helps us to easily cope with these situations and to be able to surpass it."
"The topic is very relevant as it deals with the personality of an individual. We needed to learn how to understand and deal with an individual is what we need in order for us to be pliant, open-minded as we dealwith clients."
"Yes, because there is a prevalence of domestic violence after Yolanda."
"Yes, because knowing oneself better would allow you to help a lot of people."
"Yes, because many children experience violence not knowing the effects it has on themselves."
APRIL
April's training focused on Chronic Illness in the Family, facilitated by an Art Therapist from Hong Kong, HoiLam Tang, who has graduated in the field of Fine Arts and holds a Master degree in Science.
Chronic illness in the family is one of the common causes of stress and burn out among family members. The training focused on the two aspects of chronic illness in the family. The first aspect is the sick person- the emotions and effects of being ill, and the influence it has on ones' family. The second aspect is the self-care of the caregiver in the family. The training offered ways of empowering both the ill and the caregiver through self-appreciation and positive journaling.
It is evident that April's training had a great contribution to the CSWD group's knowledge and sense of understanding their community members. The training provided the participants knowledge and practical tools which will help them in meeting challenges in relation to Chronic Illness in the Family.
The following are the feedbacks given by the participants to the question: "Do you think that this training is important after the super typhoon Yolanda?"
"Yes, because Yolanda did not just cause damage to properties but also many injuries that changed the family."
"Yes, it helps a lot in understanding the feelings of the sick person and how to handle a sick person especially in considering their emotions."
"Yes, because through art therapy, family members may express how they feel towards an ill family member due to the Super Typhoon."
"Yes, because it helps us to cope and overcome problems and experiences we are facing."
"Yes, the training was really amazing because we learnt how to deal with these kind of situations."
"Yes, of course because it is important to know how to accept the reality when one of the members of the family is sick or has illness."
"Yes, it is very important as member or head of the family. There is a way in which we can have a positive relationship with relatives/immediate family members when illness occurs in our family."
MAY
May's training focused on Conflict and Trauma, facilitated by an Israeli Psychodrama Therapist and a theater actress, Orly Lavie.
The training focused on increasing mindfulness through art and drama therapy and Guided Imagery.
This was in fact, the last training of the second stage, thus it was also focused on summarizing the 11 months long Family Counselling training.
May's training demonstrated that by the end of the 2nd stage, the participants felt very comfortable sharing their ideas with the group, a positive atmosphere was created and participates felt they know themselves better through participating in the training. It is evident that the participants feel more confident using the tools and knowledge they acquired.
The following are the feedbacks given by the participants to the question: "Do you think that this training is important after the super typhoon Yolanda?"
"Yes, because it will help victims find a new perspective in approaching conflict."
"Yes, because it can help and guide me in times of trouble. Now I know how to handle it."
"Yes, because I gained more knowledge and learned how to deal with different problems that I would encounter in the future. This adds a lot to my personal development."
"Yes, it helps the displaced people to become whole again."
"Yes, very much, the psycho-social training opened our minds."
"Yes, the topic is very useful and important. It will be beneficial to our clients to express themselves through acting or dramatization."
"Yes, I can apply it not only to myself but also help others".
"Yes, because it helps me to express the emotions of which I cannot verbally express".
"Yes, I was able to understand myself better. Now I am more open to the fact that each one of us is unique and all we can do is accept it and do what you can."
External MHPSS activities (Apart from the 2nd stage training):
Mae, IsraAID's MHPSS Program Coordinator, is facilitating external MHPSS activities in Western Leyte College of Ormoc City and in changing venues according to demand and schedule limitations.
Training to police women – during March 2015, Iris Hertez, who was the 2nd stage facilitator for the same month, conducted an additional training day for 12 policewomen working with women who are victims of violence.
2nd stage graduation ceremony:
During the month of June, IsraAID had its MHPSS second stage graduation ceremony, where 89 graduated received certificates for participating in the Family counseling training.
Ormoc's mayor also attended the ceremony and congratulated the graduates.