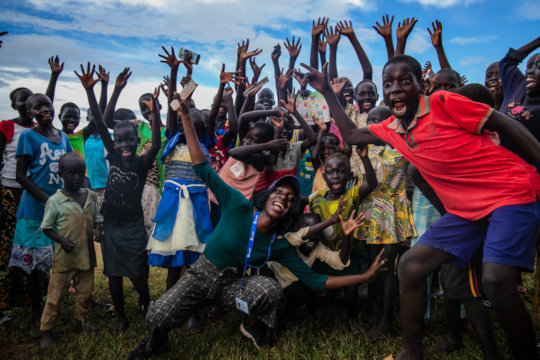 On November 20, 2019, the Iboa Child Friendly Space (CFS) opened its doors to residents of Uganda's Palorinya Refugee settlement, to provide integrated Protection and education services to some 166,000 South Sudanese refugees and 140,000 Ugandan host community members. 60% of this population is made up of children—many of whom have experienced war, displacement, famine, and other issues that can exacerbate their mental and emotional health.
The Iboa CFS was a created to respond to the needs on the ground, and establish a safe space for children from the refugee and host communities to play, learn, develop, and grow.
Daily activities are implemented by 10 facilitators—3 of whom are refugees, and 7 Ugandans—who completed training with the IsraAID professional team on CFS facilitation, Child Protection, and the basics of providing Psychosocial Support services.
Feedback from community members about the establishment of the Iboa CFS is positive, and often centers around the new opportunity the CFS presents for integration between the refugee and host communities. Children explained that even though classes at Iboa Primary School are made up of both refugee and host children, the busy school schedule leaves them without time to play together. After school, refugee and host children go home to separate neighborhoods were they don't have a space to interact. The Iboa CFS answers this need, providing a play center where children can dance, sing, learn, and create together, learning about each other's cultures and experience, as well as cultivate relationships between these communities.
Nataline is a 13-year-old girl. Her mother is Ugandan, and her father, who unfortunately passed away in 2017, was South Sudanese. Today Nataline lives with her mother in a Ugandan neighborhood.
Nataline feels that she is more South Sudanese than Ugandan, but because she was raised in Uganda and her father hasn't been in her life for the past few years, she can hardly speak Kuku, the South Sudanese language he spoke.
Nataline explains that coming to Iboa CFS has allowed her to play more with other South Sudanese children. "Before the CFS was opened, I used to play in the Ugandan neighborhood with only Ugandans but now when the CFS was opened I play with both Ugandan s and South Sudanese, even my Kuku is improving because we use Kuku while playing."
Nataline added that playing with South Sudanese kids has taught her how to better understand South Sudanese culture. For example, she now knows South Sudanese music and dance, and allows her to connect to her roots.
Nataline is one example of how the Iboa CFS is bringing together the host and refugee communities, offering for the first time an opportunity for the children to play and learn together, toward creating a more diverse, tolerant society in the future.
Thank you for your ongoing support!