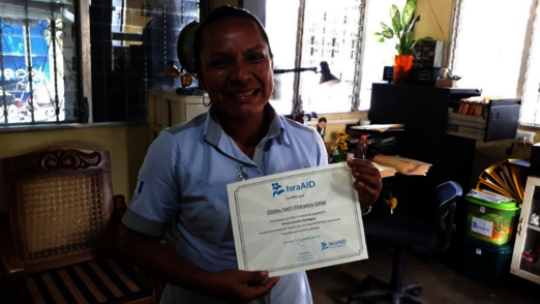 As Guatemala continues to recover from the El Fuego Volcano eruption that took place in 2018, IsraAID is still on the ground working to strengthen communities toward reducing the risks and vulnerablities that future crises could pose.
Over the last months, IsraAID has worked alongside the Ministries of Education and Health, as well as the Guatemalan Government Agency for National Coordination for Disaster Reduction, to identify key leaders to undergo training in Psychological First Aid with IsraAID.
In September, all three agencies signed commitments with IsraAID to help identify and target key figures to participate. This cohort attended a two-day training in October focusing on PFA, made up of eight Ministry of Education officials, and 17 representatives from schools, totaling at 25 trainees. Selected participants attended an additional day focusing on IsraAID's cascading model of "training the trainers"—to create a sustainable and efficient mechanism to amplify the reach of the PFA training, enabling them to continue to train school staff and other community leaders.
The first day of the training focused on understanding the importance of Psychological First Aid; ethical guidelines regarding administering PFA; and discussing different aspects of psychosocial support networks and methodologies. Participants took part in a simulation led by IsraAID Psychosocial support specialists to to practice providing PFA. The second day addressed the impact that stress can have on individuals and communities, as well as service providers, and offered self-care tips and stress relief activities for participants to use on beneficiaries in the future. Finally, Psychological First Aid manuals were distributed to participants, and feedback on the experience was collected.
Erickson, the principal of Telesecundaria Chapernas, shared at the closing of the training, that he had been worried that there were no staff members at his school with psychological training or relevant academic experience. He was relieved to have participated in this training, because now he understood that actually he, as well as many of the other staff members, could provide Psychological First Aid to those in need in an emergency situation, after being trained on this methodology. Carolina, a psychologist from the Ministry of Health added to the conversation, "it is important that all of us are aware that the PFA can be provided by people other than psychologists. It's just like medical first aid, even if we are not medical doctors or firefighters, we can learn the tools to support the crucial moments at the beginning."
Another participant, Iveth, who is a Coordinator at Max Paredes Lima High School, shared with the team: "The trainings that IsraAID has given us have been very useful and added a lot to my ability to do my job, especially toward understanding how help students in appropriate ways, and to be prepared in how to respond to any disaster, crisis or emergency." She added that the training were helpful because they were practical and participatory, and that facilitators emphasized participants' needs and questions. "I learned how to help others to take control over a situation when their emotions are blocking them," she added.
A similar, although condensed version of the PFA training was also conducted for 37 members of the Risk Management Department of the Ministry of Culture and Sports, later in October.
Thank you for your continued support of this work!!