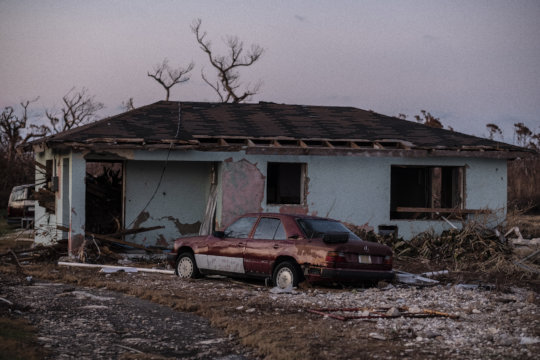 Hurricane Dorian flattened multiple islands in the Bahamas in early September, claiming the lives of at least 61 people, and destroying water sources, roads, homes, and key infrastructure. With more than 650 still missing, the number of fatalities is expected to rise. 90% of buildings were destroyed or damaged in Abacao islands and Grand Bahama. Huge numbers of evacuees have since traveled to Nassau, the capital, and Freeport, where the local government established shelters. Others have stayed put in their communities, hoping to build back from the mass destruction that left them without a home, no safe water or electricity, and limited food and supplies. IsraAID arrived in the Bahamas on September 5, 2019 to begin a rapid needs assessment, distribute urgently needed relief items, ensure community access to safe water, and provide psychosocial support to affected populations.
Two main islands suffered serious devastation: Abaco and Grand Bahama. Since the storm, thousands have been evacuated to Nassau, where IsraAID is providing support. IsraAID is helping coordinate aid efforts in the affected areas. In addition, IsraAID deployed emergency response specialists to Florida to assist with initial procurement and shipping of relief supplies.
Following an initial needs assessment, the IsraAID team partnered with local organizations and agencies, including the Caribbean Israel Leadership Coalition of Churches (CILC); the Grand Bahama Disaster Relief Foundation; UNICEF; the National Emergency Management Agency; the Grand Bahama Port Authority; and the Ministries of Education, of Youth, Culture and Sports, and Social Services. Together, we are providing the following key activities in (1) Grand Bahama, (2) Abaco, and (3) Nassau, New Providence (for the evacuated population):
Water, Sanitation and Hygiene (WASH)
Water sources on Grand Bahama have been seriously compromised as a result of the tide, storm surges, and flooding. Dangerous levels of salination, debris, and waste in water sources have deemed them unusable; and many water pumps for wells dependent on electricity are unable to function.
IsraAID has offered safe water solutions to affected communities, leading a collaboration of local community-based organizations with Israel's Ministry of Foreign Affairs to distribute large quantities of potable water, set up water distribution centers, and distribute sanitation and hygiene items. Local partners include the Grand Bahama Port Authority and Grand Bahama Water Authority. IsraAID WASH professionals are advising the local water authorities on rapid rehabilitation of aquifers to restore regular access to safe water. The team on the ground is currently assessing options for longterm sustainable safe water access, including water harvesting and ensuring that local institutions have resilient water systems. This aims to replace the ongoing water trucking project that IsraAID is currently supporting.

Protection for Affected Communities
Hurricane-affected communities are at high risk of severe psychological impact due to trauma and overwhelming instability. Vulnerable populations including women, children, ethnic minorities, and service providers are in particular need of support. In coordination with UNICEF and the Ministry of Education, IsraAID's protection team are implementing self-care and emotional wellbeing sessions for local community leaders, service providers, and school guidance counsellors. IsraAID and UNICEF have launched a series of trainings to equip education professionals with the skills and knowledge to provide psychosocial support to 10,000 evacuated children in host communities. We have already trained 41 teachers, 71 counsellors, and 41 community volunteers. IsraAID's team will also operate at least 10 Child-Friendly Community Centers across three different islands, providing structure, activities, and support to children who have experienced the trauma of the hurricane, and training for
volunteers on child protection and case management.
Disaster Risk Reduction
The best time to focus on resiliency is right after crisis strikes, as communities are more focused on preventing what has just happened from happening again, and have recent, first-hand experience in identifying potential hazards. As such, IsraAID is planning to work within the school system in the Bahamas to develop emergency response plans for each community, rooted in the local school. This is an ideal point of intervention for cultivating a culture of prevention and hazard-awareness: children
represent one of the most vulnerable groups in emergencies, and schools are a natural confluence of society, where parents, staff, children, and local government meet and interact.
The IsraAID team will implement a pilot DRR curriculum for teachers and other staff members to promote a culture of prevention and develop school-specific emergency plans involving local community members. This program, currently in implementation by IsraAID teams in other post-disaster countries, including Guatemala, Dominica, and Mozambique, seeks to improve local preparation for potential disasters. Studies show that communities with plans in place preceding a crisis, are better able to bounce back afterwards.
IsraAID continues to monitor and respond to changing needs on the ground. Thank you for your support!!