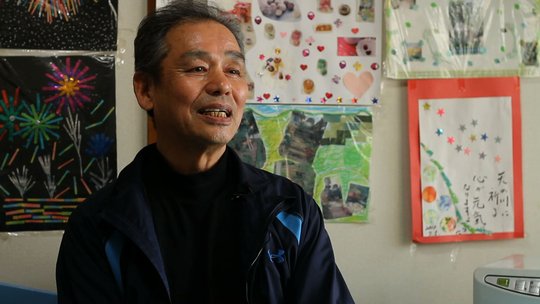 Voices of Tohoku
May 2013 – Aug 2013
Project Report
Overview
The "Voices of Tohoku" project is currently expanding its reach into new communities and platforms.
We are continuing to interview on a regular basis. Our work has expanded into three new communities.
We are meeting affected community leaders across Japan to decide where to expand next.
A website is under development with the help of design students and volunteers.
Our academic advisors are working with us to prepare an archive catalogue for researchers. We are writing the program guidelines for a general book that will be distributed to communities interested in initiating the project.
Community Response
After we distributed the personal copies to participants in Watari and Yamamoto we received great responses from people telling us they watched their own interview with their entire family, and it was a meaningful experience. Due to this we are getting new requests for interviews from these communities.
Web Site Development
-We are fortunate to cooperate with the
prestigious Musashino Art School in Tokyo.
Their students are working with us to develop
a video web site platform that will be the
main tool to raise awareness for Tohoku
outside of Japan.
Utilizing their amazing talents as designers,
we believe this will be a huge addition to
the project's artistic value.
-Volunteers are helping us to catalogue and
translate interviews to be posted onto the
website.
Current Communities
-Ishinomaki City – The community book is currently being printed. We finished designing it, and collecting messages for the book from local residents and the Vice Mayor. We are collecting interviews on a regular basis to establish a wide range of people from different aspects of this community.
-Watari – Interviews are conducted on a regular basis. The library has dedicated a corner to display the project.
-Yamamoto – We are establishing the project
into new areas of the town. We are planning
community events to raise awareness about the
project.
Expansion of the Project
-Osaka- We started to interview members of a
group of evacuees from Fukushima. They are
happy to share their stories and see this as
an important opportunity to save a memory for
their children.
-Sendai- We started to interview residents in
temporary houses. In this community we are
cooperating with a professional Japanese
television director from NHK (a major Japanese television station).
Academic
-We are currently cataloging the material to
include metadata crucial for research
purposes.
-With the help of our academic advisors we are
developing an assessment procedure to
evaluate the effects of the program on
individuals.
-Japanese professors have notified us they applied for a Japanese government research grant to study the content of our interviews.