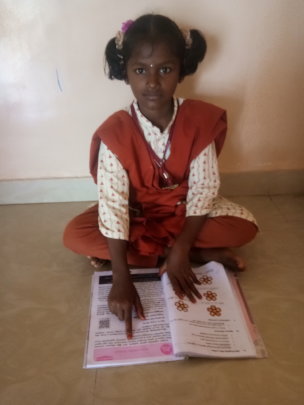 Harini studies in 5th grade in Dharmapuri
Isha Vidhya school. She has been studying
in the school since her 2nd grade.

Harini had a very sorrowful past. Her home
environment was very disturbing.Her father,
as a liquor addict, abused Harini's mother
regularly. He was detected with brain cancer,
and could not be saved despite the family
spending INR 300,000 for the treatment.
As a single parent to provide for five children,
Harini's mother struggles to earn and save the
family. To augment the meagre earning from
a small shop that they own, she undertakes
tailoring work at home. Still, the funds fall
short for feeding them all, leaving her feeling
dejected that she can neither buy new clothes
for her kids for festivals, nor can she even feed
them properly.

While Harini's siblings continue to study at
nearby government schools, Harini joined Isha
Vidhya when she heard of the scholarship facility
from one of our teachers. Since she has come
here, Harini has shown much promise in
Mathematics and Social science. Diligent and
meticulous with her classwork and homework,
and an active participant in class discussions,
Harini is a pleasure to have as a student.

But for the scholarship, Harini would have had
no access to what she has now. Her mother is
very happy and deeply grateful to the donors
and the school. She says, "After joining Isha
Vidhya, my daughter has learned to speak and
behave with respect. Each and every bit of
information about my daughter is conveyed
from school which was not the case with the
other school where she studied. I am very happy
that my daughter is doing well in this school."
We thank the donors for making a difference
in Harini's life!
Links: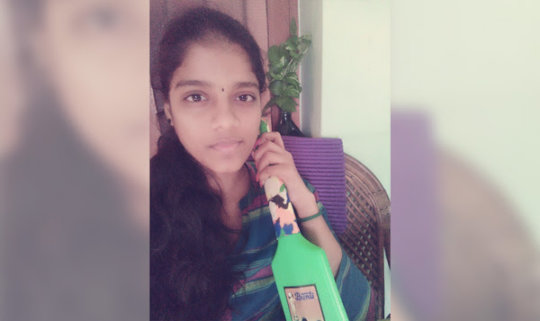 Keertigha, an alumnus of the Villipuram
Isha Vidhya School, was a school topper.
She scored 490/500 in tenth grade public
examinations, and 514/600 in twelveth
grade.

Keertigha joined Isha Vidhya in 2010.
She became a class leader, and then the
school leader in 2017. Keertigha is a
scholarship student. Keertigha did well
in sports too. She won the second place
in Divisional Level Throw Ball event.

Keertigha is currently pursuing her
undergraduate in Bachelors in Science
with Clinical Nutrition as the
specialization, at Bharadhidasan
Government College for Women in
Pondicherry. She aspires to pursue her
postgraduate study and become a
nutritionist!

We hope you enjoyed reading about the
heart-warming success story of Keertigha.
Hundreds of children at Isha Vidhya, like
Keertigha, are supported by kind-hearted
donors like you! We thank you for all you
did for these students, and we look forward
for your continued support!

Best Regards,


Links: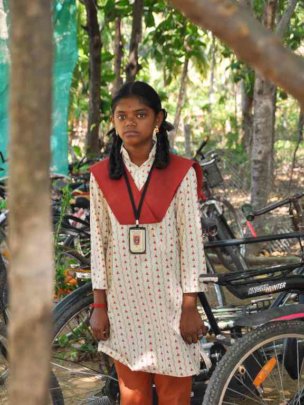 Devi has been student at Isha Vidhya LKG onwards.
She is now in 9th grade. She hails from a village called
Kurandy in Nagercoil.

Devi is from a family of four people. In 2015, their
family was dealt a severe blow when Devi's father
who worked in a fish-net company met with a fatal
accident. This put the family into lot of challenges.
They were in dire straits mentally and financially.

Devi has a courageous mother, which was a boon.
Although her mother has cleared just 6th grade,
she was determined to educate her children and
empower them to chase their dreams. There were
times when they slept hungry but she did not
budge from her commitment. After two trying years,
Devi's mother finally landed a job in a fish-net
company. Today, with the mother as the sole
bread-winner earning a humble INR 5,000 a month,
and with no financial support from relatives or friends,
the family somehow manages.
Devi has her education sponsored by donors at Isha Vidhya.
Although she does okay in academics, she excels in sports.
From 2015 to 2018, she has won the first prize in running,
high jump and the long jump. She has also won multiple
cash prizes. Her aim is to improve in academics and excel
in it too!


Links:
WARNING: Javascript is currently disabled or is not available in your browser. GlobalGiving makes extensive use of Javascript and will not function properly with Javascript disabled.
Please enable Javascript
and refresh this page.