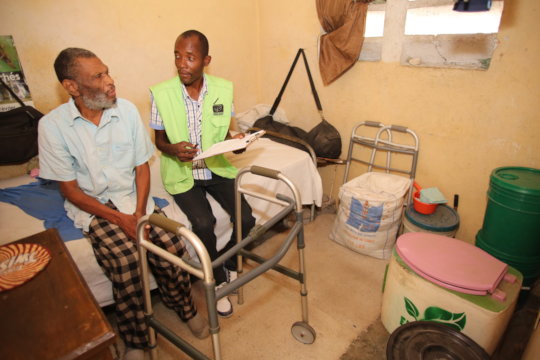 We talk a lot at SOIL about increasing access to sanitation in Haiti. We're hard at work to expand our programs every day as we work to build a city-wide sanitation service in a country where 75% of people lack access to a toilet. But what does it mean to build a service that's truly accessible?
As we work to expand our EkoLakay service into new homes and new neighborhoods in the years to come, we're also thinking about expanding access in a different way. For people with different levels of physical ability, making your way to a room far from your bed to use the restroom can be a huge challenge. With that in mind, SOIL designed a toilet that could be portable, so that people like Jean Nelson, who has a physical disability constraining his mobility, are able to install it directly in their bedroom. Jean Nelson told us that this is one of the primary reasons that he decided to join SOIL's service in Port-au-Prince. Our weekly collection service helps, too. Every week a SOIL team member passes by each and every house to collect full containers of waste and provide clean containers of carbon cover material, making maintenance easier for clients of all abilities.
The design of SOIL's household toilets and maintenance service has undergone an iterative process throughout the years. By working closely and intentionally alongside members of the communities we serve, SOIL is proud to have designed a sanitation solution that meets the needs of our customers and is more accessible to people with disabilities than traditional systems. And we're not done! We continue to partner with both local communities and sanitation researchers across the world to gather feedback and adapt our model to make it the best it can be.
Follow this link to read about SOIL's ambitious plans for the years to come and don't miss our latest annual report here.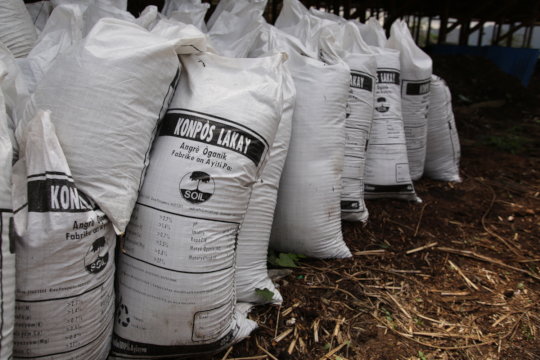 Though there's ongoing debate about the extent and proximate cause of the challenge, what is clear is that Haiti's mountainsides are deforested to dangerous levels and the country's farmers struggle to produce enough to feed its people, in part due to depleted soils. As a result, most of Haiti relies on expensive imported foods, a factor which contributes to a cycle of poverty for both the country's farmers and its people.
This drives us at SOIL. And it's why we work tirelessly to treat and transform waste into high-quality organic fertilizer, branded locally as Konpòs Lakay. Our compost is loaded with all of the nutrients needed for healthy plant development, and it's also rich in organic matter that allows it to simultaneously rebuild topsoil and fight erosion. Researchers have shown that SOIL's compost increases the capacity of soils to hold water, too, meaning that heavy rainfall is absorbed more quickly and that soils are more resilient to periods of drought.
The more compost we sell, the more impact we have on rebuilding soil health, increasing agricultural productivity, and growing resilience to the impacts of climate change. And, we're excited to share that our most recent compost sale is a big one! SOIL just sold 39 tons of our organic soil amendment to AVANSE, a USAID-funded agricultural program that works in partnership with local governments in Northern Haiti. They are working on establishing 25 tree nurseries across the region to grow cacao and moringa trees. Thanks to the help of SOIL's compost, they are hopeful that the 250,000 seedlings that their teams are planting over the coming year will produce healthy and robust yields.
To learn more about research that was conducted last year on the impacts of SOIL's agricultural-grade compost on moringa tree growth, don't miss this blog – and be sure to check out the latest research on the adaptive and mitigative impacts that SOIL's compost is having on soils across the country.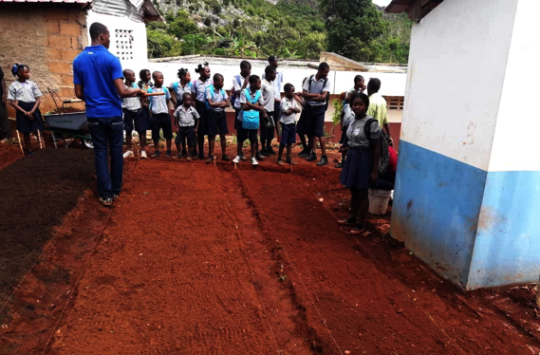 The compost that SOIL produces through our urban ecological sanitation service is a safe and organic, agricultural-grade soil amendment that restores the health of soils and helps Haiti's farmers produce more food. It also, as of recently, helping students in schools across the country learn how to garden.
The Haitian Ministry of Education (MENFP) has begun actively promoting agriculture across the country's schools, by asking that each of them has at least one standard garden maintained by staff, students, and parents alike. And guess what? They're using SOIL's compost in the educational gardens!
The MENFP is hoping to introduce students to plant and animal production while encouraging the spirit of entrepreneurship. The project aims to improve food security in the country by increasing the supply of fresh food to school cafeterias, but also by empowering the younger generation to have the tools they need to know how to grow their own food. By involving not just the students but also their families and the school staff, they hope to expand the program's impact as well as the potential future technical innovations in the agricultural sector.
To launch the project, last month the MENFP bought almost three metric tons of SOIL's Konpòs Lakay compost, which was distributed in a number of schools across Haiti. SOIL's compost has shown incredible benefits to plant growth and soil quality, so we're excited about its potential to kickstart healthy and productive gardens.
Happy gardening, students!
WARNING: Javascript is currently disabled or is not available in your browser. GlobalGiving makes extensive use of Javascript and will not function properly with Javascript disabled.
Please enable Javascript
and refresh this page.