SOIL transforms wastes into resources in Haiti through a process called Ecological Sanitation (EcoSan), simultaneously breaking the cycle of disease while completing the nutrient cycle. We collect wastes from our dry household toilets, marketed as EkoLakay, which we then transform into completely safe, agricultural grade compost in a six to nine month process. With simple and locally appropriate technologies, we are able to tackle some of Haiti's toughest challenges while also developing a social business model that will ultimately ensure financial sustainability as well as ecological sustainability.
At two waste treatment sites, SOIL currently treats over 20,000 gallons of human waste per month. With no other waste treatment options in the neighborhoods we service, it is sad to admit that without SOIL's collection and treatment, all of this waste would end up polluting fresh water sources and sickening communities. Instead, it is transformed into a badly-needed resource that helps increase Haiti's soil resiliency and food security!
Since SOIL was founded 2006, we have sold over 75,000 gallons of compost. Thanks in part to your support, in August, we were able to double our waste treatment capacity in Cap-Haitien in preparation for 1,000 additional household toilets, meaning that we will be producing more than 8,000 gallons a month of compost!
Marketing to the "Base of the Pyramid"
The increase in compost production has to be accompanied by an increase in sales if we are to successfully demonstrate the feasibility of social business scale-up. That's why we've created a marketing and sales committee within SOIL that focuses on how to increase our customer base and keep them happy with top-notch services and products. To kickstart our marketing strategies, we met with Digicel, Haiti's largest mobile service provider and one of the most successful businesses in the country.
We are looking for tips on how to access markets at the "base of the pyramid," a business term for the most economically disadvantaged. We are working to develop a social business that generates enough income to provide jobs for otherwise unemployed people and while also ensuring that the people who need these goods and services the most are not priced out. We strongly believe that catalyzing local entrepreneurship and innovation is the first step in creating dignity, health, and sustainable livelihoods.
Ecological Sanitation: Increasing Access to Health and Resources
Recently SOIL has been increasing access to compost though an initiative called "Jaden Kay," which means household garden. In this project, our agricultural team supports the development of demonstration gardens on the roofs of some SOIL EkoLakay toilet users. We provide a startup kit that includes an optimal mixture of soil and compost, as well as seeds and some repurposed containers or old tires to use as garden beds.
Our customers appreciate being able to experience the whole ecological sanitation (EcoSan) cycle in their house- they use their toilet, then SOIL collects their waste and safely transforms it into compost, which they then use to grow the food that they will eat, starting the cycle all over again.
Marline, a SOIL EkoLakay customer since 2012, has had a SOIL Jaden Kay for several months now. She told us, "I am very happy about getting this garden and getting this toilet, because everyone who comes here and goes to use the toilet always have a lot of questions about it. Some don't even believe that this is possible. They are also very happy to see a garden on top of the roof, so some of them would like to get the same system in their house."
Successful examples or urban gardening are crucial for supporting the grassroots movement that is necessary to reach food security in such a challenging context. Contributing compost to this effort makes SOIL proud.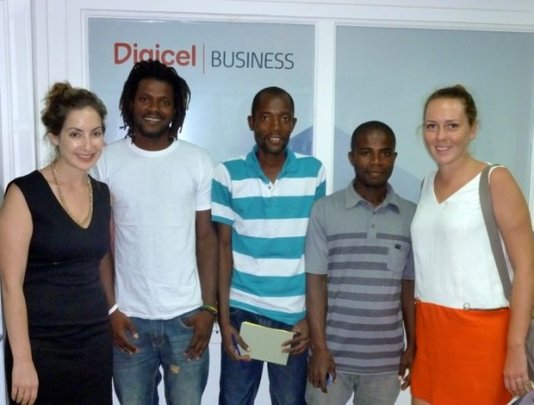 Links: