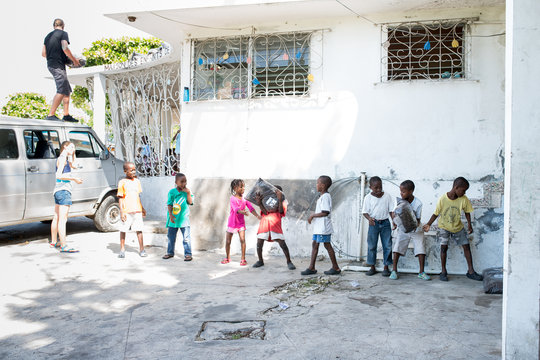 "Would you like to visit our waste treatment site?" This is a question that we ask some of the hundreds of visitors that come to visit SOIL in Port-au-Prince and Cap-Haitien each year. You might be surprised how many times the response is an enthusiastic "Yes!"
We find that our biggest supporters are people who understand the importance of finding ecologically harmonious and financially sustainable models for development. They recognize that ecological sanitation (EcoSan) is such a solution. In Cap-Haitien, SOIL's agricultural team has taken a particular interest in receiving visitors to spread the word about EcoSan, not only as an effective technology that eradicates dangerous pathogens and restores soil health with compost, but as a way of redefining the very concept of waste.
Romel Toussaint, SOIL Cap-Haitien's Director of Agriculture, says that we need to continue to valorize waste in Haiti to increase pride in sustainability and the recovery of vital resources. SOIL valorizes human waste by turning it into a valuable soil amendment, and our compost has been flying off the shelves in Haiti. Each client that buys our "Konpòs Lakay" experiences the amazing results of compost first hand.
Romel's favorite saying around the office is "Kaka Kapab!" which means "Poop Can!" It sounds silly, but we're dead serious about retrieving and reusing nutrients. A recent study published in the journal Science, found that the nitrogen-phosphorus cycle, vital to clean water and human life, has been dangerously compromised by human activity. With "tipping points" like these on the horizon, there is no better time for us to celebrate the increased capacity of our waste treatment sites to generate compost in Haiti. And we are also very excited to see the passion of our agricultural team has for sustainable farming practices and nutrient conservation. By proving a successful model in Haiti, we are spreading global lessons that are more important than ever.
Since our project "Generating Organic Compost for Farming in Haiti" began, we have doubled our waste treatment capacity. The more that we continue to expand our capacity to generate compost in Haiti, the more that people will feel empowered to harness the power of so-called waste to create resources. Thank you for your support in helping us to achieve this mission.
Miniature Customers photo courtesy of Harvest107 / credit Tausha Ann Photo
Romel Toussaint and the team at work photo courtesy of Sashwa Burrous