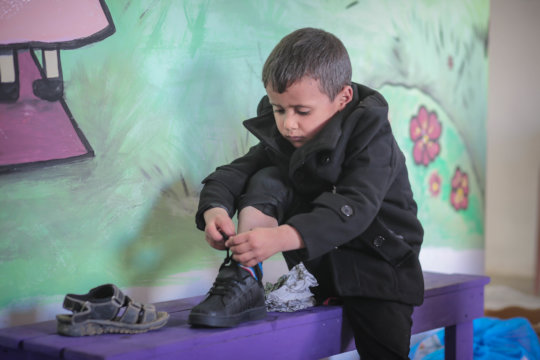 With your support, our staff, volunteers, and partner organizations in Gaza are distributing warm winter clothes to nearly 3,000 children this winter. We ordered the winter jackets, jeans, long underwear, and socks from a local factory in Gaza so your donations are both helping the children and also providing income to 141 families who rely on their work at the factory.
I want to share with you this message from Wafaa El-Derawi, our project assistant in Gaza, so you can read more about the impact of your support:
Despite the fatigue and hard work to distribute winter relief packages to children as soon as possible, I go back to my home every day so happy and excited.
We do not distribute clothes only .. We make smiles, spread warmth and fulfill the dreams of many children
Here, the dreams of children are very simple and often their greatest dream is to get warm clothes and comfortable shoes.
I remember when I was a child I was at my most happy when I get new shoes. I would wait impatiently for the next morning so I could go to school wearing them and show them to my friends and when I returned back my home I would clean and hide them.
When I visited Sanabel kindergarten a week ago to distribute the winter relief packages, Mohammed Abu Daqqa, one of the kindergarten children, asked me loudly, "Did you bring us shoes?" I answered enthusiastically "Yes!" and he jumped from his chair and said " so I will go to my kindergarten every day, even on rainy days! I asked my mother for good shoes and she did not buy them." You can not imagine the happiness of Mohammed wearing his new jacket and shoes, being carried from one classroom to another and showing them to his friends, I still remember him among the thousands of children who received our winter clothing packages.
Many, many thanks for your support!