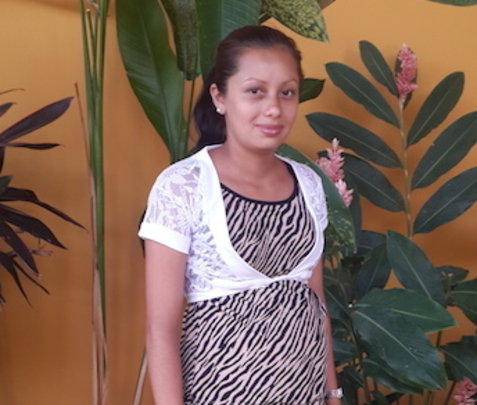 Dear Wonderful Supporters:
At Clinica Verde, we just completed a pilot of our Maternal Infant Nutrition Program, a project using interactive lectures, food based approaches and socio-behavioral change curriculum to teach pregnant mothers about the stages of fetal development, and ways to care for the health of their child in the womb and nutrition during the pre-natal, post-natal periods and the first five years of life. There is substantial evidence that prenatal and under 5 nutrition impacts a person's health and wellness over their entire life course. Education surrounding these topics is limited in the city of Boaco, Nicaragua, where Clinica Verde is located, and demand exists to repair the discrepancy. To address this, Clinica Verde initiated a 10-week pilot project for pregnant mothers to teach fetal development and maternal and child nutrition through presentations, interactive activities, use of our organic, bio-intensive demonstration garden and cooking demonstrations. We're thrilled by the promise and early feedback on this program and, with your help, hope to continue the work. Below, meet one of the mothers who engaged in the program.
Nuvea*, 20, recently discovered she was pregnant. She is now part of Clinica Verde's Maternal and Infant Group, and visits every Wednesday with other new mothers to learn about care and nutrition during pregnancy. Here is what Clinica Verde means to Nuvea:
"Being a part of this group is an incredible experience. We did not come prepared to be mothers, but now I feel I'm ready to be one. Clinica Verde provides an education that you can't receive anywhere else around here. Now that I´ll be a mother, I have learned to love myself even more knowing that I have life inside. It gives me tranquility to know that Clinica Verde will be there when my baby is born and I can bring him here and entrust him to these people who treat me well and are so welcoming. I come here because I want the best for my son and somehow I already feel like a part of this place."
Thanks for helping us provide this experience to Petronila and other mothers. We hope you will continue to follow our progress!
•••
In other news ...
Community outreach is a big part of our vision for health and hope at Clinica Verde, and this week our staff celebrated Day of the Child in the village of Paso de Lajas, located southeast of the city of Boaco. The village has a population of 300 people, including 50 families who attended our celebration. During the day we distributed vitamins to the children and painted their faces. It was a great time for staff and the community. Thank you for helping us do this work!
With gratitude,
Susan
*Her name has been changed to protect her privacy.