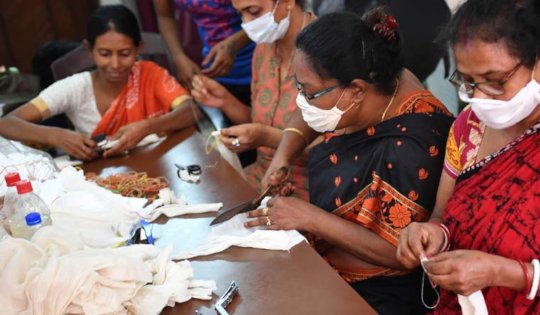 With the COVID-19 pandemic impacting everyday life, we thank you for your continued support and wish you and your community health and peace. Right now, BARNAMALA EDUCATIONAL AND CULTURAL SOCIETY faces new challenges. As we adapt to these unprecedented circumstances, we'll continue to serve our communities as best we can. However, in order to ensure the safety of our community and ourselves, we've made necessary modifications to our programming that we'd like to share with you.If you're changing your programming: Given the situation, we've made a few important changes to our programs. These changes include Training. We look forward to resuming original programming once it's safe to do so.As COVID-19 continues to spread our benificiary,trainer,volunter and our members are face problem .From 15th March 2020 our training centere close now.If you're expanding your programming: Since our organization's programming already aligns with COVID-19 relief/recovery efforts, we're doubling down on this work. We're doing this by Progrmming. We're grateful to be in a situation that allows us to continue serving our community during this crisis.
You can advocate for us by sharing our mission with a family member or friend. Even a quick mention on your social media would mean the world to us.In times like this, we're reminded of how interconnected we all are. Thank you for being part of our community. Without you, none of it is possible.
Stay safe and well,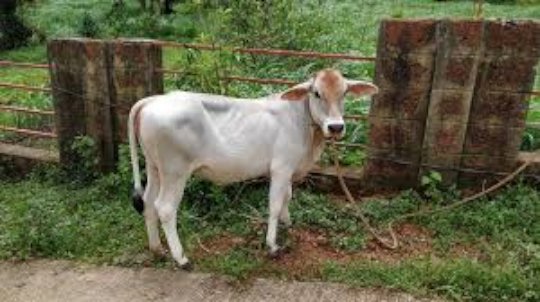 Barnamala Educational and Cultural society Members and volunters are aim is purchase a land and construction for preservation of cow.Witout your support we are not achive our aim.Our organization is very small,This time very critical position around the world. Covid-19 virous spread all over the world.In our state West Bengal Covid-19 viorous also spread. Our volunter and members are staying their home also we are safe.So we are request to all hertiest donar,corporate donar to donate this project.
"Cow is our mother. It is the most important domestic animal. It gives us a very healthy and nutritious food called milk. It is a pet animal and many people keep her in their houses for many purposes. It is not a wild animal and found in many parts of the world. Everyone gives respect to the cow like a mother. The cow is worshipped in India as a goddess from the ancient time. People in India bring her at home as a dhan Lakshmi. The cow is considered as the holiest animal among all the animals
So all of you kindly look and donate
Thanking you
Regards
HARIPADA GIRI
This beautiful creation of the God! The angel on the earth makes our life a wonderful experience all together. Imagining life without a woman is quite hard-hitting. This angel shakes the cradle with one hand the earth with the other hand. The fact that all the great people of the world are born from the womb of a woman and it is a woman from whom those great people have taken their initial teachings. And that is the reason we have always emphasized upon giving the due respect to women in their life. And that is why women's day is celebrated with so much of zeal and it has spread throughout the world.
To teach people the various roles played by women in different spheres of life in various organizations and educational intuitions and various national and international platforms, women's day speeches are delivered. Celebrating Woman is a way of feeling gratitude to the each and every woman in one's life, be it in the professional or the personal life. International Women's day is observed every year on 8th of March and it is observed around the world to celebrate the velour of women. In most of the country the day has been observed as a national holiday. Women from various cultural and ethnic groups come together crossing all the boundaries to remember their struggle of many decade for peace, justice, equality and development. The day allows women to raise her voice for an equal opportunity in whatever field she wants to participate in; same a man is provided with.International women's Day all about feeling women realize their worth and giving them boost to achieve as per their actual potential. On this day the world unites to appreciate their courage to cross all the hurdles and make such tremendous improvement in all most all the spheres of life. Besides that, it is the most important thing to be given emphasis is the work that still needs to be done to fill that gap completely that had existed from ages.A general myth that exists in the society is that issues related to women empowerment can only be addressed at an infinitesimally slower pace. Many people out there in society believe that the gender gap not really exits and some are also of the belief that the efforts made by individuals cannot actually make difference to the gender gap that exists in the society. These beliefs have over the years debilitated the power of women. The first in this Endeavour to eradicating this deep rooted menace is realizing that the problem can only be identified and solved by interacting with the people who are actually irrational taboos of the society. On this day we must realize that every single person's contribution towards fighting a threat of the society counts. International women's day is all about being aware of the fact that each individual has to work in their own way for changing the ugly face of the society.
Thanking you
WARNING: Javascript is currently disabled or is not available in your browser. GlobalGiving makes extensive use of Javascript and will not function properly with Javascript disabled.
Please enable Javascript
and refresh this page.