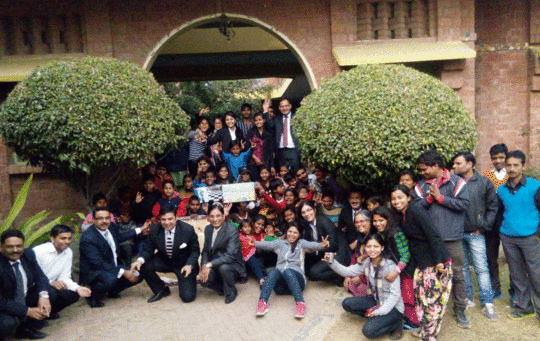 This quarter is the most beautiful and busiest time of the year. As the flowers bloom, and the weather is cold, our hearts are warmed by the annual visits of our old friends, visitors, funders and buyers from across the world. They spend time interacting with all our children and staff, bringing in their positive energy and love. It also ushers in spring, celebrated by the colourful festival of Holi which brings in our alumni and other friends to rejoice together as one big family.
One of our closest and oldest friends, Deborah visited Karm Marg with her husband Steve. She is the Member of SCOMI (Step Children Of Mother India ) based out of Netherlands which were the first funders of Karm Marg when we were starting out. While staying at KM, they met all the children with whom they share a strong bond individually and talked to them about their progress. Spending a few days at the home, among other fun activities, Deborah taught the youngsters with spécial needs how to bake bread in our new bakery unit. Lots of photos were taken which she wanted to share with the other members back in Netherlands.
The small children performed a few dances in a program organized for Deborah and Steve which was also attended by board member Brinda and our old friend and mentor Simon.
The alumni of KM, who have always shared a lovely relationship with Deborah were very keen to meet them as well, so we organized a get together at the Founder President, Veena's house one evening. Almost 30 youngsters with their spouses and children attended the party along with board members. They spent the evening updating us with all the news from their personal and professional lives. It was very heart warming and motivating to see them lead happy, independent lives. A lot of stories and memories of the days gone by were shared. Laughter and love overflowed till wee hours of the morning.
We tried a new fund raising event, where our close associate Preeti chose to celebrate her 40th birthday party along with KM's 18th birthday at a picnic at Lodhi garden. Her invitees along with ours, spent the whole day playing games, eating, chatting and having a great time together. She requested all her guests to donate to KM instead of giving her presents. Along with money that was raised, the children got treated with various homemade eatables, toys, sports equipment, sweets, ice creams and a whole lot of love. The children has such a great time that now they keep asking us when the next picnic will be held. Her singer friend Harpreet also sang and played the guitar for the children, who were so taken in that they all wanted to learn how to play the guitar after that. Other invitees offered their expertise to KM on a pro-bono basis too. Her film making friends, Ravi, Puneet and Neeraj also made a lovely short film based on the video recordings of that day. We shared it on social media and intend to use it as an AV for corporate presentations too.
All in all, it seemed to have been a fun-filled, 'fund and friend' raising experience for all.
After ushering in the new year with a lunch, magic show and gifts for our children, the Hotel Taj Vedanta team visited again with their chef and yoga instructor. They repeated the much loved magic show for the children. Their chef talked about hygiene and yoga instructor discussed the benefits of yoga and morning exercises. They distributed toffees and chocolate to the children.
Aparna, a journalist who left her job for year to do volunteer work with different NGO's came to KM for a month. She conducted lots of creative activities with children. She taught the children how to create an interesting newspaper by collecting small, day to day stories and activities that goes on at KM. All the children wrote or illustrated relevant articles and also took interviews of the staff members to put in the our very own newspaper. Her affectionate nature made her very popular and a loving part of the family in such a short while.
Our old friend Pallav who now lives in the US, came to visit KM with his 10 year old son Arjun. Pallavi had made the movie 'Unseen' based on street children and Karm margin 2000. Pallav wanted her son to be connected to KM in future and understand the reality of the children who live in difficult circumstance. Arjun came to KM for 3 days. He taught KM children soccer, had storytelling sessions and English classes with them.
In turn he learnt bag making in our stitching unit and made a bag for his mother. He also made self-designed news paper bags for his friends in the US. He really enjoyed his visit to KM and came up with so many question about such children's condition in India.
He often asked us poignant questions trying to comprehend the vast differences he saw in lifestyles. Among the many he asked, one question that floored us was:
"One thing that stood out in my experience of Karm Marg was how nice and at peace the children were. There was no trace of bitterness in them about the circumstances they had gone through in life before coming to Karm Marg. What do you think explains this wonderfully positive attitude?"
It made us and the children retrospect about more such topics that we often don't stop to think about.
In this quarter, two very important things were accomplished. These mandatory expenses had pushed our budget up for the year substantially.
We installed CCTV cameras mandatory as per the guideline of government's child protection policy of the CWC. Total amount we spent on this was $1000.

There was a major fault in our electricity supply. The main power points and stabilizer were damaged due to fluctuation in the supply which needed urgent repair. Electricity work was done in the month of January and February. New three phase servo stabilisers were installed in the electricity room. Also, much needed rpair and upgradation work was carried out throughout the premises. Total budget of this project was

$3550
A new beginning...
We initiated the mobile library project with the government primary school with the books received through a grant from Pratham. We now go once a week and lend them story and other books to read. We also conduct story telling workshops to increase their interest in reading. This quarter we interacted with a group of 40 children. They all come from the rural area nearby and do not have any access to story books or libraries.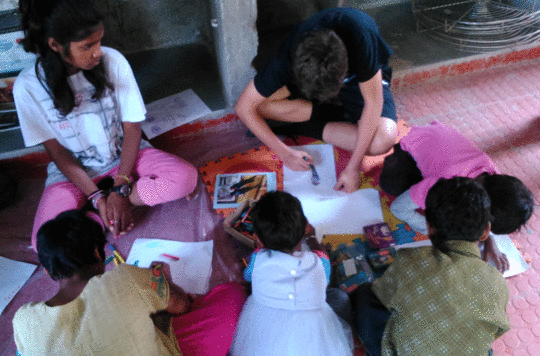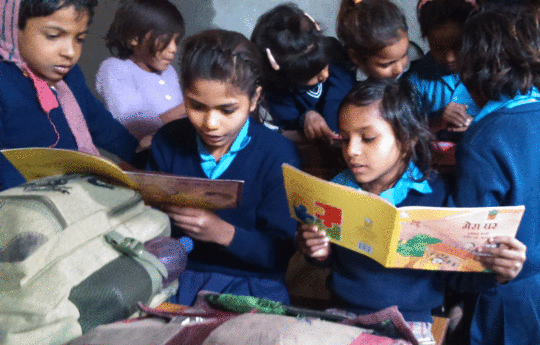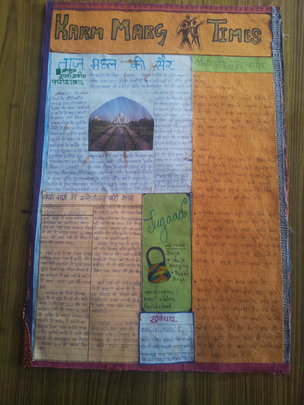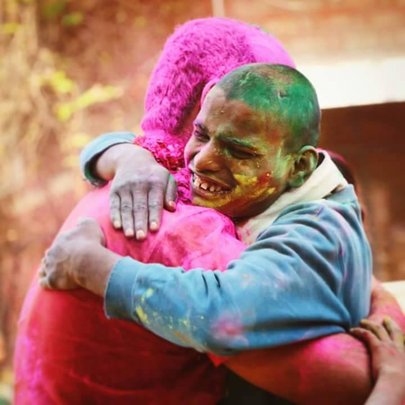 Links: