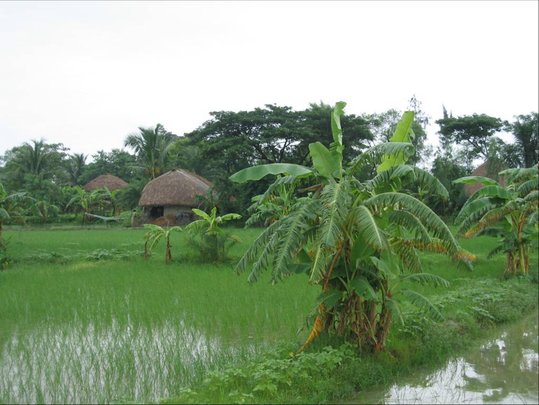 Dear friends,
Anudip is well into the second fiscal quarter of 2012-13. We trained 903 students in first quarter and placed 544 of them in jobs or businesses. You will remember our target for the year is 5000, so the quarterly numbers will accelerate as the year unfolds.
The targets for this quarter are 1250 trained and 1000 placed. Our numbers for the same quarter in 2011-12 were 700 and 630 respectively.
As you can see we are growing fast! The number of centers where classes are held has gone up to 52 and our faculty strength has crossed 40. In case you are wondering, several trainers cover multiple centers. We are expanding from West Bengal into the neighboring state of Jharkhand in August.
So the last few months have been about managing rapid growth fuelled by increased grants and earned income. Because we are growing fast we are carefully putting new policies and procedures in place to streamline our operations without adding unncecessary bureaucracy.
I want to express our deep appreciation for our faculty that braved 45 degree Celsius temperatures in stifling humidity to conduct their classes in remote places. Several suffered heat exhaustion in the process. With the grace of God everyone is ok and the monsoon has arrived to cool down our geography. The next few months will see lush green trees and emerald rice fields, for me the most beautiful time in eastern India.
Thanks again for your continuing support.
Dipak
Links: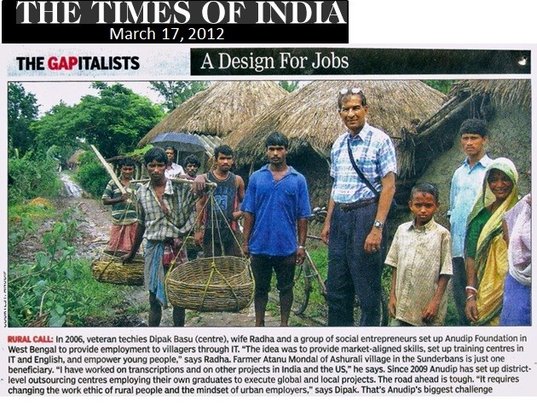 Thank you for your confidence in Anudip Foundation to carry through with its mission to provide jobs or incubate business startups for marginalized Indian youth. Some of the evils of letting bright and educated minds stagnate are drugs, crime and insurgency as well as loss of voice and self-identity in their families and communities.
Since the GlobalGiving campaign began, Anudip has launched several new training centers as the new financial year got underway. We have laid plans for expanding operations from West Bengal to Jamshedpur and Ranchi regions of Jharkhand in the 2nd quarter, and to Orissa toward the end of the year.
In this period Anudip was showcased in the country's largest-circulation newspaper, Times of India, to coincide with unveiling of the national budget as an example of rural progress. The clip from TOI is attached.
Our training target for 2012-13 is 5000 young men and women, 1500 of whom we expect to fund through the GlobalGiving channel. Our other sources of income are grants from American India Foundation and Omidyar Network, a soft loan from the National Skills Development Corp, and our own earned income.
Anudip's faculty is growing and looks forward to scaling the company to become a leader in rural skills development in a country where villages continue to languish as backwaters.
You can track our progress on our website, www.anudip.org.
With good wishes
Dipak Basu.
Links:
WARNING: Javascript is currently disabled or is not available in your browser. GlobalGiving makes extensive use of Javascript and will not function properly with Javascript disabled.
Please enable Javascript
and refresh this page.