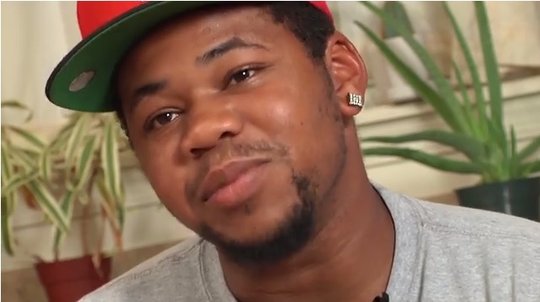 We are pleased to share with you the story of one of the youth we've worked with the past three months. Jonathan Williams is a happy, thriving young man with a loving and supportive family. At 21, he is high school graduate with dreams of flying planes for the Air Force. Just three months ago, Jonathan had been homeless for six years. After Jonathan's mother passed away when he was 15 and no father in his life, he learned how to survive on the streets.
Today, a couple in Prince George's County in Maryland is Jonathan's loving and supportive family. The family participates in LAYC's transitional living program, an 18-month host home for homeless youth 16-22 years of age. LAYC found Jonathan through its street outreach program and within a few weeks, Jonathan was enrolled in LAYC's case management services, receiving the supports he needs, and stably housed. Jonathan is now able to be a young person exploring his career and educational goals. For example, the program connected Jonathan with an Air Force recruiter and a program alum who served in the military. Jonathan is also exploring a career in construction management, has applied for admission to Price George's County Community College, and he is working on an application for a New Futures Scholarship.
The youth we serve, advocate for, and care about depend on us to believe in them and their dreams, and most of all to give them a chance. On any given night, the District of Columbia has an estimated 500 homeless youth; virtually all of them are on the street through no fault of their own. This is why we do our work, so that homeless youth can have a stable place to live, a good support network, and are able to improve their lives.
Thank you for your continued support of our project. Please consider making a generous donation to our project this holiday season.
P.S. Watch Jonathan discuss how he became homeless in this video produced by community partner DC Alliance of Youth Advocates.
Links: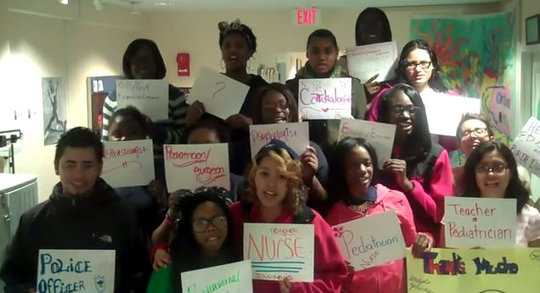 Dear Future Health Professional Supporter,
Thank you for believing in our project and investing in LAYC's Teen Health Promoters Program. We are excited to introduce you to the fourteen future health professionals in this year's cohort. From nurse to anesthesiologist, this group has big dreams! Watch this short video to see what each one of them hopes to become.
The program kicked-off in October with the knowledge acquisition phase of the program. The youth are learning about sexual wellness and the different career pathways in the health care field. Sexual wellness topics include safe sex, birth control, refusal skills, and reproductive anatomy among other topics. In exploring career pathways, the youth are learning the steps needed to become health professionals, from the courses they should pursue in high school, to admission requirements for different post-secondary programs. In the next weeks, they will learn about nutrition, fitness, mental health, substance abuse prevention, and clinical skills.
In the spring, they will be ready for clinical internships where they will shadow health professionals and learn how the front- and back-ends of a community clinic work. In the meantime, the Teen Health Promoters will complete 3-4 community outreach events and will reach over 500 peers with their peer-to-peer sexual wellness advocacy.
We will send you pictures and updates from the program periodically. If you have a friend that may be interested in what we are doing to prepare the next generation of minority health professionals, please share our project with them.
Thanks again for your support!
Links:
In the two months since we started our fundraising efforts on Global Giving, we have raised a little over 40% of our goal, thanks to your donations, Facebook shares, and tweets. Here's a big THANK YOU to you for those efforts!
With the funds we have raised thus far, we were able to open the therapeutic playroom. Your support has helped us buy bookshelves, books, and some toys. I wish I could show you pictures of all of the children as they walk into the playroom (for their protection, we can't photograph their cute faces). Their eyes grow wide as if saying, "Are all of these for me?" The environment helps children feel safe and this helps us work with them as they process their emotions through play. We do have a lovely picture to show you of LAYC participants not in therapy so you can see how the room is coming together.
We're excited to share with you that the funds allowed us to order interlocking foam-flooring for the entire playroom, a play kitchen, and a complete set of blocks. Our next step is painting the room and buying child-friendly furniture and toy storage containers. Right now, the toys are quietly lined up against the walls; a sight the children love. I am really looking forward to sharing more pictures of the playroom as you fill it with color, shapes, and imagination.
In the meantime, I need your help spreading the word about the project and asking friends and relatives to help us reach our goal. Every donation, email, and social media post gets us closer. During the month of September, Global Giving will run a contest for individual supporters where you can win prizes (like Jet Blue tickets!) You can also help us win bonus funds. Go here to start a Fundraiser Page for the LAYC Therapeutic Playroom project.
Thanks again for believing in our project,
WARNING: Javascript is currently disabled or is not available in your browser. GlobalGiving makes extensive use of Javascript and will not function properly with Javascript disabled.
Please enable Javascript
and refresh this page.