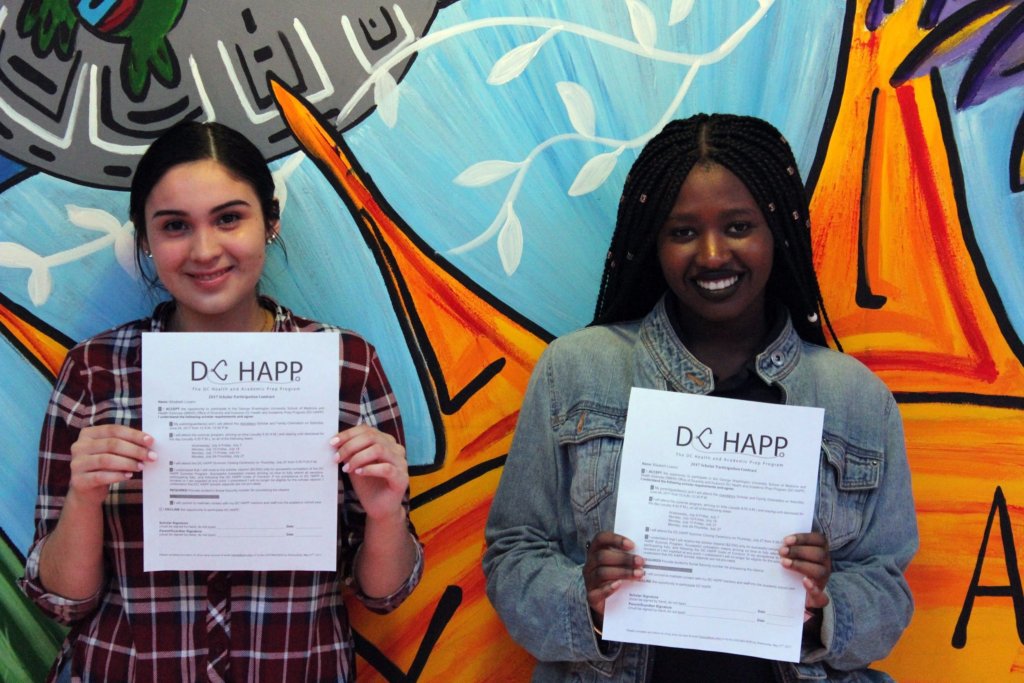 Dear Friend,
In the final months of the Teen Health Promoters (THP) program, two high school students were granted the opportunity to participate in the DC Health and Academic Prep Program with the School of Medicine & Health Sciences at George Washington University—a prestigious medical internship program.
Elizabeth and Cindy, both DC high school students, have proven that they have the passion, determination, and commitment to pursue a career in healthcare. Please enjoy the following letters from each.
From Elizabeth:
"Teen Health Promoters has exposed me to many different healthcare careers. At my internship at George Washington University hospital, I was able to see the daily life of a nurse, doctor, and other professionals that work in the hospital.
For example, one day I shadowed an Occupational Therapist. Her job was to teach a patient how to use new tools that will help the patient recover. Before entering the room I had no idea what an Occupational Therapist was and I never thought I would have an interest in becoming a therapist until that very day. I believe that day changed my life. As I was watching the therapist care for the patient, I got emotional listening to her patient story and how she felt hopeless to recover fully. As we were teaching her how to use new tools that will help her recovery, her eyes glowed with so much happiness. At the end of that day, she was so thankful and grateful.
Never would I have thought that things that most of us take for granted others desire to be able to do. It was self-explanatory why occupational therapists love their job. You are able to create change in a person's life and give them that sense of hope that they may have never had.
Teen Health Promoters expanded my understanding of health professions beyond the traditional route of becoming a doctor. Thank you, THP, for helping me decide on occupational therapy!"
From Cindy:
"Six years ago my family and I decided to move to the United States for me and my siblings to have a better education. I felt so lucky to have the opportunity to live in the United States because I heard so much good about the education systems here. Back home, we had to pay for school and the teachers weren't trained. I had times where I used to cry to myself because I felt so sad that I had to leave my country and the friends that I grew up with all my life—but most of the sadness came from me fearing not knowing anyone in the United States. I remember thinking to myself: 'I'm going to be a stranger.'
I grew up speaking French all my life so I didn't speak a word of English when I arrived. I was enrolled in a new school where I knew no one. It was very difficult for me because I couldn't read nor write as well as my peers. I was so ashamed and mad at myself for not knowing what was being said around me. When the teacher would call on me I wouldn't speak because I was afraid that the other students would mock me or judge me because I had such a thick accent.
One day a bunch of girls teased me until I cried because I didn't know English. That awful experience motivated me to learn English and come out my shell. I started reading short stories on cereal boxes, listening to music, and only watching TV in English. In just three months I was speaking, reading, and writing English. With the right tools, I feel as if we can accomplish anything.
Applying to the Teen Health Promoters Program at LAYC has opened so many doors for me. Now I have a place that I can call home where I am free and can follow my dreams of becoming a medical professional.
In just a few weeks, I will be a part of the DC HAPP program turning my dreams into a reality. My experience as a foreigner has taught me that everyone has flaws and not to judge nor look down on anyone. I believe that you should treat everyone as equal no matter what language they speak or where they from. In the Teen Health Promoters program, we have a group of diverse students who speak many different languages and being a foreigner I am able to connect with them and share my story and motivate them to never give up."
We are so proud of Elizabeth and Cindy for pursuing their dreams! Thank you for supporting Elizabeth, Cindy, and all the Teen Health Promoters through your generous donations.
Gracias,
Lori