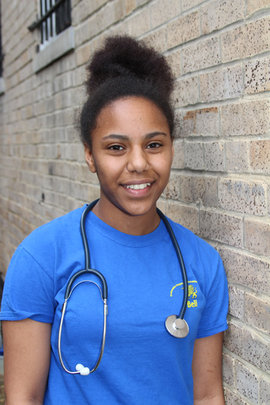 Dear Future Health Professional Supporter,
Meet Bontu: a driven 16-year-old with the goal of becoming an anesthesiologist. Bontu knows the answer to the ubiquitous question posed to many young people: "What do you want to be when you grow up?" She also knows what it will take to get there.
A native of Ethiopia, Bontu immigrated to the U.S. at a young age. Not knowing the language and customs of her new home, she faced many of the same challenges young immigrants from all over the world face as they adapt to a new school and life.
"I came to America at the age of 11 and entered sixth grade without going to grades 1-6. My family did not speak, write, or read English. Therefore, I had to do it myself for my family, my community, and my world. I started to study every day and dedicated many hours to reading as well as writing English. I got better at doing those things, but wanted to do something that would help me change how individuals from America perceive Africans or even individuals from other countries. That was the time I discovered science and the impact it had on me," said Bontu.
Last fall, Bontu joined LAYC's Teen Health Promoters to pursue her dream of becoming an anesthesiologist. Bontu is completing her clinical internship at The George Washington University Hospital, and the staff there have taken note of her skills. The School of Medicine and Health Sciences Chapter awarded her the Health Professions Recruitment and Exposure Scholarship to support her education.
On her selection, Bontu says, "Getting this scholarship is very important to me, because I am one step closer to changing how we see the world... My dream is to give equal opportunities to those who deserve it by using science. Many might think it is impossible for me to achieve my dream simply because of where I came from and what I have been through, but as we all know the only thing that matters is where we want to end up."
Not only has Bontu received a scholarship from George Washington University, but she is also one of four Teen Health Promoters who have been selected to participate in the DC Health and Academic Prep program, a four-week summer experience at GWU for rising seniors interested in a health career. Along with a $2,500 stipend, youth will work directly with physicians and other medical professionals to learn about various health career paths, participate in college preparatory activities, receive support with the college application process, and build mentoring relationships for long-term academic and professional success. When remarking on these students' success, Andrea Thomas, M.P.H., Sexual Wellness Program Manager and staff member at LAYC stated, "When I look at the Teen Health Promotors, I see the health leaders of the next generation."
Because of you, youth like Bontu truly are becoming the health leaders of the next generation. Thank you! Every contribution expands the opportunities that these driven youth may access, including hands-on experience, internships, and scholarships. Please consider donating monthly to sustain the Teen Health Promoters program and support youth like Bontu.
Gracias,