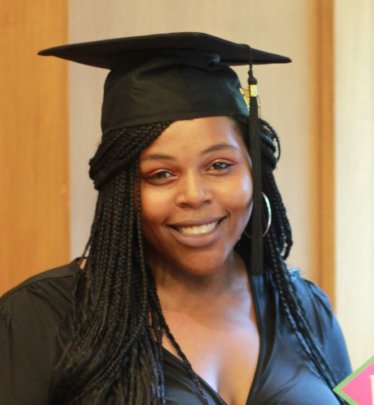 This holiday season, the LAYC family is reflecting on the inspiring stories of young people who have drawn upon their own resiliency and inner strength to achieve academic and personal milestones so significant they are altering the course for the generation that follows them. Among other obstacles, many of these youth have faced homelessness and at some point in their journey.
With your support, our young people have found belonging, dignity, and hope, which have unlocked talents and strengths that enabled them to persevere toward their goals. Keshawn is one of those youth.
When Keshawn first came to LAYC, she had assumed her background and circumstances meant she was destined for an unfortunate future. However, she was determined to fight for a happy life for herself and her newborn son. Keshawn recalls, "I didn't want to be just another statistic…a young mother who is black who dropped out, who had a kid and doesn't know anything."
While caring for a new baby, Keshawn studied for her GED at LAYC. Even when classes were not in session, she committed to studying on her own. However, accumulating family expenses and housing needs made it hard to stay focused and see her studies through to the end.
Despite feeling depressed and wanting to give up at times, Keshawn managed to stay motivated because of her love for her son and the support of LAYC staff that checked in daily, treating her with dignity and respect and offering constant compassion and encouragement.
"So many young people are going through so many problems. We really need to have support, like someone checking in…making sure you're ok."
In addition, support from individuals like you helped us provide wraparound supports to Keshawn, including a program stipend, diaper donations, meals, employment connections, and family-friendly housing. This gave her the room to breathe and continue with her studies while feeling confident that she was a good mother to her son.
"[LAYC staff] helped me to see my worth…we all make mistakes. As long as you show up and keep going, and want the best for yourself, you can do it."
Keshawn has now passed all sections of her GED and is completing professional certifications at LAYC. She feels extremely proud knowing that she persisted, and has set a course for a better future for her son. Joining many past LAYC participants, Keshawn was so touched by her experience with genuine and caring case managers that she wants to become a social worker. "I want to help people feel the way LAYC staff made me feel."
Unfortunately, not all young people like Keshawn feel seen, respected, or empowered to seek the resources and supports that can unlock their full potential. Through your contribution, LAYC staff can continue to provide opportunities for youth to fulfill their hopes and dreams.
On behalf of the entire LAYC family, thank you for giving the gifts of joy, dignity and hope to our youth!