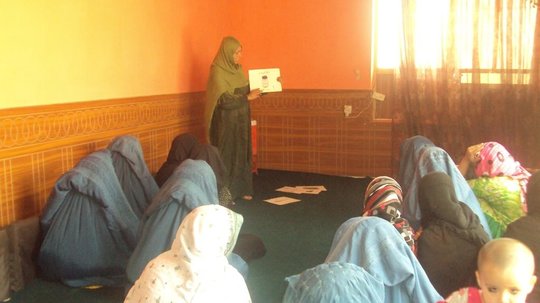 We greatly appreciate your invaluable support for the successful project, Train Afghan Women to Champion Reproductive Health.
Please note that we will be deactivating the project from the Global Giving site, as this Phase of the project is complete. Fortunately, we have received additional support from the Conservation, Food & Health Foundation and other donors to implement the next stage of the project.
We are excited to inform you that we are currently seeking support for a new project to be implemented in Sierra Leone: Sierra Leonean Youth as Family Planning Peer Educators. Please consider supporting this invaluable and innovative project.
Through this project, Marie Stopes Sierra Leone (MSSL) will train and support 60 youth peer educators to inform their peers about reproductive health and where to access services. MSSL seeks to support young people to speak with other youth about family planning and sexually transmitted infections to break down myths, provide accurate information in a confidential way, and show youth where they can access youth-friendly, non-judgmental services should they want them.
You can now support this project by visiting this link on the Global Giving website: https://www.globalgiving.org/dy/v2/pe/project-edit/edit-page-1.html?project.projId=16844
We greatly appreciate your continued support of Marie Stopes International, which enables us to further our mission of children by choice, not chance.
Project Report: Train Afghan Women to Champion Reproductive Health
Through invaluable support from GlobalGiving donors and the Conservation, Food & Health Foundation, between October 1, 2013 and December 31, 2013, we recruited and trained additional Mullahs' Wives , increasing our team to a total number of 22 Health Education Champions (HECs).
Between October 1 and December 31, 2013, HECs provided 970 women in Herat Province with essential information on reproductive health including messages on family planning, birth spacing, and the value of breast feeding. As a result, 362 new clients visited our clinics to receive a range of essential health services including family planning counselling and services, ante natal care, post natal care, STI testing, and health care for children under five years of age.
In the same period, HECs reached 1,334 women in Balkh Province with lifesaving reproductive health messages and as a result, 472 new clients were referred to MSIA clinics.
This project has successfully demonstrated that working with religious leaders and their wives, who are highly respected and influential within the community, is one of the most effective ways to influence the community and establish safe referral mechanisms to access life-saving SRH services.
Thank you again for helping women in Afghanistan receive vital information and access to family planning services!