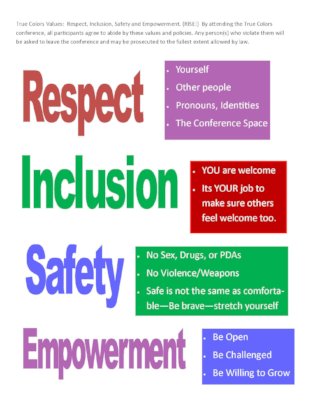 Often in this space, we talk about the individual services (like mentoring and youth development) that your donations help make possible. This month we'd like to talk about a different kind of service, one that is intimately tied to our core mission: Capacity Building. True Colors doesn't just provide direct services to LGBTQ+ youth and families; we help make sure that other programs that serve youth can also serve LGBTQ+ youth and families with competency and care.
LGBTQ+ youth and families cross all spectrums of life - race, ethnicity, ability, citizenship, language, etc. Our kids go to school; they play sports and participate in afterschool activities; they see a doctor for illness or wellness checks; they might see a clinician or school social worker -- and on and on interacting with the 'systems' that lives are made of.
No where in any of their mission statements do any of these organizations say, 'We only serve straight and cisgender people. Furthermore, we don't have a clue what to do when one of our constitutents is LGBTQ+."
That's where we come in. It is our job to help organizations recognize, affirm and serve their LGBTQ+ constituents competently. Over the last 25 years, True Colors provided cultural competency training to more than 30,000 participants across Connecticut and nationally.
From a school district training:
We were asked to provide culturally competency training to every teacher in the district, from kindergarden to twelfth grade. Upon learning youth were now coming out on average between 11 and 13 years of age (so middle school), a group of middle school teachers decided to make a difference in their school. They helped their students create a Gender and Sexuality Alliance (GSA). They focused on the GSA because they knew from our training that the existance of a GSA was the only school-based intervention that reduced suicide among LGBTQ+ student. Two members of the group (12 year old straight, cisgender girls) decided they wanted to host a LGBTQ+ pride celebration to educate their community. Their first pride attracted more than 400 participants - their second (this year) over 1,000.
From a training for social workers:
She was a CT State Department of Children and Families (DCF) social worker in the Adolescent Unit. it had never really crossed her mind that some of her youth might be LGBTQ+ -- it just wasn't on her radar. Then she attended one of the first trainings we did for DCF social workers back in the late 1990's. And she was transformed from a bystander to an ally. As a social worker, she made it possible for dozens of LGBTQ+ youth in foster care and group homoes to attend our annual conference ever year and to participate in our mentoring program; Now as the Director of Quality Management, she works with True Colors to create and update policies impacting every child and family in the system. DCF is ahead of almost every other state in its' LGBTQ+ policies and practices.
Many of the training programs we offer are pro bono. We believe that people who can pay for our expertise should. And we believe that a school or organization's inability to pay shouldn't result in poor service to our kids. Your donations help make that work possible. And we are very, very grateful.
Thank you. Together we are helping to create a world where youth of all orientations and genders are valued and affirmed.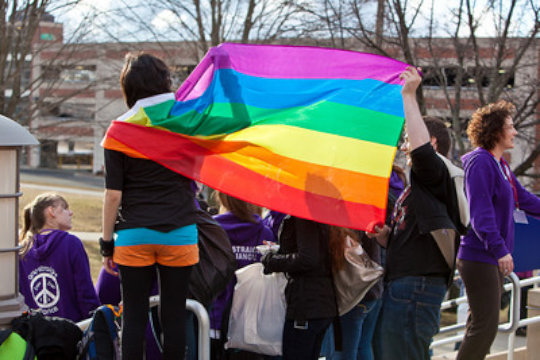 Links: