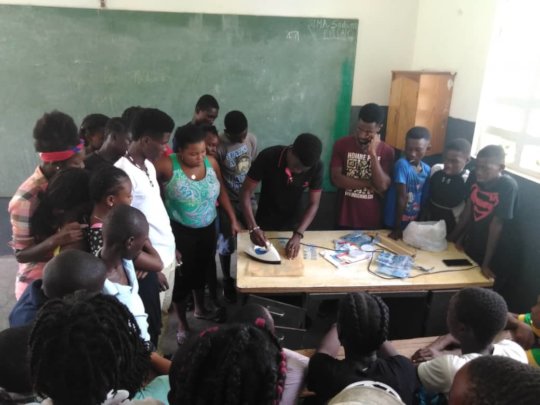 In Petit Trou de Nippes, on the southern peninsula of Haiti, there is no opportunity for vocational agricultural education, even though farming is the most common source of income for rural families there. The Colorado Haiti Project supports two young adults to attend a three-year agriculture program on the central plateau of Haiti. The two students, Schneider and Jameson, ended their first year with high marks and much enthusiasm, finishing second and fourth in their class.
They are not waiting until the three-year program is over to begin their work in their home community of Petit Trou. They returned for their summer break to participate as leaders in the summer camp for 75 children at St. Paul's School.
Schneider and Jameson have become passionate about environmental concerns such as soil erosion, recycling, and reforestation in their first year. They spent three weeks as interns during the year at a conservation farm in the mountains of Haiti called Wynne Farm. This program fed their interest and knowledge of the concerns of Haiti's deforestation.
For the three-day intensive summer camp, the young men led three different sessions devoted to environmental concerns.
On day one, they introduced the concept and method of making briquettes out of recycled paper to replace tree-sourced charcoal briquettes. They learned about the briquettes at Wynne Farm. The process involves taking recycled paper, soaking it and forming tight balls, then allowing them to thoroughly dry. After that, these paper briquettes burn hot and slow, like charcoal briquets! They also are less toxic to the environment and help reduce deforestation.
The second day was devoted to a recycled plastic project. The kids collected the sadly ever-present small water bags that provide a small 6 oz. portion of water. These little bags ensure the students get frequent drinks of clean and safe water but, they also produce thousands of little bags that litter the streets and school yard. Schneider and Jameson showed the campers how to take three clean bags and with a special ironing technique and a little bit of sewing turn them into wallets, purses, and shopping bags. This session was a big hit and the kids really enjoyed it, especially when they got to take home their own little wallets.
On the final day, Schneider and Jameson, shared their true passion, the importance of trees. When asked about this, their eyes light up and they expound at length when there is an audience. The students in camp all received a tree to plant at home on Earth Day and so the importance and care for their trees was discussed.
The camp ended with all the camp counselors, led by the organizer, Darline Nicolas, holding a session on the importance of children in the community. They discussed the rights and responsibilities of kids and finished with an uplifting and empowered feeling among all the campers.
It is one day in the life of kids in rural Haiti. With the intent of supporting these children and their families to create healthy farms and homes: recycling, reusing, and protecting their environment are essential. The Colorado Haiti Project plans to continue with interactive learning programs similar to this summer camp and to continue to support young adults like Schneider and Jameson in bringing techniques and education back to the community. Please stand with us and contribute this year in support of healthy families in rural Haiti.