GlobalGiving Rings the Nasdaq Opening Bell
December 27, 2022 (WASHINGTON, DC) — GlobalGiving is set to ring the Nasdaq Opening Bell on December 27, 2022.
Interim CEO Donna Callejon will mark the occasion with reflections on GlobalGiving's 20th anniversary, celebrated this year.
"We're incredibly honored to ring the Nasdaq opening bell," Donna said. "This is a time of celebration for our entire community — and a wonderful time to acknowledge the positive impact of putting dollars in the hands of local communities."
Since the start of Russia's invasion of Ukraine earlier this year, GlobalGiving's community has raised more than $57 million to help the Ukrainian people, enabling the organization to support more than 200 responding nonprofits. In 2022 there has been significant growth in the number of donors choosing to give through GlobalGiving across all geographies and areas of focus.
"The story of the past year for GlobalGiving — and the 19 years leading up to our 20th anniversary — is truly one of generosity unleashed," Donna reflected.
Over the past 20 years GlobalGiving donors have supported more than 33,000 community-led projects in 175 countries.
The bell ringing ceremony will be livestreamed by Nasdaq here.
To schedule an interview with Interim CEO Donna Callejon or incoming CEO Victoria Vrana, please reach out to Kristin Wright, Senior Public Relations Manager at GlobalGiving at media@globalgiving.org.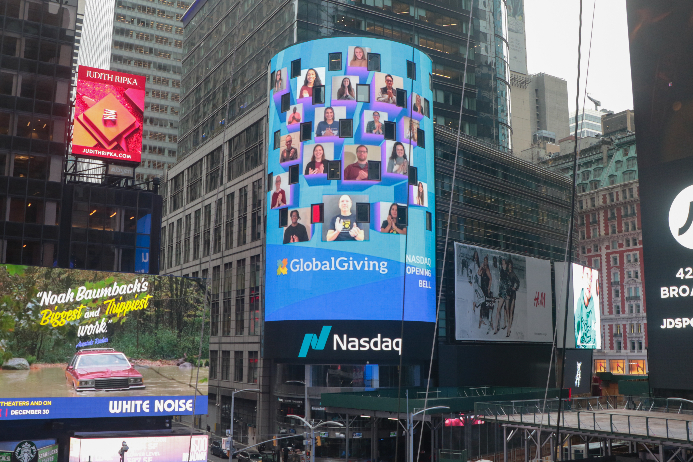 About GlobalGiving
GlobalGiving is a top-rated nonprofit that makes it easy and safe to give to local projects around the world, while providing fellow nonprofits with the tools, training, and support they need to thrive. Since 2002, the GlobalGiving community has raised more than $752 million from 1+ million donors for 32,000 projects in 175+ countries. To learn more, visit www.globalgiving.org.
Media Contact
Kristin Wright
Senior Public Relations Manager
media​@​globalgiving​.​org