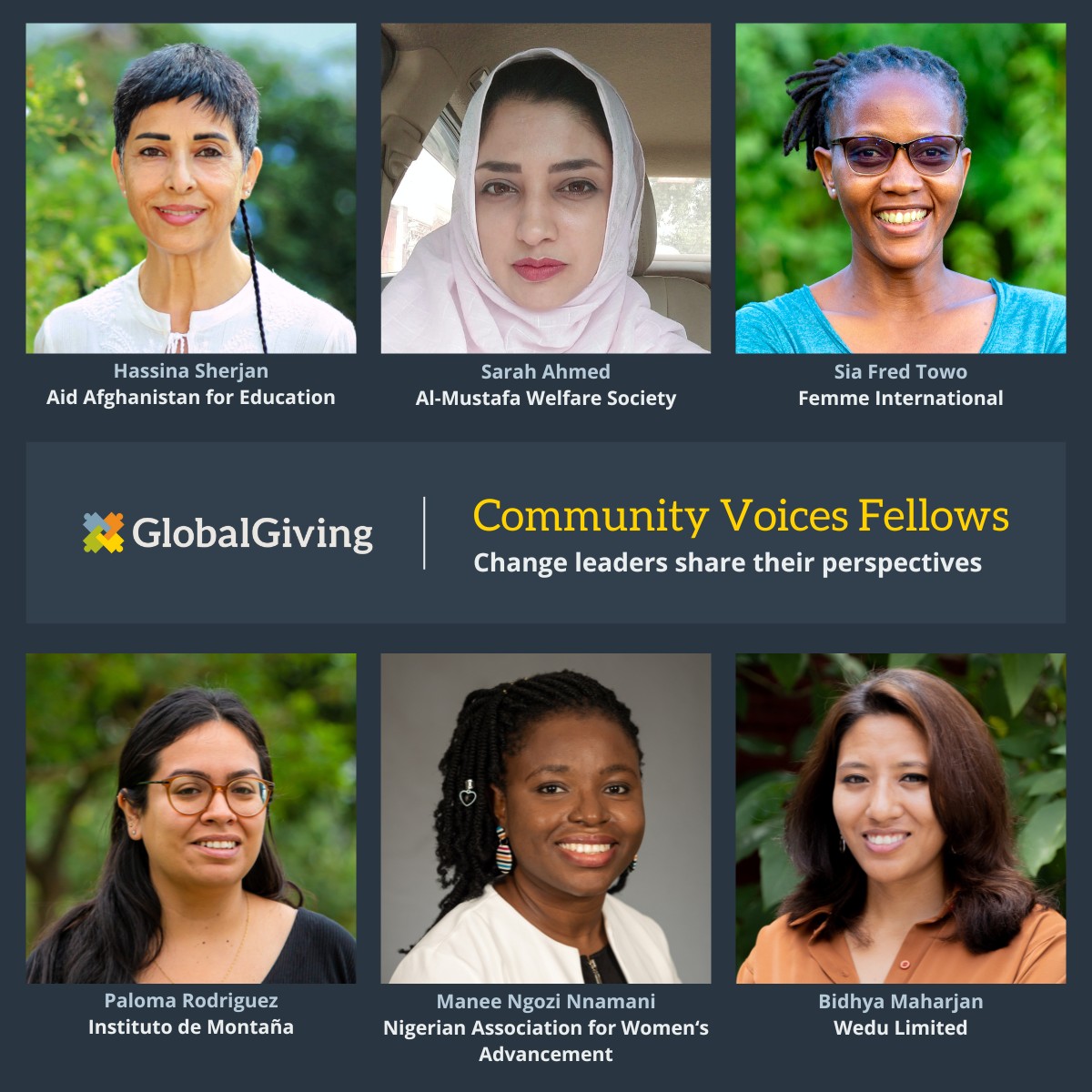 GlobalGiving Launches Op-Ed Fellowship to Elevate Underrepresented Voices
Six groundbreaking nonprofit leaders are named Community Voices Fellows
Nov. 2, 2023 (WASHINGTON, DC) — GlobalGiving is excited to introduce six groundbreaking nonprofit leaders as Community Voices Fellows. The fellowship aims to amplify the perspectives of nonprofit leaders from countries in the Global Majority. Through written editorials, Community Voices Fellows are sharing their ideas in response to current events and their areas of expertise, including gender equality, disaster response, health, education, child protection, justice, and human rights.
The fellows represent different nonprofits and countries in the GlobalGiving community and include:
"We're incredibly excited to support this dynamic cohort of nonprofit leaders," said GlobalGiving CEO Victoria Vrana. "As part of our mission to accelerate community-led change, it is vital to listen to the wisdom of grassroots leaders to combat barriers to equity. We believe raising voices from communities that are chronically underheard and overlooked in international and mainstream media forums is essential to progress."
Each fellow has access to writing workshops by The OpEd Project, a fellow nonprofit with a mission to increase the range of voices and quality of ideas heard in the world in addition to a storytelling training with Minna Taylor, founder of Energize Your Voice. The fellows' work throughout the year has been, and will continue to be, published in GlobalGiving's Learn Library, which annually reaches approximately 1 million viewers and thousands of e-newsletter subscribers, in addition to other outlets.
We invite you to read and share the Community Voices Fellows' important perspectives, now available here, with more op-eds to come.
Launched in May, the fellowship will continue through Dec. 15, 2023. You can subscribe now to read the fellows' content as it is published.
About GlobalGiving
GlobalGiving is a top-rated nonprofit that makes it easy and safe to give to local projects around the world, while providing fellow nonprofits with the tools, training, and support they need to thrive. Since 2022, GlobalGiving has raised more than $826 million from 1.7+ million donors for 34,000 projects in 175+ countries. To learn more, visit www.globalgiving.org.
About The OpEd Project
The OpEd Project is a global thought leadership project and social business founded to change who writes history. We are a community of journalists, thought leaders, and change agents who actively share knowledge, resources, and connections across color, creed, class, sexuality, gender, ability, and beyond. Through our nationally-recognized curriculum, our team of journalist mentors, and through a portfolio of programs in partnership with leading institutions across the nation and the globe, we accelerate the ideas and impact of underrepresented voices, including women of all backgrounds. To learn more, visit the opedproject.org.
Media Contact
Kristin Wright
Senior Public Relations Manager
media​@​globalgiving​.​org