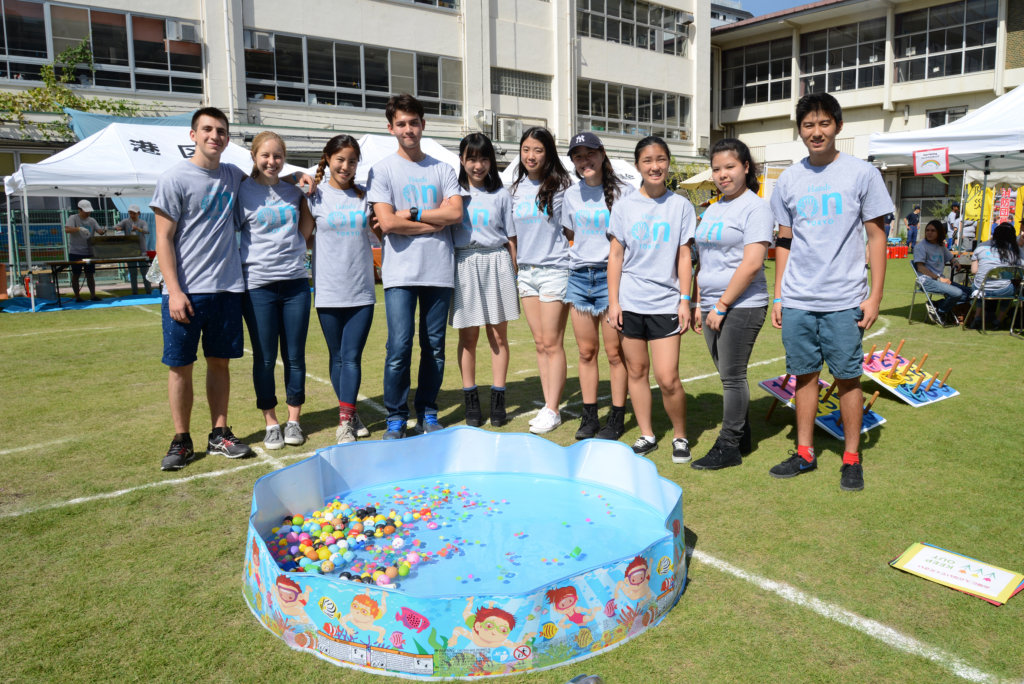 Day of Service is a one-day event which is held for Hands On Tokyo's partner organizations, corporate sponsors and volunteers to get together and celebrate volunteerism. This year, it was held at Higashi Azabu Kumin Kyodo Space, again for everyone to interact with one another and to get to know about Hands On Tokyo's activities.
Day of Service took place on October 4th (Sun.) and it was a beautiful day. Outside on the field, there were petting zoo, face painting, fire trucks and earthquake experience corners. There were also food booths, such as yakisoba (Japanese fried noodles), hot dogs, Wendy's chili, cotton candy and ice cream, drink booth, and bake sale. In the building on the third floor, there were crafts corner, wheelchair and braille blocks experiencing corner, and service dog demonstration.
As a teen leader of the event, the experience was very rewarding, as many different teenagers from many of the international schools, such as the American School in Japan, St. Mary's International School, Seisen international School, International School of the Sacred Heart, New International School and students from a Japanese High School, Kaisei, worked together to help the community.
Prior to the event, each student was assigned to run a game for an hour-long shift. We chose an hour long shift because this allowed for more people to volunteer as well as for them to participate and take part in the event itself. We had five games; mini-golf, bowling, strike out, super ball scoop and ring toss. What was amazing and a first time experience for me was that we worked side by side with students from the blind school. This was a bit challenging at times, but I really felt that we had a good time together. All the volunteers helped each other to make the booth run smoothly and to make sure that the children who came to play the games had a great time.
Also, there were two high school girls with Down's Syndrome who led the dance and we all danced together with them. This was also an unforgettable experience, and the girls seemed very happy to take the lead. With the wonderful weather, people from diverse backgrounds got together as one family and enjoyed the day. It could not have been better.
At the Day of Service, we had about 510 people: 252 volunteers, 148 from partner organizations and 110 visitors, and we gave back 559.5 hours to the community. Thanks to all your continued support, we had another meaningful experience. Day of Service was a great success! And the Hands On Tokyo Teen Group is becoming more and more active and excited about working with the community. Thank you very much for your donation!