Project Report

| Feb 6, 2023
Youth Members: Being Active as Escort Runners!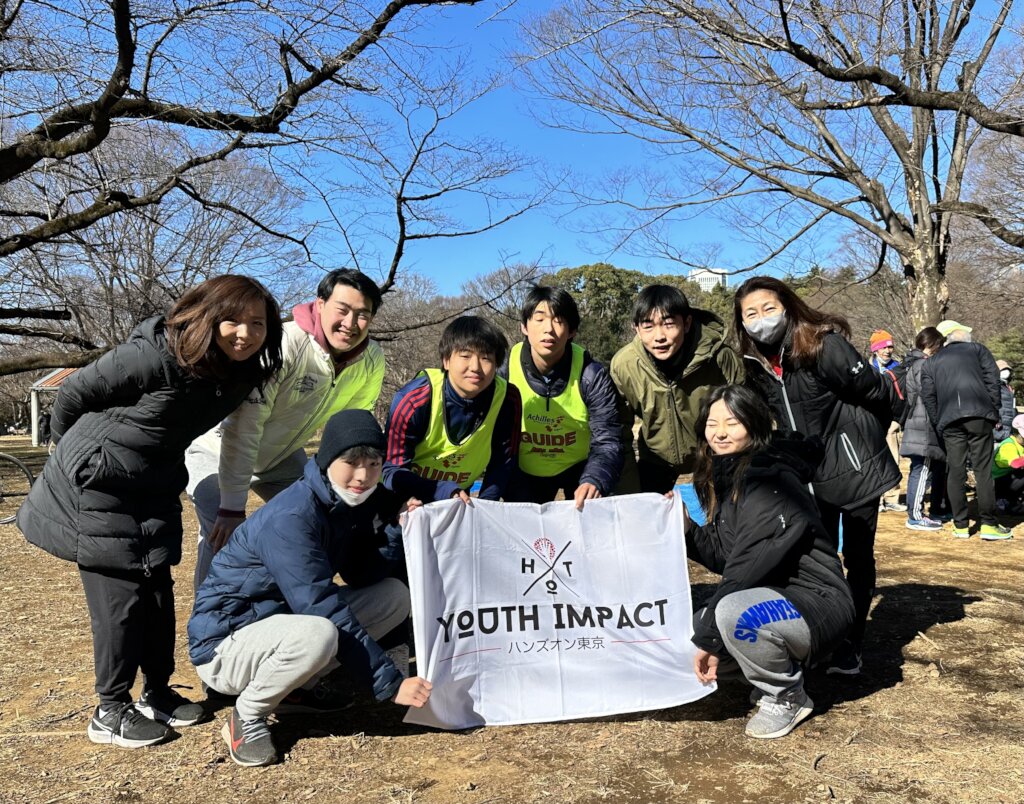 Comparing to some other countries, Japan still keeps an extremely cautious measurements towards Covid-19. Most everyone has their masks on even if they are walking outside in the city. However, most of our partner organizations are slowly opening up to the ideas of having more face-to-face interactions. We are truly excited to actually meet and spend more time together with kids form children's homes, talking to people in the homeless communities and doing activities together with people with special needs.
We are grateful for your continuous support to help us keep addressing the needs of our community. None of our services would have been possible without your commitment and trust towards our organization.
Hands On Tokyo Youth Impact Group has been active to find the way to interact with different partner organizations. We have regular discussions with youth members to explore creative ideas to promote volunteerism and encourage our youth leaders to continue serving for the community in the way that makes people feel more included.

Among many of our Youth Impact activities, we would like to highlight this project that happened on Sunday, January 29th.
As one of our partner organizations, Achilles International Japan provides many opportunities for athletes who are and are not visually impaired to enjoy running and walking together. Hands On Tokyo has been a long-term partner with Achilles, arranging enough volunteers to support the practice activities they hold on the 2nd, 4th and 5th Sundays of each month.
On one early Sunday morning, eight of our Youth Impact members gathered at Harajuku station. We all walked to Yoyogi Park to learn how to be escort runners for the athletes who are visually impaired and came to participate in the running/walking session that day. There were close to 25 athletes who were there ready to be active!
First, all of the members who came to be escort runners had to learn how to guide the runners who are visually impaired. They work in pairs, one person needed to wear eye mask while the other person guided her/him by giving instructions as "start", "stop", "right turn", "left turn", "step up" and "step down".
We can't stress enough how this exercise is important because people can get hurt and injured badly with one little mistake. Our youth members were all aware of the importance of this exercise and paid close attention to the instructor the whole time.
Below is the report from one of the Youth Impact members about her experience being an escort runner for one of the participants from Achilles International Japan.
"The Blind Jogging escort volunteering events, held by Hands On Tokyo, are an enriching experience where a small group of people come together to be physically active. Walking or running, these athletes are devoted to going to Yoyogi park to have fun and fulfilling time. My time was well spent running and learning the lap around the park. I also enjoyed the brisk walks while speaking with my partner about various topics. I appreciate that my jogging partner was just as excited as me to start, and it was fun to keep each other company. I'm glad I could be a part of these events, and I look forward to signing up again." -- M.L.Youth Impact High School Member
Hands on Tokyo Youth Impact Program guides young leaders to design, plan and execute their own projects. To make these projects practical enough for them to carry out, youth members need to see and learn what is going on in the society. In order for youth to actually learn and grasp the reality, it is extremely important that they go out and dive into the communities themselves. This blind jogging practice opportinity was one of the best chances for youth members to get in touch with the community of people with special needs in a real way.
All of the work we do would not be possible without the support from you, our donors. Through your generosity we will empower more youth, and together, continue to make a difference in our community!
Thank you for your continued support and trusting our organization.