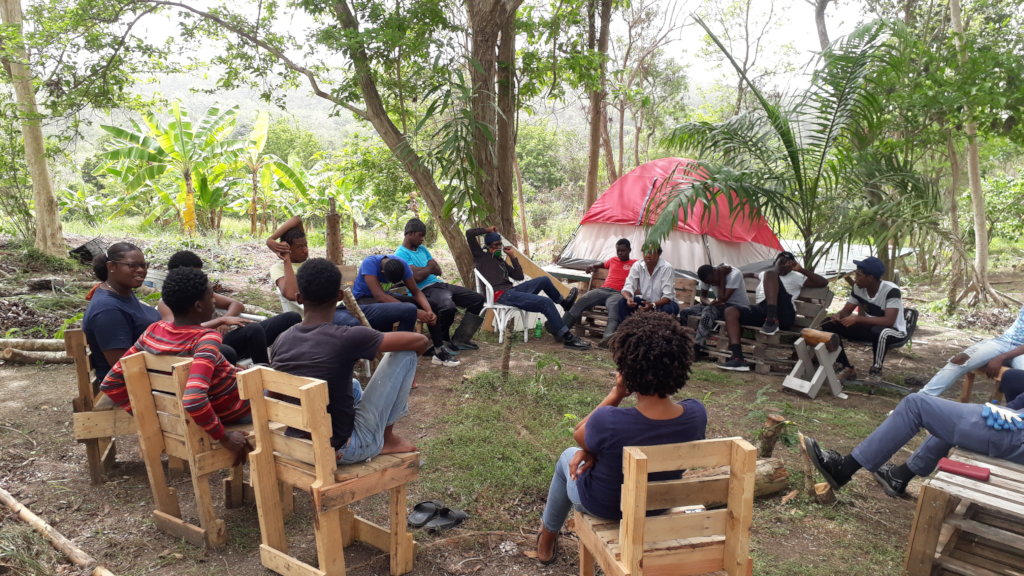 The Sojourner Foundation worked in partnership with the Barbados Youth Advance Corps (BYAC) to engage young people in our Youth Farming and Leadership Programme. The experiential educational programme was developed around agricuture using a Science, Technology, Engineering, Arts and Mathematics (STEAM) curriculum. We shared knowledge of sustainable agricultural practices, culinary arts, natural living and entrepreneurship. We highlighted the importance of food security and having a strong food production system that enables us to feed our community healthy food, while preserving our environment. We demonstrated the many diverse avenues in which young people can become involved in the agricultural sector, such as agro-processing, marketing, sales, bookkeeping, developing technological applications and agritourism. They were also provided guidance on how to navigate adulthood, as we discussed coping mechanisms for current challenges, including those related to COVID-19, as well as helping them to unlock their creativity, compassion and critical thinking skills.
We adapted our experiential learning programme to include 4 weeks of online delivery, which consisted of two days of virtual class meetings and two days of assignments that were to be completed at home. Following the initial 4 weeks online, we completed 3 weeks of practical training from Monday to Thursday on the farm (at Kamp Deed in St. Andrew and J&P Farms in Neil's Plantation) and in the kitchen (at J&P Farms). The students participated through various methods, including the following:
Participating in video conferencing on Zoom with the facilitators
Viewing video content from programme facilitators and completing online quizzes, assignments or projects – at home, on the farm and in the kitchen
Sharing content and/or participating in discussions in the group WhatsApp chat with facilitators
Planting seedlings and making hand sanitiser at home
Posting images or videos of activities done at home
Participating in virtual field trips that took the students across the globe and sharing their reflections during group discussions
Learning and working on the farm and in the kitchen in various capacities
We promoted a sense of discipline and pro-social behaviours through the students' participation in YFLP as we encouraged them to address any negative attitudes and behaviours they displayed. Our aim is to help develop the identity and purpose of each student. The programme looked at their social, emotional and technical skills development, while we encouraged them to find their voices and be capable of initiating and leading positive actions. We emphasise the importance of activism, respect and the protection of our planet, while empowering the students to become leaders in their respective communities.
Activities
YFLP delivered as much of the experiential learning programming as possible through a virtual medium in the initial 4 weeks. The last 3 weeks were on the ground – on the farm and in the kitchen. The following are examples of how YFLP was implemented:
Agriculture: Students were provided with grow boxes, soil mix and seedlings so they could grow food to maturity over the course of the programme. They kept journals of the progress of their plants once they had received them. We discussed and demonstrated the full process of organic farming, including the theory of permaculture and the application of sustainable farming methods.
Technology: Students were taken on a virtual tour of ALL GREENS, a local farm that uses technology to grow food. We discussed the various ways in which they can apply technological advances to farming and culinary arts.
Natural building: We demonstrated how the students can use things that they have in their own surroundings to build. Once they were able to go on the farm, they helped to build a second bamboo shower stall and changing room.
Culinary arts: Supplies were provided to the students for them to make hand sanitiser and they watched our resident chef during virtual classes preparing meals using local ingredients. When they were in the kitchen, they baked sweet bread and they also prepared products such as pumpkin salsa and they can sell in our market space.
Bookkeeping: We discussed basic bookkeeping concepts and how to prepare a profit and loss statement.
Youth Development: We engaged the students in various activities to promote their psychosocial development. We also supported them through challenges they may have been experiencing throughout the COVID-19 pandemic.
Our aim was to be as flexible as possible, as the national response to COVID-19 could have changed and our plans would have to be adapted. We were very fortunate to have been able to engage the students in face to face training with us for the last 3 weeks of the programme.
Assessment
The students were assessed based on their attendance and participation in the online discussions, assigned tasks and projects, online quizzes, virtual challenges, work in the field and recorded reflections. They demonstrated skills that they developed as they posted recordings of themselves carrying out the assigned activities over the 4 weeks of the virtual programme and during the following 3 weeks in the field. We used standards based criteria to determine the students' performance.
Conclusion
We hosted a showcase at the end of the 7 weeks and the students received certificates demonstrating that they had completed the programme, including the standard of their performance. The footage from all the activities was collated in order to show the results of the work the students had done and provide them with a reference library they can keep.
We thank those who have supported us through this GlobalGiving platform to help make this pilot project a reality. We hope to continue raising funds through this platform so we can expand this much needed programme for the youth of Barbados.