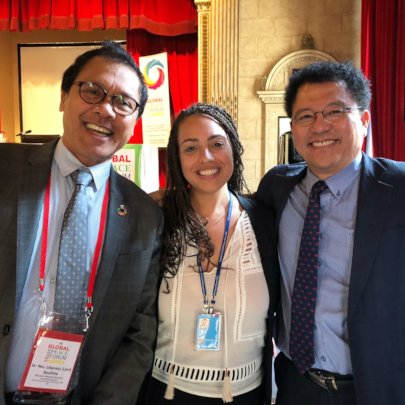 This year has flown by! I'm excited to share what we've been up to and our plans for next year. Very honored and proud to share our newest board member is Ambassador Bonnie Jenkins. Ambassador Jenkins comes with 10+ years of experience in the US government, specifically in the area of WMDs. To see her full bio click here!

With the addition of Ambassador Jenkins, we are looking to broaden our reach and capabilities in regard to policymaking. We have been working with our partners and have also been asked to join a number of committees and working groups at the UN. This is a very exciting development for PEAC. Having the ability to push revolutionary love and heart-centered leadership at some of the highest levels of government and foreign policy is at the heart of why PEAC was created. It's a very exciting and proud moment for PEAC. I am beyond grateful for all your support and encouragement along the way. We could not have made it this far without you!

Through the Survivor's Appeal | Hibakusha Appeal we have also been making inroads with other groups and organizations. PEAC was asked to speak at The Busan Democracy Forum in Busan, Korea this past October. We presented our empathy-building curriculum based on the sorties of survivors from the Hiroshima and Nagasaki bombings. It was very well received and as we do everywhere we go, we pushed people to sign the appeal. We have a good partnership with the groups in Korea working on reunification and will be back in February 2020 to continue the work. Through this conference, we connected with the UN75 committee and are now working on the 75th-anniversary events. We have proposed there be a deeper connection to nuclear abolition establish - especially as the preamble to the UN states "to save succeeding generations from the scourge of war, which twice in our lifetime has brought untold sorrow to mankind, and to reaffirm faith in fundamental human rights, in the dignity and worth of the human person, in the equal rights of men and women and of nations large and small." We are currently working on this with the committee and this too has been very well received.

Looking to 2020 and our project, called Youth Empowerment to Prevent Extinction (YEPE), is a collaboration with the Nobel Prize-winning organization International Physicians for the Prevention of Nuclear War, IPPNW and their sister organization, New York Physicians for Social Responsibility. Our first major event is coming in 2020 YEPE is playing a key role in planning the youth track for the World Conference to Abolish Nuclear Weapons; Resist and Reverse the Climate Crisis; For Social and Economic Justice. The conference will take place from April 24-26, 2020 at historic Riverside Church in New York, on the eve of the Nuclear Non-Proliferation Review Conference. This conference will educate hundreds of youth activists and focus attention on the twin existential threats of nuclear war and climate change. The youth activists will leave the conference with new information, realistic goals, and life-long connections to continue their work to combat these threats. Here's a note from the conference organizers:
"The World Conference will provide a timely opportunity to sound the alarm and to inspire popular movements and sympathetic governments to address the challenges, posed by growing dangers of nuclear war, the climate crisis and the racism, repressions and · inequalities spurred by authoritarian, militarist and oligarchic governments. Racism, other forms of hate and growing economic inequality, driven in part by the rise of authoritarian governments, truncate the lives and hopes of people across the planet. The World Conference will provide a unique opportunity for the world's nuclear disarmament campaigns, allied movements, and organizations, and diplomats committed to banning and eliminating nuclear weapons to amplify our abolition demands to the Review Conference. Making links to climate and social and economic justice movements offers a new opportunity to develop the alliances and intersectional movements we will need to prevail. Our events will include: • A World Conference against A- & H- Bombs held at a suitable site in Manhattan • A rally and march to the United Nations • Presentation of millions of petition signatures calling for the prohibition and elimination of nuclear weapons to the NPT Review Conference • Self-organized youth event"
We are very excited about this new project and partnership. We hope you will follow us on this journey!
Have a blessed and wonderful NEW YEAR. Here's to clear vision in 2020!