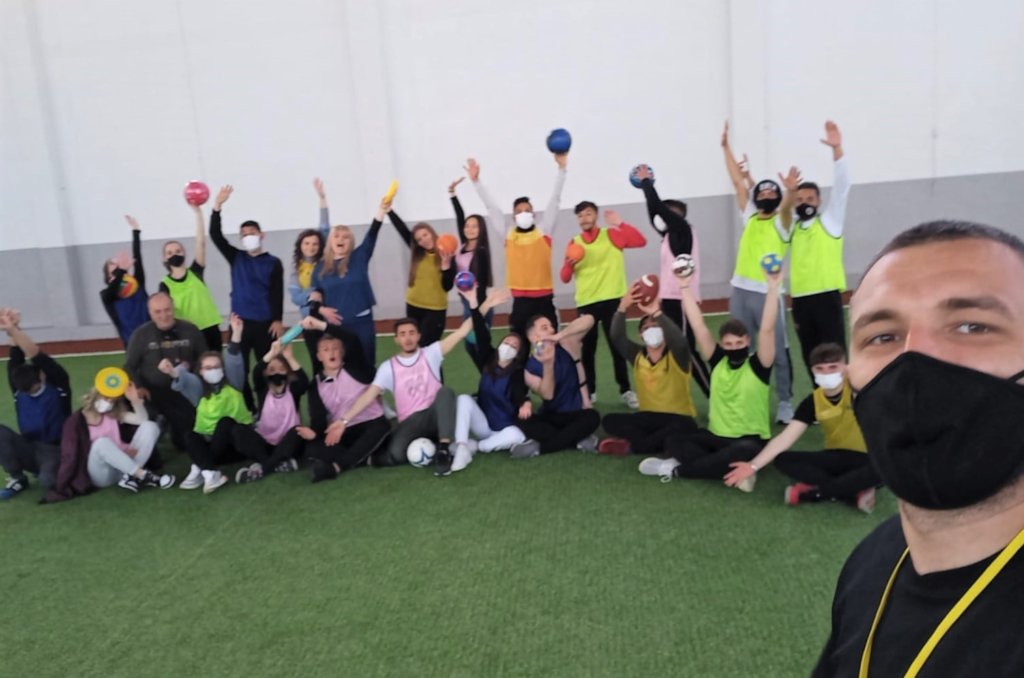 Motivated volunteers during the training
Last time when you read about them, they were on the starting blocks, excited to gain new skills and eager to use them in favour of their communities. Today, these 28 young women and men have been empowered with socio-sport leader's skills, started challenging their stereotypes, and engaging within their communities in promoting cooperation and mutual respect while implementing first series of collaborative and cooperative games and co-organizing citizen events. So, what exactly happened during these three months?
On 31st March, all young volunteers gathered in Fushë Kosovë/Kosovo Polje, near Pristina, for a 3-day training with PLAY's two experienced trainers, Senad Ramani and Abide Ujkani. On the menu? As a main course, the trainers served several interactive training modules based on learning-by-doing approach that enabled the volunteers to master the objectives, the structure and functioning of a collective and cooperative activity & sport for social inclusion, to understand the required knowledge, know-how and interpersonal skills in order to become a great sport leader, and to comprehend and foster child protection during the training and beyond. And as a desert, the youth could taste numerous energizing games, teambuilding activities, discussions, and create new friendships.
The training was concluded by introduction of monitoring tools that will allow the youth and the PLAY team to follow the implementation of the game sessions in the communities and support every volunteer if s/he will need it. Before leaving back to their homes, all young women and men filled a knowledge questionnaire showing the level of understanding of training's objectives, and shared feedback on the training. Do you want to read some?
Redon Syla, a volunteer from Shtime
Redon Syla is a volunteer from Shtime. He liked that through this training he had the chance to meet new people from different communities and create networks with many fellow participants coming from different municipalities of Kosovo. Redon liked the games and especially enjoyed reflecting in the discussion part.
"The games were inclusive, and they always had a message for us to think about."
Milijana Ilic, a volunteer from Lepine
Milijana Ilic is a volunteer from Lepine, a village near Lipjan/Lipljan. It is the first time she participated in activity from an NGO. Milijana expressed that she liked every bit of the training, and her time there made her feel at home, a surprising feeling for a shy person as she was before joining the training. Her experience over the training exceeded the expectations she had before starting it. When she was asked about the games and her favourite part, she said that she liked that every game had a part for the players to reflect and discuss. Moreover, she enjoyed that during the game, the volunteers had the chance to meet one another.
"We were all one," she states.
After the training, the volunteers began to put in practice the cooperative and collaborative games they have been trained in, within their communities. As such, children from Graçanicë/Gracanica, Lipjan/Lipljan, Obiliq/Obilic or Plemetinë/Plemetina could enjoy physical activities and learn in a fun way how cooperation and collaboration can lead us to better results. Also, we should not forget to mention that several of these motivated youngsters participated in citizen and awareness raising events in Graçanicë/Gracanica, at the occasion of Children's Day, and in Obiliq/Obilic for promotion of Sustainable Development Goals.
An activity run by the volunteers in Obiliq/c
What are the next steps? When we will report to you in September, our motivated young volunteers will have participated in summer camp that will be held in August, most probably in beautiful mountains around Dragash/Dragaš. And what will be the topic this time? Change of mindset! We hope that you are as excited as our volunteers and staff to see, hear and read the outcomes of these 5 days waiting for us. If you would like to participate financially in this transforming activity, we would be immensely grateful.
Thank you very much for your kind support.