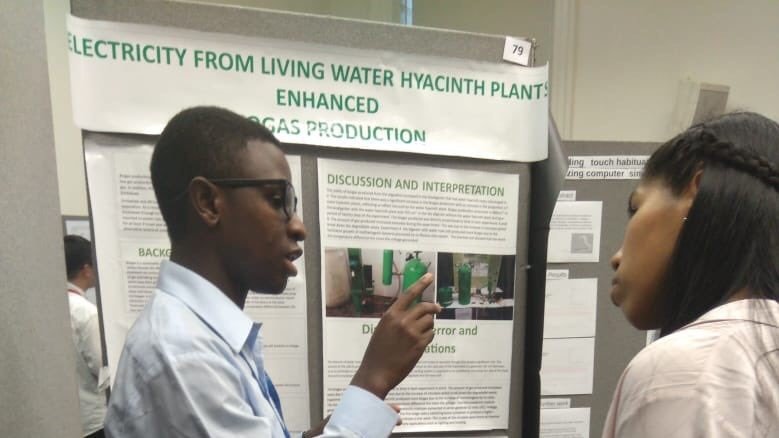 A BIG thank you again to all of you who donated as part of our GlobalGiving fundraising campaign before Christmas. Our focus during this last quarter has been to finalise arrangements with our scholarship students before having the enormous pleasure of welcoming them to London for the 61st London International Youth Science Forum (LIYSF).
We announced details of our scholarship students in our last report but we have a couple of updates here:
- Due to last minute visa issues Rose from Tanzania was unable to travel to London but we are staying connected with Rose with a view to inviting her to LIYSF next year.
- Working with one of our partners, Warwick in Africa, we were delighted to offer a scholarship to Phamela from South Africa who had recently taken part in a science EXPO presenting her research into snake venoms and their potential application in cancer treatments.
So the finalised list of our YoSA scholarship students for this year were George from Kenya, Edzani from South Africa, Macdonald from Zimbabwe and Phamela from South Africa.
The opening ceremony of this year's LIYSF was attended by Her Royal Highness, The Princess Royal and the keynote address was given by President of the Royal Society and Nobel prize winning biologist Professor Sir Venki Ramakrishnan. YoSA students carried the flags of their countries at the ceremony and met with the special guests at the reception that followed.
They then threw themselves into an intensive two weeks of scientific and cultural exchange alongside 500 other students from 77 countries. The Forum provided a total of 44 lectures on a hugely broad range of science topics including astronomy, personalised medicine, machine learning, particle physics, solar cells and smart materials from some of the brightest minds in science including Sir Nigel Shadbolt, Dame Jocelyn Bell Burnell, Sir Steven Cowley and Professor Jim Al Khalili.
55 visits were also on offer to world leading institutes and organisations including Airbus UK, UCL Mullard Space Science Laboratory, Jodrell Laboratory at the Royal Botanic Gardens Kew, National Physical Laboratory, Royal Institution and Scott Polar Research Institute at the University of Cambridge.
Macdonald and Edzani presented their own science projects at the Science Bazaar and Macdonald was selected to take part in the British Council 'Famelab' event the following evening, where he presented his project to all 500 students.
The YoSA students were also interviewed as part of a BBC World Service, Science In Action program which was broadcast during the Forum.
We met with the students regularly through the Forum and it was hugely inspiring to see the impact the experience was having on them both in terms of their science education but also in the connections they were making with other young scientists from all over the globe.
Alongside the scholarship students for this year, LIYSF welcomed back three YoSA students from prior years as staff ambassadors to help run the event; Ammy (Kenya) and Christa (Rwanda) who were sponsored in 2017 and Gracious (Tanzania) who was sponsored in 2018. Whilst Gracious relished the opportunity to attend new science institutes, Ammy and Christa further developed their leadership skills. Christa, who now works as a qualified pharmacist, noted that her employer was happy to support her involvement at LIYSF as the management skills she was bringing back to the company in Rwanda were immediately leading to improvements in their procedures.
As part of the condition of the scholarship all students are required to submit a written report of their experiences at the Forum and deliver a presentation to their school/college back in their local community. We are looking forward to reporting on these activities as part of our next quarterly report, as well as their plans for their continued careers in science.
Links: