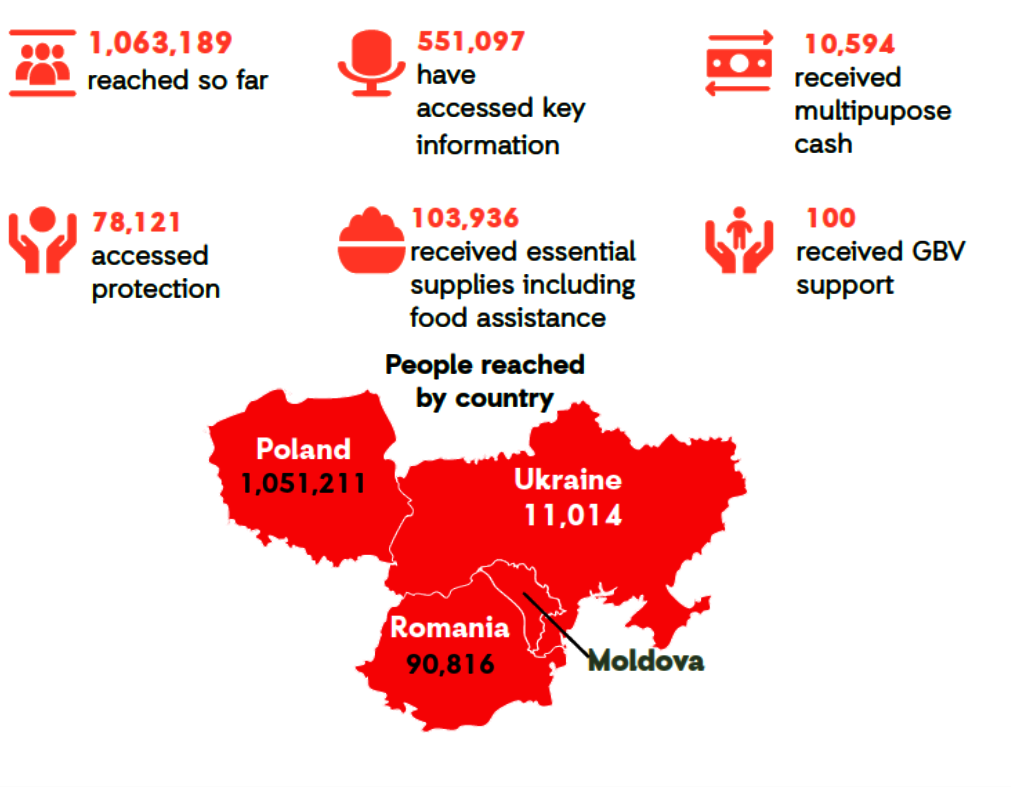 By mid 2022, the overall number of forcibly displaced people worldwide had risen to an estimated 103 million. This is primarily due to the war on Ukraine and other escalating emergencies. In fact, in 2023, it is estimated that 339 million people will need assistance in 69 countries (an increase of 65 million people compared to the same time last year) and that one in every 23 people on the planet will need humanitarian assistance.
ActionAid's Ukraine crisis response was launched in March 2022, co-led by in partnership with local and regional partners with geographical and sectoral expertise in the affected countries (Ukraine, Poland, Romania, Moldovia).The response has been focusing on preventing GBV (gender-based violence) through community-based, women-led protection and offering psychosocial counselling support. ActionAid priority groups include IDP (Internally Displaced Persons) communties, conflict-affected populations housed in emergency shelters and/or host communities; women and girls affected and at risk of GBV; conflict-affected children, older people, and people living with disabilities.
Our key activities include protection, cash programming, shelter, education, relief supplies and non-food essential items.To date, our response reach highlights include:
1,063,189 people reached thus far
551,097 people accessing key infromation
10,594 people receivng multipurpose cash support
78,121 people accessing protection services
103,936 peopel recieiving receiving essential supplies, including food
100 people receiving GBV support
People reached by Country:
Poland: 1,051,211
Ukraine: 11,014
Romania: 90.816
We know these crises and conflicts have a disproportionate effect on women and girls and that they are often affected more than men in the aftermath. Violence against women and girls increases during all emergencies, especially during times of conflict, and to make matters worse, women are often excluded from decision making processes and denied access to essential resources. The increased vulnerability that many women and girls face during emergencies is the direct result of the gender inequality and discrimination that women and girls experience in their daily lives, yet, women and women's organizations are significantly underrepresented in humanitarian response. That's why, at the onset of a crisis, ActionAid does things differently. Our emergency response is guided by our Human Rights Based Approach (HRBA) and Humanitarian Signature – our federation-wide, nonnegotiable approach to humanitarian preparedness, response, and recovery which all humanitarian interventions must adhere to.
This includes:
Shifting the Power: ActionAid's presence and relationships with localorganizations in communities where we work are enhanced through our response, continually expanding on local capacity. We enable local leadership to design and implement programs, and support local leaders to access national funding and advocacy opportunities.
Women's Leadership: We ensure power is shifted to women leaders in order to address existing power imbalances at all levels by promoting the leadership of women who are affected by the crisis. This means that we will focus on women's rights programming, including protection programming, so that women have the space, and agency, to lead change processes.
Accountability to Affected Communities: Effective humanitarian response means that all stakeholders are accountable to affected communities. ActionAid works with communities and local organizations to support them to hold powerful decision makers to account, and to ensure that they are responding appropriately to the needs expressed by the communities themselves.
Sustainability and Resilience: Underlying the Humanitarian Signature, it is crucial to link emergency response to resilience-building and longer term sustainable change, including empowering individuals, training them to know and advocate for their rights, and addressing underlying inequalities through all of our programming.
Thank you for being a champion of our work and for your commitment to human rights around the world! The war on Ukraine has direct and down the line impacts on people and communities in the immediate area and around the world. If you can, please consider sharing this project within your network, so we can continue to reach more people with critical services and achieve our vision of a just, equitable, and sustainable world.
Thank you!