Project Report

| Nov 22, 2023
Maryna's Story: The case for psychological support during the war on Ukraine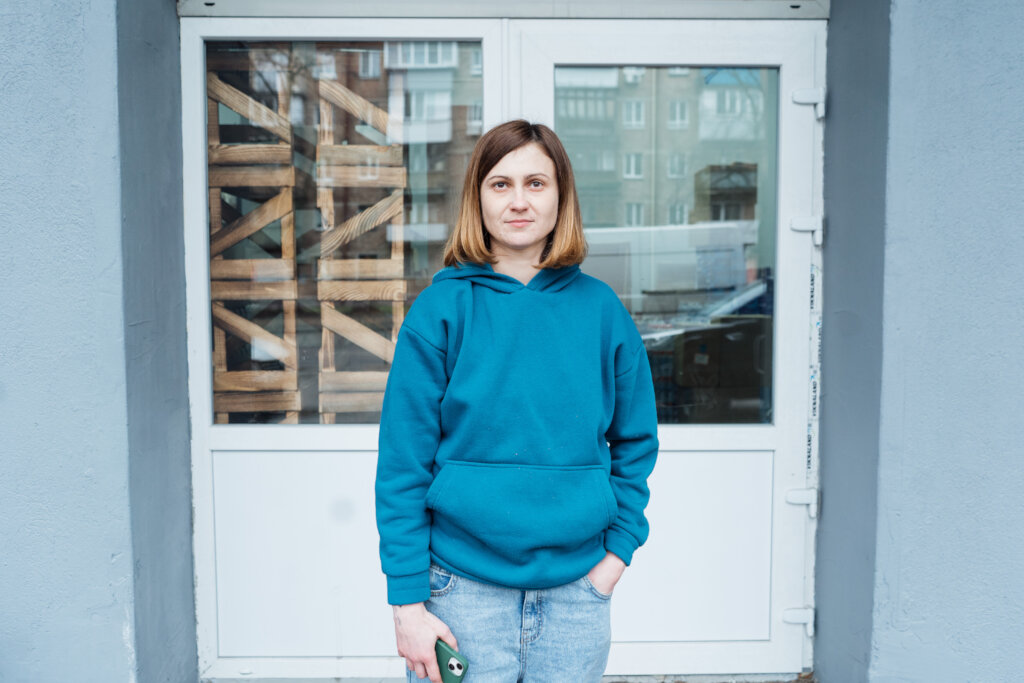 As a supporter of our ongoing work in Ukraine, we want to share with you the story of Maryna, a young woman who has received psychological support through ActionAid's partner, Insight NGO, in Kyiv.
ActionAid has 40 partnerships across 4 countries (Poland, Romania, Moldova, and Ukraine) supporting more than 1 million people. Our response inside Ukraine started in August 2022 where we are working with a range of grassroots-based feminist and young-people-led organisations and networks inside Ukraine.
Part of their work is key to supporting immediate humanitarian needs such as gender-based violence prevention and support, psychological and legal support, and the provision of shelter, food, and medicines. Additionally, they are supporting people to access their rights throughout this crisis.

As of October 2022, 550,000 people have accessed key information and 78,000 people have accessed protection. A further 100,000 people have received essential supplies including food assistance and 10,500 people have received multipurpose cash.

ActionAid's partner, Insight, is supporting 2,500 households across Ukraine. We are working with households where members self-identify as LGBTQI+ people, or women from often marginalised groups (single mothers, young mothers, elderly women and women with disabilities).
Maryna has been a recipient of Insight's services, and now works at a shop in Kyiv. Listen to her tell her story below:
"I was doing quite well, until the 24th of February. I was advancing my career quite well and I was building a new life, new acquaintances, new impressions, new travels. I mean, I can say I lived my life, until the 24th of February. For many, perhaps, Ukrainian citizens, it was very unexpected to us. It was also unexpected for me."

But having woken up on the 24th of February, well, even not from some explosion blasts, I mean just to go to drink some water, I checked my phone, and I saw multiple missed calls from my parents. I saw many notifications in different messengers, and I didn't understand what was going on. I immediately started calling my parents back and while I was calling them, I was thinking that something was going on... Probably, something really important. There were so many messages in work chats, from my friends and acquaintances.
And my mom told me that, "Maryna, the war started." I told her "What war? With whom?" And then she replied, "We are attacked by Russia."

Then, it was complicated because nobody knew what to do and how everything was going to unfold around us. Well, the first thing that came to my mind was to fill up the car, withdraw some cash. And despite it was half past six, there were huge lines at petrol stations, traffic jams as people tried to leave Kyiv, there were enormous lines to get to ATMs and I understood that I am simply losing precious time at that moment in lines, and I would lose more petrol waiting in lines than I would get.

And on the 25th of February... I had to face that I... that I had quite a lot of unresolved psychological issues since 2014 [the Ukrainian Revolution].

After that, I started recalling things back in Donetsk, the first airport assault that had happened in May 2014. It was just overwhelming. I couldn't tell the difference between the memories and reality around me.

My friends, my close ones, they became even closer for me. And we always tried to help each other as much as we could, we we're keeping in touch even if to ask how they were getting on, and so on... all of that was very helpful.

Well, now, it is more or less even because if it wasn't for psychotherapy, it would be very hard. And there were moments when I understood that I simply can't bare it. I was exhausted physically, mentally, and I was really worried about it."
Your donations to this project helps more marginalized people, like Maryna, recieve the support that they deserve to cope with the ongoing trauma, loss, and grief that she is experiencing through the invasion of her country.
Thank you for your support at this critical time.