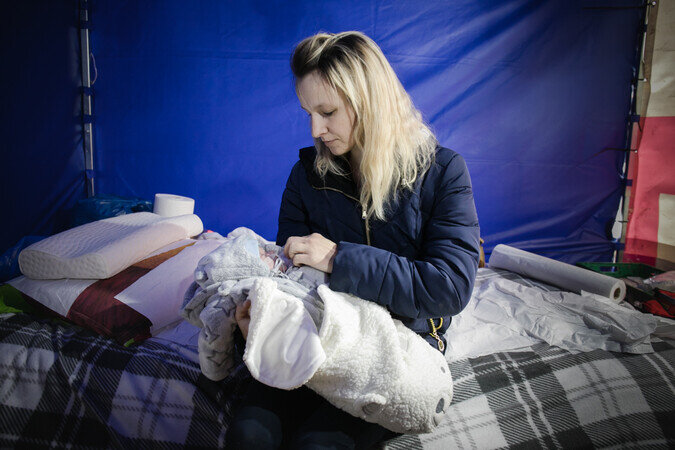 Thank you so much for your support of this project. I'm writing to share some updates from ActionAid's emergency response. We appreciate you taking the time to learn about and act in response to this crisis.
Ukraine is still under attack. More than three million people have fled to neighboring countries in search of safety, while 1.8 million people remain internally displaced. As these numbers continue to grow by the day, so does the need for basic aid and services, as well as the assurance that those services are delivered.
A crisis of this scale deserves response of equal magnitude and so far, an overwhelming number of donors from around the world have contributed much needed funds to groups providing critical and life-saving support. That support is going directly to those in need, in real-time. But since the attacks began almost three weeks ago, news outlets have reported on the many obstacles that humanitarian organizations are facing getting their supplies into Ukraine, while under constant threat - a reality that underscores the equal importance of organizations working to meet the needs of refugees in border countries.
Take Vira, for example. When the shelling started, Vira traveled from Kiev to Poland with her five children, including Artyom, a baby born three months premature. After her arrival, our partners helped Vira get to a camp and provided her family with food and childcare while helping her find the support that baby Artyom needs.
All people seeking refuge, no matter where they're from and what they're fleeing, deserve equal access to essential services and safety. Through our humanitarian approach, which focuses on the immediate and long-term needs of communities affected by crises, especially women and children, ActionAid is positioned to make an impact. Working with local partners in Poland, Romania, Hungary, Moldova, and across the EU, we are delivering emergency food and water assistance, blankets, pillows, clothes, sanitation and hygiene support, and counselling for displaced people.
The future of this crisis is unclear, but what we are sure of now is that this is the time to act.
Let's build on our momentum.
Thank you for your continued commitment to human rights.