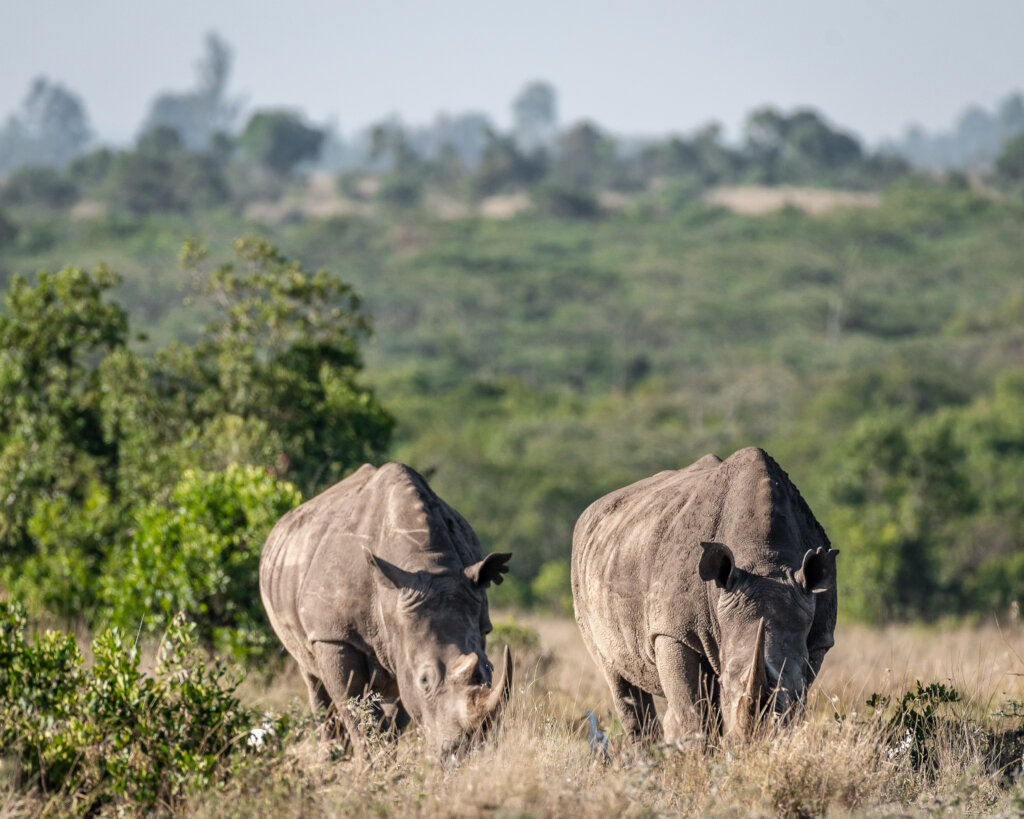 Introduction
In our effort to conserve the northern white rhino and prevent the species moving from functionally to fully extinct, an international consortium of scientists and conservationists meet every few months to perform an ovum pickup. This is sometimes referred to as an OPU or oocyte collection and is the name for the procedure where oocytes (eggs) are collected.
Ahead of the procedure, our expert team carry out a detailed health evaluation to ascertain if Najin and Fatu are fit for the procedure. Last year, after in in-depth ethical risk assessment, the team decided to retire the older of the two remaining females, 32-year-old Najin, as a donor of egg cells. This leaves Fatu, Najin's daughter, as the only egg donor.
What is needed to ensure a successful ovum pickup?
Planning
A huge amount of planning is required to ensure that Fatu is safe and healthy throughout the procedure and that everything is in place for the oocyte collection to be successful.
Equipment & Medicine
The ovum pickup requires specialist equipment and medicine including an ultrasound machine, anaesthesia monitoring equipment, an ovum pickup probe, a microscope, incubator, anaesthetic, anaesthetic reversal, and antibiotics.
Expert Team
The procedure requires a specialist team of world-leading scientists, veterinarians, and northern white rhino caretakers. This equates to about twenty people and includes Professor Thomas Hildebrandt and the rest of the BioRescue team. Professor Thomas Hildebrandt is a specialist in reproduction biology and is one of the pioneers of assisted reproduction in large mammals, including elephants, pandas, big cats, and rhinos. Also present are Kenyan Wildlife Service (KWS) veterinarians and scientists, Dr Stephen Ngulu, our in-house veterinarian and our northern white rhino caretakers. Dr Stephen Ngulu recently said 'I am proud and privileged to be at the frontline in ensuring this species is conserved'.
Observation
Fatu is sedated for the duration of the procedure which usually takes about 1.5 to 2 hours and once the anaesthetic reversal drugs are administered, she regains full consciousness. She can walk within a minute and usually begins drinking and feeding within one hour. She is closely observed for two hours after the procedure as a safety measure.
How many embryos have been created?
Once the oocytes have been collected, they are airlifted to Avantea laboratory in Cremona, Italy, for maturation, fertilisation, and embryo development. To date, eight ovum pickups have taken place, 119 oocytes have been harvested and 14 northern white rhino embryos have been created. The embryos are stored in liquid nitrogen for future embryo transfers into southern white rhino surrogates. Two suitable surrogates and a teaser bull have been selected and moved into a 45-acre enclosure, where they are being closely monitored by their dedicated caregivers.
Thank You
All of this would not be possible without your generous support. Thank you for continuing this journey with us and we hope to bring you exciting updates later this year!