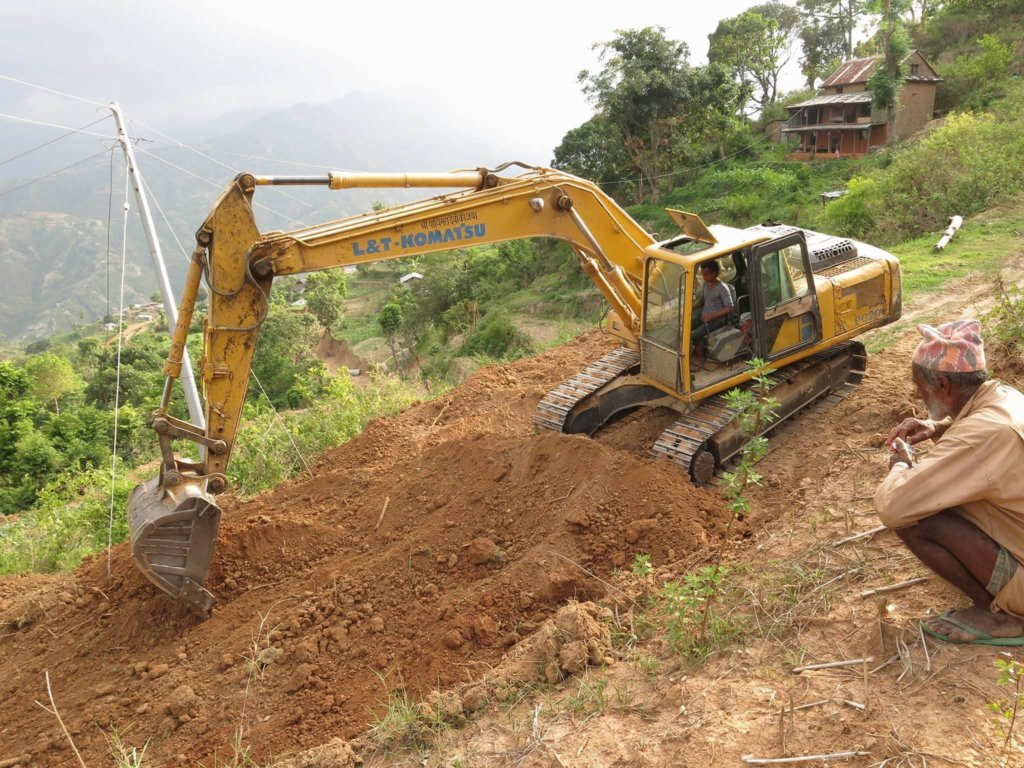 Dear Her Farm Supporter,
So much has happened recently at Her Farm that it's hard to know where to begin. As our last report said, our family grew with the addition of more women and children and there's now 28 people living full-time at Her Farm. As many of you know, following the 2015 earthquakes our village sustained a lot of damage. Most homes were destroyed, the water supply for the village failed and left us with barely enough drinking water and no water for crop irrigation, the road to the village, a lifeline for supplies in and farm products was damaged and even if the road hadn't been damaged, the single truck that brought supplies up and took crops out broke down. That's a lot of challenges to face all at once. The women of Her Farm are some of the most extraordinary people you will meet anyplace on earth. They faced each and every challenge head on and solved them all, with your financial help. The women are in charge of the community loan fund which provides zero interest loans and flexible repayment terms to anyone in the village wanting to rebuild their home. The Government has been slow to respond and only a handful of those who lost homes have received any assistance from the GoN to date. But the women of Her Farm have managed over $50,000 in loans to those who chose not to wait on the government but to rebuild now. One family not only rebuilt from these loans but added to it's herd of dairy cows and dairy buffalo and is now selling paneer to buyers in Kathmandu and supporting themselves well from the sales.
Buying and selling of land in Nepal is considered a man's job. Few, very few women even own land, (unlike the women of Her Farm who own the farm) so when we needed to negotiate the purchase of a parcel of land that had a very productive water resource on it, you can imagine what the landowner first thought when tiny, 22 year old Usha showed up for the negotiations. The landowner of course wanted to know where her husband, or brother or some other male family member was and was at first reluctant to believe this demure, young woman could possibly be a serious buyer. In the end. he capitulated and the deal was done. The land, and the precious water resource it held became part of Her Farm. But, that's not the end of the story. The women of Her Farm still needed to get the water from where it was to where it needed to be. They contracted 38 local men to trench and lay pipe so the water would reach a 10,000 gallon water tank at Her Farm. From that tank nearly the entire village is once again supplied with plenty of water. Amazing undertaking.
Next, the women tackled the road issue. Again, with support from GlobalGiving we were able to completely regrade the road to the village and in the process also made it twice as wide as it had been before. To widen the road required that the private farm land on both sides of the road be given up by its owners. Convincing a struggling Nepali farmer to give up precious farm land for the greater good of the community is no mean feat, but it happened. Every single landowner cooperated.
Her Farm is about to begin it's final post-earthquake project which is to prepare for the next disaster. In Nepal, there isn't a system of "safe places" that are stocked and ready to take in those impacted by quakes, landslides or other natural disasters such as we have in the West. There isn't a disaster response agency, emergency radio network or designated gathering place. There soon will be at Her Farm. We are about to start construction on a 5000sf facility that will house a medical clinic, small medical lab, food supplies, tailor and clothmaking shop and provide room for 150 people to live in times of disaster. The disaster center will have solar and battery back up systems for power, water and food stores and even a community FM radio station (owned and operated by the women of Her Farm, of course) to disseminate critical information to the villages served.
Funding for the building of the disaster center has been secured. Funding for cots, cooking equipment, blankets, emergency food stocks and for the radio station has not been secured so we are counting on all of you at GlobalGiving to lend a hand and help us create one of the very few disaster preparedness centers in Nepal.