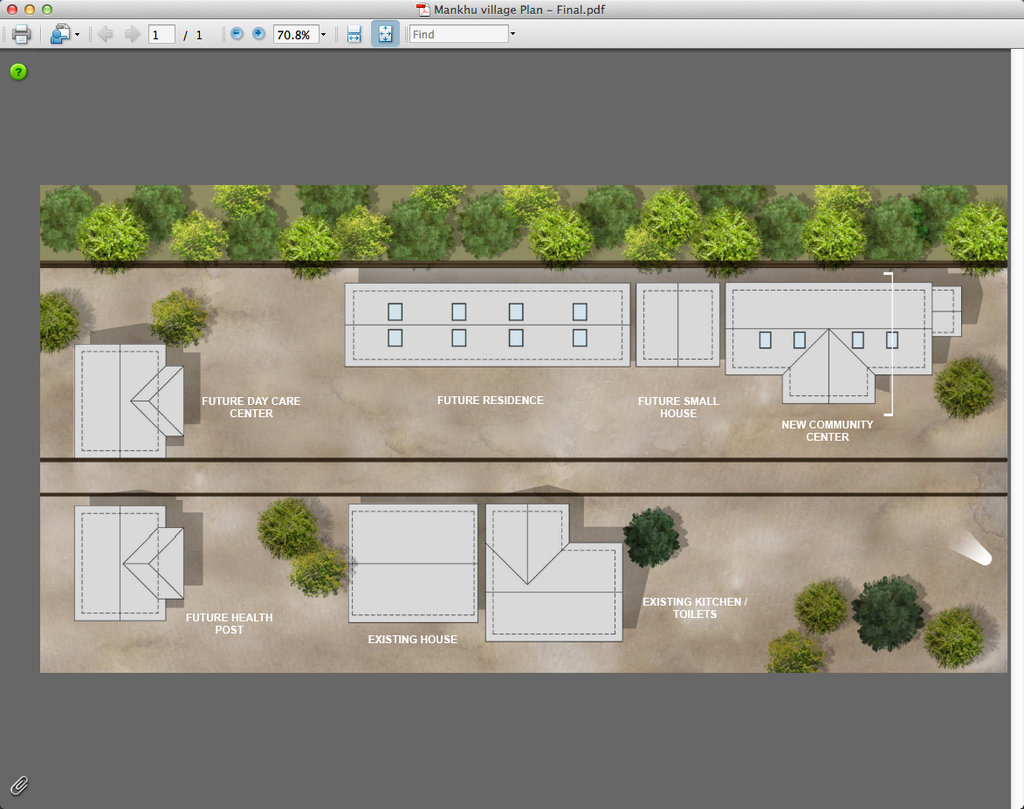 We've created a master plan for the farm in terms of housing and services. The plan calls for several buildings to provide housing for women and children, for the farm staff, for volunteers who want to come and help at the farm and for a community center. I've added the architects rendering of the complex.
To date, the large, long building called "future residence" is nearly complete. A majority of the work was done by a high school group of 30 from Canada who visited for three weeks. The building called "future small house" which is staff housing is nearly complete as well. The building called "existing kitchen/toilets" is actually a two story house for volunteers. On the ground floor there's a large kitchen and dining room and adjacent to the house are two toilets and two shower rooms.
The community building will be the next undertaking. This building will be used for two primary purposes. First, it will be the home of a before and after school program for the children in the village and living at the farm and the second use will be as a day care center.
For the older children, they will be able to come in the morning before school, get a good breakfast, shower, brush teeth and change into their school uniforms. We'll keep the uniforms here as we are able to wash them and keep them clean for the kids. After school we'll have staff on hand to help with homeword.
For the small children, not yet attending school, this will be an early childhood education center. At present, these smaller children spend their days in the fields with their mothers as the mother works. In some cases, older daughters are kept home from school to watch younger siblings. Having a safe place to leave the kids frees mom up to be more productive in her agricultural pursuits and helps ensure that older daughters aren't kept home from school.
Finally, there's a youth group in the village consisting of about 30 people. These youth want to learn English and computers. They are aware that their peers in Kathmandu are learning these things and worried about being left behind for employment opportunties if they can't compete.