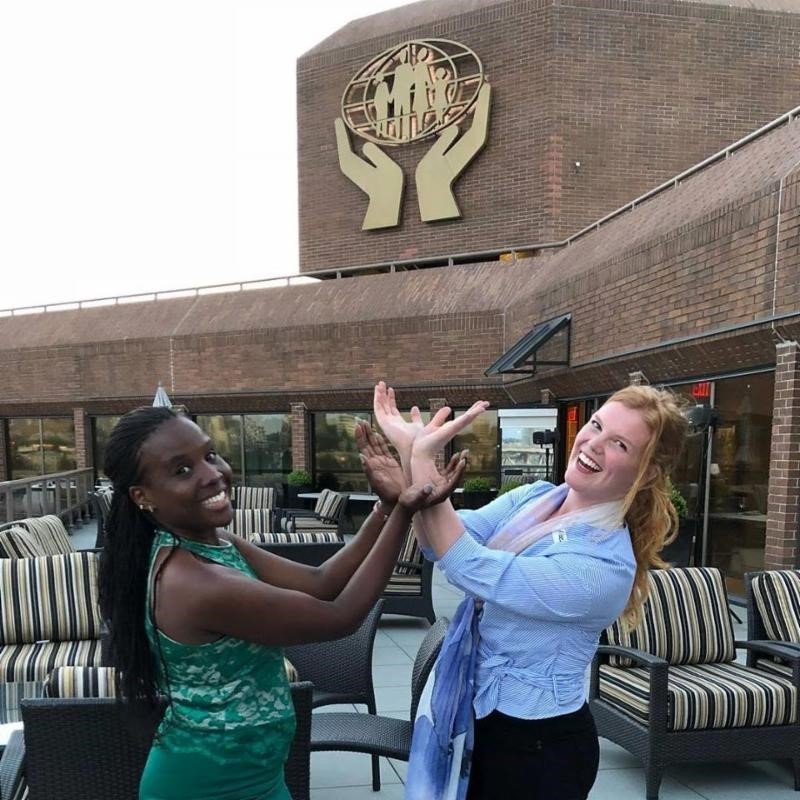 Women credit union managers from Mongolia, Nepal, Philippines, Nigeria, Malawi, Uganda and Kenya have completed their placements at credit unions across Canada as part of the eighteenth running of the CDF Canada's annual Women's Mentorship Program.
They have gathered valuable takeaways from the twelve host credit unions that mentored them through their day-to-day operations, policies and services.
"The combination of classroom learning and credit union placements immerses participants in Canada's credit union culture, providing them with ideas for products, services and management approaches they can apply to their own credit unions back home," says Chima, CDF Canada project officer.
For Alexa, Member Relations Manager at Central 1 Credit Union, the program held extra meaning. "My family were hosts to a Ghanaian credit union manager over a dozen years ago," she says. "My old schoolmates will remember the experience denoted by the wooden bangle I wore, everyday, for years after her visit. It is true what they say about this program deeply affecting the hosts to these inspiring women credit union leaders."
"Fast forward to my own career in the credit union system, and I had the opportunity to help support this incredible program once more which this time brought a courageous, driven, intelligent leader from Kenya by the name of Bettyrose into our lives. The impact she had on me and everyone she interacted with will be something we carry with us for a very long time. We accomplished quite a bit over ten intensive days - a women-in-tech event, the Co-operatives and Mutuals Canada Co-operative Congress, and a wide range of learning - from marketing the co-op difference to people leadership to member relations. And there was Betty's first snow experience."
Reflecting on her time in Canada, Bettyrose says she feels she has come into her own with renewed confidence as a leader, and is inspired by the possibilities for further growth she now sees.
"We have been trained to be effective leaders, manage change and resolve conflicts," says Bettyrose. "We fly out of Canada determined to offer our best to our communities. We are now convinced that co-operatives can indeed make the world a better place to live, and that we have a role to play taking it upon ourselves to go make a difference. We will plan and execute that which we have learned as the professionals we have been made. We commit to share the knowledge we have gained and also mentor others."
"Mentoring is a fantastic opportunity for Canadian hosts to learn about credit unions in other countries," says Chima, "and to know that by sharing their workplace they have enriched the life of a peer woman credit union leader from a developing country. They are living out the 6th co-operative principle, co-operation among co-operatives, on the global stage."
Since 2002, 239 women leaders from 21 countries in Africa and Asia have improved their knowledge and skills on a full range of issues related to day-to-day operations of financial co-operatives, built networks and increased their confidence as leaders. Funding for the program is provided by the Government of Canada through Global Affairs Canada, by the Co-operative Development Foundation of Canada, as well as by Canadian credit unions who open their doors, share best practices and welcome fellow co-operators.