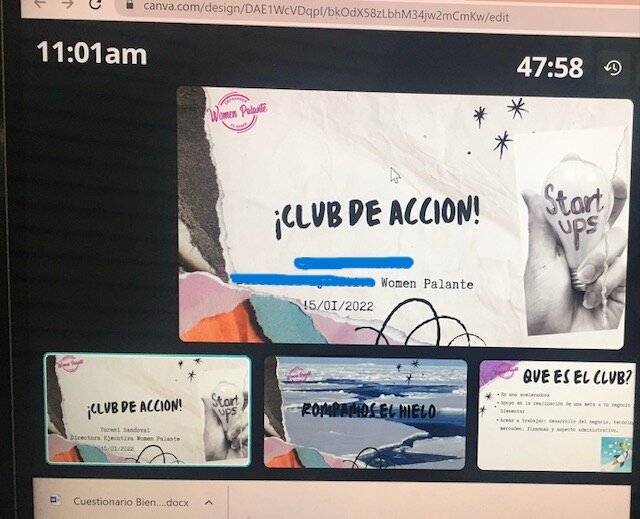 After the culmination of the business incubator, moms have had the opportunity to participate in a six-month fellowship program to continue their well-being and business journey with coaching and mentoring support for life and professional development. Through this program, moms continue to have access to the community and events, fostering an inclusive and supportive community that connects current and previous participants. The goal of this program is to continue to support and monitor the progress of the incubator participants, helping them to continue to improve their business metrics and indicators, and potentially accelerate and grow their business. Each fellow works with staff to develop a specific and individualized action plan with goals specific to their scenario to be worked on in the medium term.
The Fellowship Program allows Women Palante to continue to support our moms for six months after their graduation. This gives moms more time and support to work towards specific goals and the fees help to cover current and future educational programs and contribute to the sustainability of the foundation's programs.
The main objectives of the fellowship are:
Monitoring and accelerating the mother's business or business idea;
Coaching and mentoring;
Digitalization of the business;
Website development and digital presence;
Increase sales;
Improve well-being with yoga classes, coaching and counseling.
This fellowship program is crucial to guarantee the long-term success of our members, while encouraging the moms to share, connect, encourage, and inspire one another in a growing community.
Throughout the year, we organize events that bring together women and mothers, both current members and previous participants to foster and encourage an inclusive and supportive environment. Below is a list of some of our events:
Dance-a-thon: a dance party with energy-packed instructors, food stalls, as well as amazing prizes donated by local and international partners, and even a photo booth. We will celebrate Mother's Day with a "mom & daughter" special while we are doing a FUNdraising Dance-A-Thon. Mompreneurs have the opportunity to promote and sell their product without any charge.
Women Palante events: Events can be virtual or in-person, depending on the current environment. Special days that are observed include: International Women's Day (March 8), Dance-a-Thon (May – coincides with most Mother's Day celebrations in the Americas)
Events by moms for moms: The organization is also supportive of self-organized events by the participants, if they want to get together and organize an event. During the fellowship some students organized business and community events for others moms.
During the first semester of 2022, Women Palante can share that fellowship program has allowed moms to take the following moduls: business development, finances and marketing. Eahc modul has lead for a very high quality staff and it counts with an assistant for the students who support the assignments and office hours. We have specific stories like Stella from Colombia who have digitalized her business, developed her financial plan and received six months coaching where she worked her limit beliefs. She works with fullfillment in her personal and professional life now.
Additionally the students has the oportunity to take yoga class every other week, each of the student has a mentor and some students has received support on their wellness with nutritionist expert or psychologist.