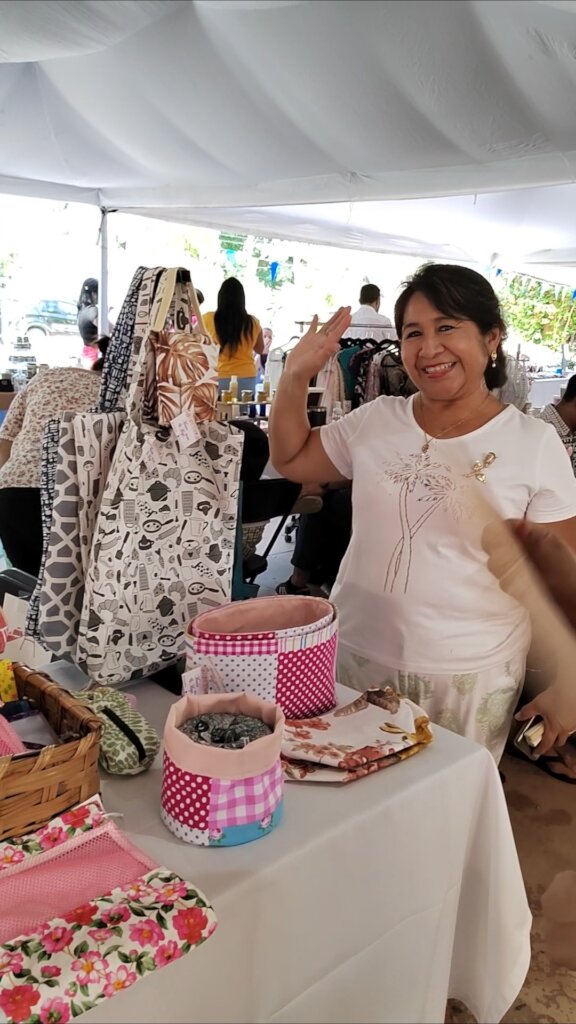 ENGLISH
We continue to support the entrepreneurs of the CReCE project, installing soft and hard skills so that they can improve their businesses and empower them.
The entrepreneurs are currently applying the knowledge acquired through training, successfully advancing their businesses. Let us remember that the training was about how they should have a better management of their money, how to properly manage a credit card, the importance of having a budget, in general adopting a sense of financial Resilience that allows them to have higher profitability in their businesses.
They have also participated in bazaars and some other activities promoting the sale of their products.
The total number of entrepreneurs who successfully completed the training was 80. Graduated entrepreneurs belong to the following communities:
Arrazola
Asunción Ixtaltepec
Heroica ciudad de Juchitan de Zaragoza
Huajuapan de León Oaxaca
Matias Romero Avendaño
Reforma de Pineda Oaxaca
Salina Cruz
San Andrés Zautla
San Blas Atempa
San Francisco Chapulapa
San Jacinto amilpas
San juan bautista cuicatlan
San Juan Chilateca
San Miguel Chimalapa
San Miguel del puerto
San Miguel Peras
San Pedro Comitancillo
San Pedro Mixtepec Juquila
San Sebastián Sebastián Tutla
San Vicente Coatlan
Santa Lucia del Camino
Santa María Atzompa
Santa María Petapa
Santiago Matatlán
Tapanatepec
Tlacolula de matamoros
Tlalixtac de cabrera
Villa de Tamazulapam
Villa de Tututepec
Zimatlan
---------------------
ESPAÑOL
Continuamos apoyando a las emprendedoras del proyecto CReCE, instalando habilidades blandas y duras para que puedan mejorar sus negocios y potenciarlos.
Las emprendedoras se encuentran en estos momentos aplicando ya los conocimientos adquiridos a través de la capacitación avanzando con éxito sus negocios. Recordemos que la capacitación fue sobre como deben de tener un mejor manejo de su dinero, como administrar de manera adecuada una tarjeta de crédito, la importancia de contar con un presupuesto, en general adoptar un sentido de Resiliencia financiera que les permita tener una rentabilidad mayor en sus negocios.
Asimismo, han participado en bazares y algunas otras actividades promoviendo la venta de sus productos.
La totalidad de emprendedoras que terminaron con éxito la capacitación fueron 80.
Las emprendedoras egresadas pertenecen a las siguientes comunidades:
Arrazola
Asunción Ixtaltepec
Heroica ciudad de Juchitan de Zaragoza
Huajuapan de León Oaxaca
Matias Romero Avendaño
Reforma de Pineda Oaxaca
Salina Cruz
San Andrés Zautla
San Blas Atempa
San Francisco Chapulapa
San Jacinto amilpas
San juan bautista cuicatlan
San Juan Chilateca
San Miguel Chimalapa
San Miguel del puerto
San Miguel Peras
San Pedro Comitancillo
San Pedro Mixtepec Juquila
San Sebastián Sebastián Tutla
San Vicente Coatlan
Santa Lucia del Camino
Santa María Atzompa
Santa María Petapa
Santiago Matatlán
Tapanatepec
Tlacolula de matamoros
Tlalixtac de cabrera
Villa de Tamazulapam
Villa de Tututepec
Zimatlan