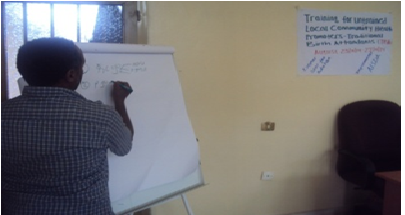 The Women and Child Health Support Project based in Awash, in the Afar region Ethiopia, is now completed after the initial 10 month period. The goal of the project was to contribute to the reduction of vulnerability of mothers and children and to the poor health conditions of the pastoral and agro-pastoral communities.
Key Activities Implemented:
Planning and Launching/sensitization workshop: 38 participants.
Capacity building training for untrained Local community Health Promoters-Traditional Birth Attendants (TBAs): 15 TBAs trained on types of mal- presentation, prolonged labor, obstructed labor and excessive blood loss, how to refer pregnant women to the nearby health facilities before complications, how to identify danger labor signs etc..
Organize Monthly Village Level Community Conversations: 3411 people of whom 1673 females participated and discussed the consequence of FGM.
Organize training for Health Extension Workers: seven days of CC facilitation training was provided for 11 HEWs (all women).
Organize 5 days training/workshop for traditional opinion leaders and key government partners on SRH and MCH: 48 traditional opinion leaders and key government partners participated and issues like equality and gender.
Public Education on Open Markets and community gathering Sites on MCH and SRH : 16 rounds of announcements/awareness raising campaigns in both market places at Awash town and Sabore. Around 14800 people were reached.
Conferences at district level: 92 (44 Female) district and sub district level stakeholders and project beneficiaries have participated in 3 rounds. The participants reviewed each stakeholders roles, achievements, project progresses, challenges, lesson learned and best experiences
Establish and Support district and rural community health prevention taskforces through training: 30 (13 Female) Anti-FGM task force members trained on health promotion and communication, MCH and harmful traditional practices.
Strengthen anti FGM clubs in 10 schools through training and materials: three days of training on FGM and its impact was delivered to 36 participants (18 Female) of anti-FGM clubs.
Support the annual uniform celebration of anti FGM day in all schools
Capacity building training for rural health workers/nurses on health promotion and communication :Training on health education, health promotion and communication skills was delivered to 28 ( 19 females) rural health workers: 14 health extension workers (F=11), 14 (6 F) selected nurses .
Provision of basic medical equipments and essential MCH related drugs for rural health posts.
Key Achievements so far:
Traditional birth attendants promised to quit practicing FGM and to link pregnant women to the nearby health facilities instead of staying at home.
Community Conversation participants decided to report whenever a woman let her baby child be circumcised. Therefore, the women who are allowing this practice to continue will be known to the government.
The clan and religious leaders of the area promised and started to convince the community that FGM is not right under Islamic principles, but rather it is only tradition.
Anti-FGM club members have started out-reach workin the community to promote anti-FGM and raise awareness.
Thank you!
Thank you for supporting our project and work in Awash! We are planning continue our work on Women and Child health support in the area on behalf of the community. To keep up to date with AISDA's work, and to continue supporting in the future, please like us on Facebook and keep in touch!
https://www.facebook.com/pages/Action-for-Integrated-Sustainable-Development-Association-AISDA/453280484790518
actionisda@gmail.com actionisda@yahoo.com
lulsegedaisda@gmail.com