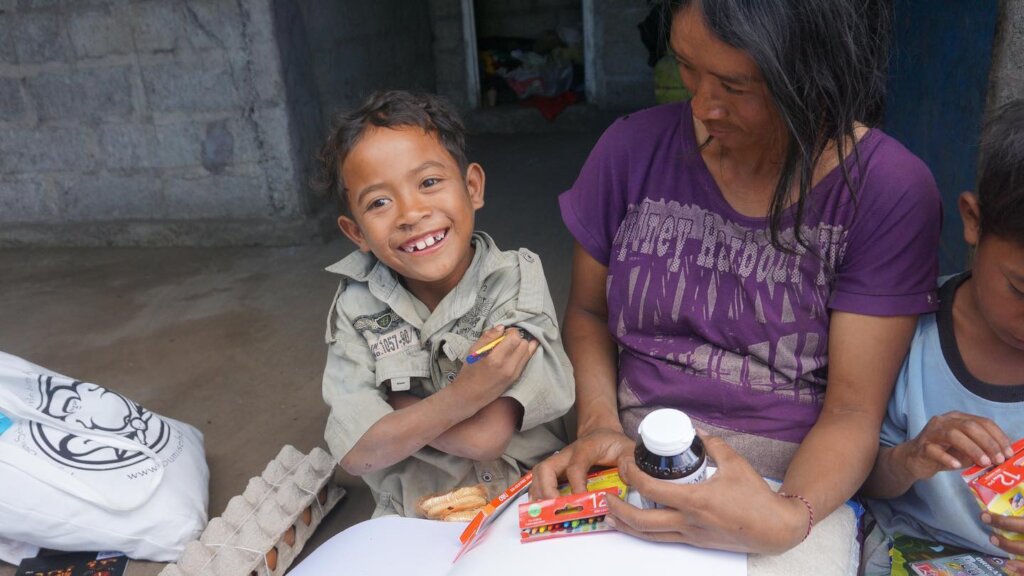 Between September and November of 2021, Bumi Sehat distributed 1,857 sembako packets of food, which includes a 5 kg bag of rice, a carton of eggs and a liter of oil, essential staples of every Balinese household and the backbone of every meal. Our services have been focussed on north-eastern Bali, primarily villages in the Karangasem and Kintamani districts. Some of our local donors with gardens have been providing vegetables and fruit for the sambako, and our own Bumi Sehat gardens have been harvested to add greens, veggies and chilies for the families who need them.
We also distributed 520 food boxes in our home village of Nyuh Kuning.
Typically, the women in a family cook food early in the morning and then leave it in the kitchen for people to come and eat meals during the day. Farmers might eat a small amount of leftover rice before they set out to their fields at dawn and then come back for a main meal in the middle of the day.
Many of the families that Bumi Sehat is delivering sembako to may only be able to eat one meal a day right now. We are trying to deliver packages more often, but there is so much need and road access is difficult, so our team can't get to many villages more than once in a month. However, we know that they are getting good quality protein and nutrition with the eggs and fresh vegetables, as well as what they can raise or grow themselves in their own compounds. Most families keep chickens for the eggs, and may have a small space to grow food, however, our sembako are a vital addition to their diet.
The heavy rainy season we're currently experiencing in Bali has caused flooding in some of the higher villages where we deliver food packages, which may mean that gardens are also washed out. We're watching the situation and trying to get back to affected areas more often.
Thanks to your continued support, hundreds of impoverished Balinese are able to eat at least one nourishing meal a day during this difficult time. Our team combines the visits to deliver food packets with mobile health care and has been able to deliver basic health and prenatal checkups to over 1800 households, and supply free prenatal vitamins to pregnant women, which helps with their nutrition.
One of our corporate partners, Uniqlo, has also generously donated boxes of clothing which we have been handing out along with the vitamins and sembako. Many villagers may only own one or two sets of clothing.