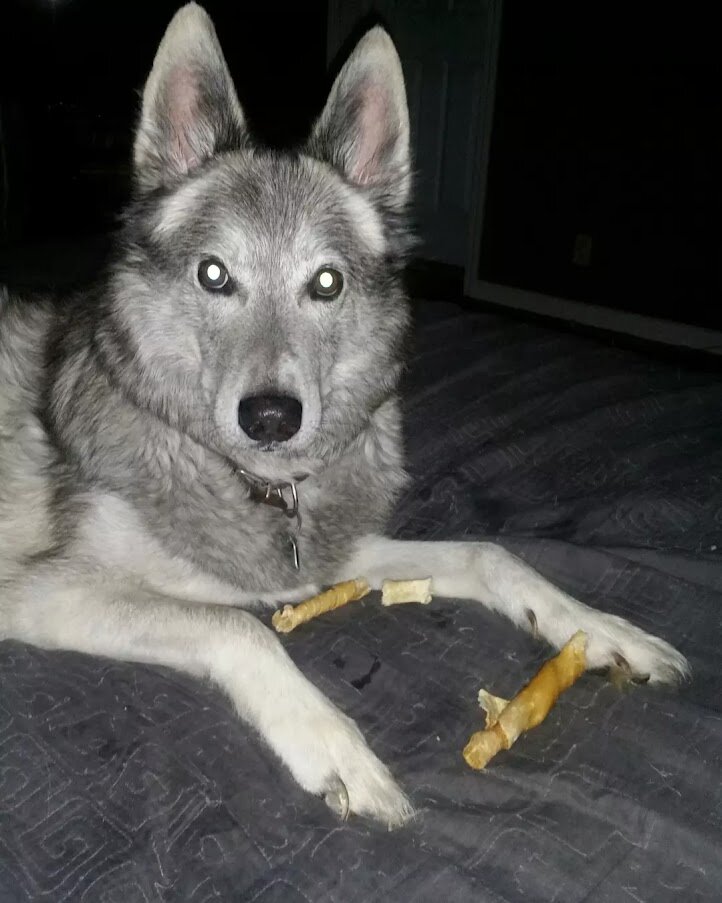 Three Tales of Two Tails

Adoptions of rescued animals require knowing the animals good points and bad points, interviewing adopters, home visits for required fencing and legalities and good old intuition. Here are three stories!

Tale: Three adoptions, two dogs, three homes, three states.

Tail 1: Meet Rudy – a gray stray with an attitude! Rudy got his name because he was "rude". Crate reactive, fence reactive and leash reactive. He came to the farm needing full vet care, neutering and a ton of patience. Rudy decided who he liked and who he didn't like and made those facts known with aplomb!

It was hit and miss with the volunteers, but I instinctively knew his "human" was out there waiting to adopt him. We listed Rudy on "Petfinder", complete with all his flaws. There were quite a few inquiries about him, but none "felt" right. Then, Josh from TN wrote to me. I sent the application and requested pictures of his fencing, and crossed my fingers. Pics and application came back immediately and a request to meet Rudy. Fencing was 6 foot chain link and was the whole yard, not just an enclosure!

An appointment to meet was set and I checked references.

Meeting day: Josh came to meet Rudy and we explained his reactivity issues and let the magic happen. Josh was Rudy's human! In 20 years I have never seen a dog so smitten with a person! We made arrangements to deliver Rudy to complete the home visit and adoption. Kismet!

Tail 2: Meet Phoenix – an older gentleman, shy and fearful. Phoenix too, like Rudy, was particular with his "friends". No real bad habits like Rudy, but he was not going to be "Add collar, instant pet" either! We knew he was going to need patience and work.

Received an inquiry through "Petfinder" for Phoenix from a younger man who said he dreamed about him. Sent an application and requested fencing pictures. The fencing needed some work, so I contacted a friend and former rescuer to complete the home visit and make recommendations to bolster the fencing. She explained to Shane that Phoenix was an older dog that was going to need some work and would not be an animal that would go to the pub or dog parks. The potential adopter said that was ok, Phoenix was the dog he wanted. Check references and made arrangements for Paulina to transport Phoenix to his new home. Introductions seemed to go well, so we let Phoenix stay. After two weeks, I received an email that Phoenix was howling and wouldn't come in the house. My friend and former rescuer contacted Shane and offered to help work with him and Phoenix, but Shane never responded. Three and a half weeks later I got an email that he needed to return Phoenix, as it wasn't working out.

Home checker, friend and former rescuer stepped up and arrangements were made to return Phoenix to FMF.
Tail 2.2: The day after Phoenix came back, I got an email from a friend, Robyn, to visit and talk. She had to give up her woofer in a custody battle, and was heartbroken. She needed a woofer fix. She came to visit, bringing treats for the animals. After hugs and treats dispensed, I asked her if she would like to work with Phoenix, who had just been returned. Well, it was love at first sight!

Robyn made many trips to the Farm to build up trust with Phoenix, and reinforced her fencing as needed. Phoenix has gone to his FOREVER HOME.

Josh: Rudy has given him "Renewable Happiness".

Shane: Come and get him and I'll try to take care of him until you get here.

Robyn: Phoenix has made my life complete again.

Thank you all for reading this story and for your continued support!

Joyous Howls from the Mountain

Nancy and the Pack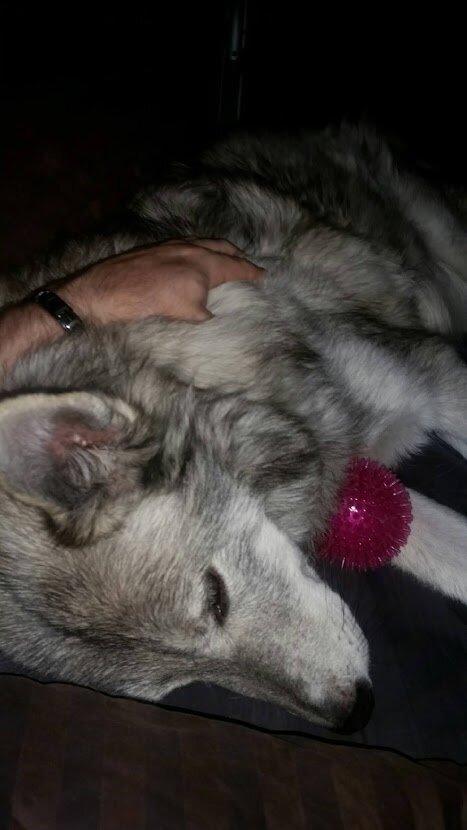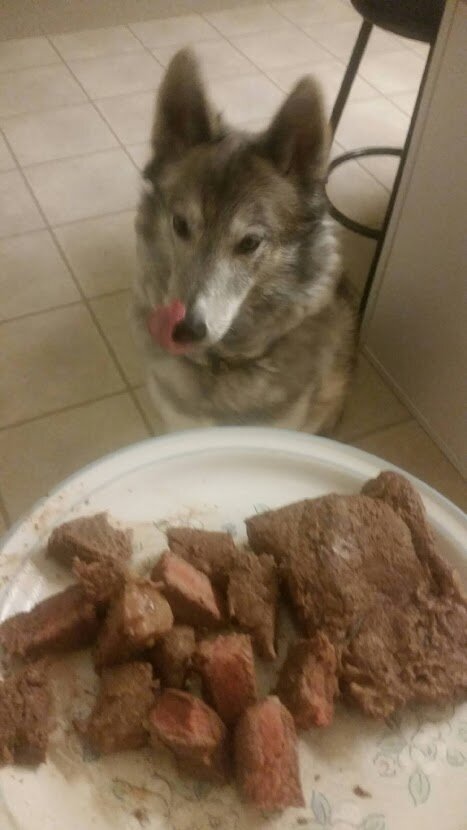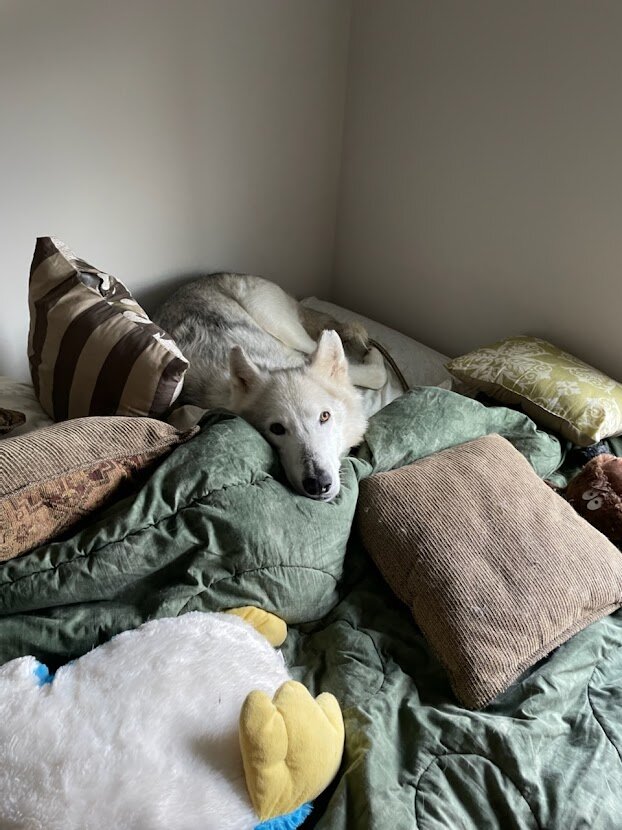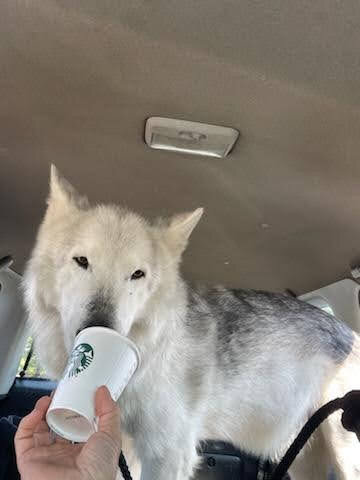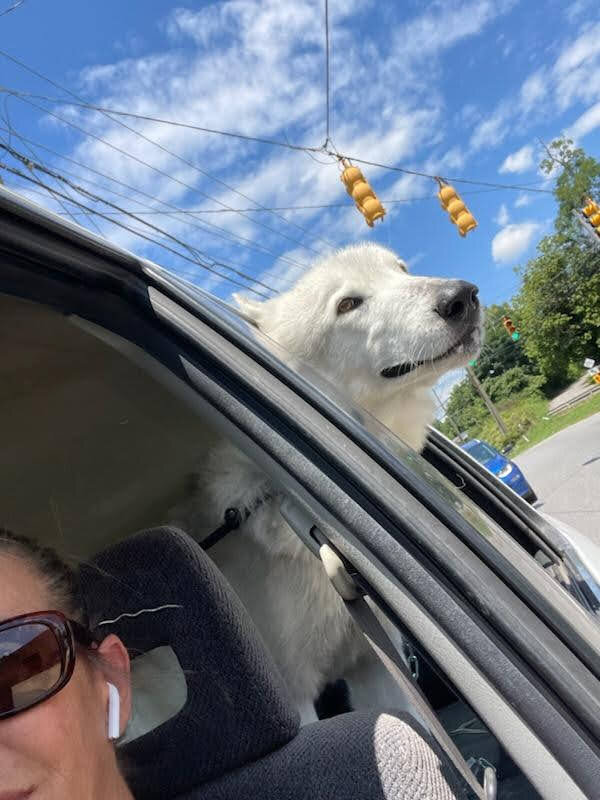 Links: