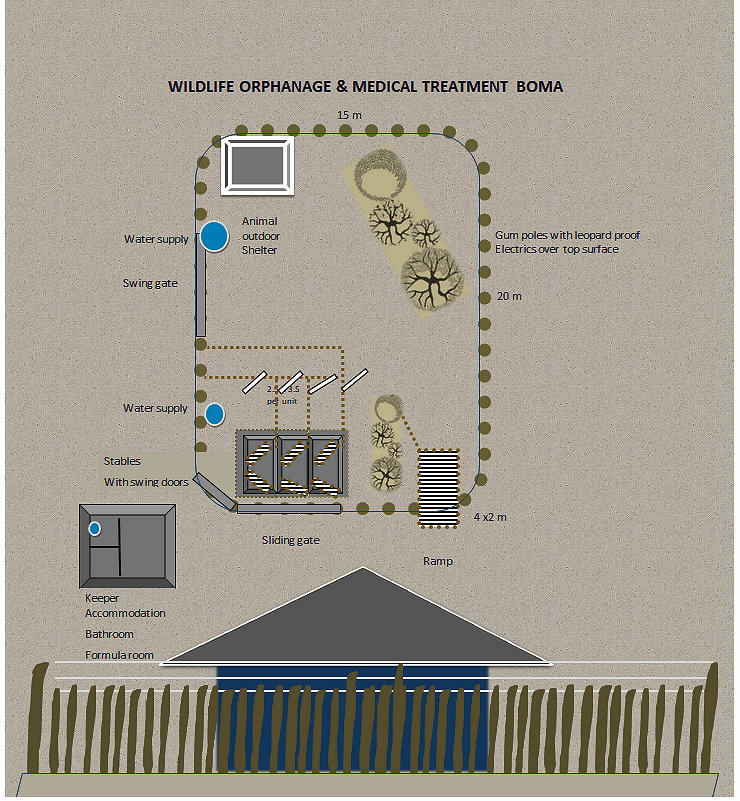 Thank you for your support for our Medical Fund! Without this fund, it would be very difficult to help wildlife that are in need.
We would like to follow up on some of the challenges and successes we have had this year. Our very special project for 2022 is to establish a secure wildlife treatment boma and orphanage. See the photo for details!
The snared hyena and Leopard cam captures
The most recent challenge has been our effort to track the hyena with a snare around her neck - that was seen on a cam camera photo. At first, we placed a predator trap cage with bait that we hoped would attract her back to the area that she was seen in. Unfortunately, this did not work and the cage was removed. Over a period of time at night, a number of hyena approached it but did not enter the cage as they seemed to be suspicious. We removed the cage and the next option was to try to lure her with the recorded calls of another hyena. A number approached and one seemed to have a wound/mark which may have been a snare but it was not certain. We do hope that it was the one we had seen initially. We continue to capture hyenas, leopards, porcupines, and other species of wild that pass the view of the cams – while we keep watching the cams.
Baby orphaned wildebeest - "Flower Patch"
One of our successes has been that we were able to help "Flower Patch" a baby wildebeest that had lost her mother that had been caught in a snare. It was dreadful! Flower Patch was also snared but we managed to constrain her and remove the snare. We also managed to remove the snare from her mother but sadly she succumbed to stress and this caused her to become lame an irreversible condition that carries a grave prognosis and despite intensive extended support treatment, the success rate is very poor. We treated her for many days as she was still nursing Flower Patch, but sadly she had to be euthanized leaving baby Flower Patch to survive as an orphan. The little wildebeest was lucky to be just old enough to manage with grazing and she joined the zebra that forthwith looked after her. Her new "mother" Stripy is our most docile zebra. They are always together and Stripy actually calls with a high-pitched "bark" if Flower Patch moves away! To help Flower Patch survive we provided wildlife pellets that we fed to her twice a day. She loves her supplement food and has grown into a beautiful young lady. We believe that she may have her own calf this year.
Short Tail - A mature wildebeest and how we treated him medically
Another wildebeest we assisted medically was Short Tail. He lost his tail when a predator tried to capture him. He also sustained 2 serious leg wounds that we treated medically for 2 months. Today Short Tail is doing well and although he has a severed tendon in his leg he had flourished and has gained weight. Because we persevered he survived and we are pleased that we had not chosen to euthanize him but to rather treat him medically!
'Milky Way' Our relocated zebra
"Milky Way" has settled in well. And apart from the medical care when he was darted with a sedative by our Veterinarian, to enable him to be transported for over 100 km, and the antidote on arrival, he has not needed any further medical attention. We have however provided him with extra feed to help improve his condition and he is doing very well.
An Urgent need - The secure medical treatment stables
Please assist us with the development of a secure treatment area: Each time an injured animal is helped it becomes very difficult if no secure area is allowed. Our vision is to set up a well-planned treatment stable and secure area. This will only be possible with the support of all who care.
Thank you all once again for your greatly appreciated support!