Project Report

| Oct 26, 2023
Zebra treated for injury. Thank you!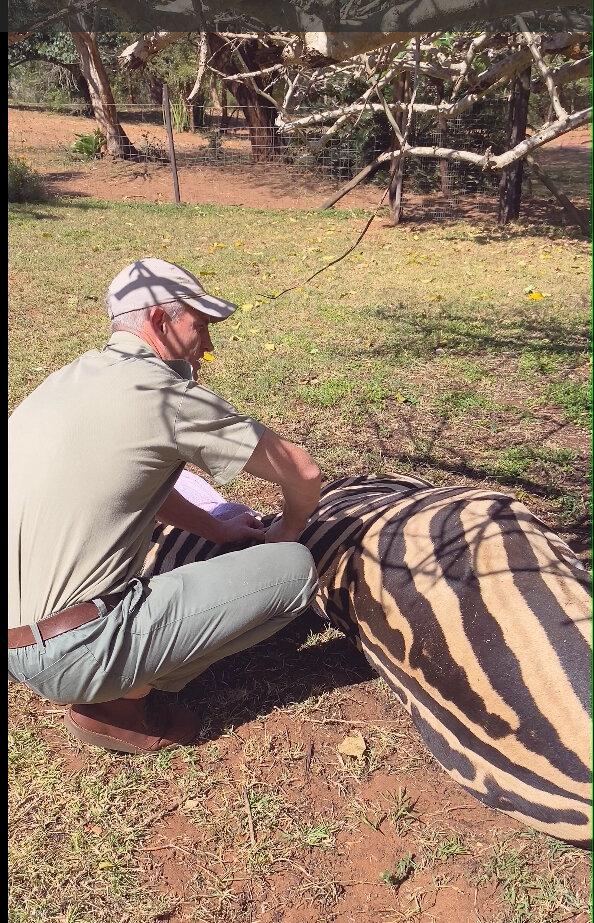 Recently to our dismay, we noticed that our precious Zebra "Stripy" or Dubie as we call her ( Zulu name for zebra) was injured. She had unfortunately been gored by a wildebeest and urgently needed treatment.
To make matters worse she was also limping and it appeared that something was wrong with her hoof! We immediately contacted our vet Dr. Steuart McKernan and thankfully he was able to come up to treat her that same day. Strangely she had only started limping well after we noticed the injury on her rump so the whole situation seemed out of the ordinary.
We herded Dubie into a fenced area that she is familiar with and it was not difficult for Dr.Stuart McKernan to dart her. She hardly flinched after being darted with a sedative/anesthetic as she was preoccupied with some wildlife pellets that we gave her to keep her distracted. After a few minutes, she began to wobble a little and then lay down as the immobilizer worked and we were able to attend to her wound by cleaning it and applying wound spray.
The reason for her limp then became obvious! She had been unlucky to stand on a huge thorn that most unusually penetrated the inner and soft area of her hoof causing severe pain. The thorn was removed and the wound slightly opened to enable disinfectant and antibiotics to be inserted as that type of injury could later cause very serious swelling and infection.
Her treatment was completed and the anti-immobilizer was administered. She stirred slightly and after a short while stood up and once again, even though she was still a little dizzy, she began to look for her meal of game pellets. All was well.
We continued to observe her and were most grateful that her treatment was successful. Any administration of anesthetic or immobilizer has a certain amount of risk. But she was fine. In a few week's time, her wound had healed completely and her limp reduced within about 3 days.
In the meantime, we investigated the cause of her injury and realized that it was "Flower Patch" the orphaned wildebeest now adult with her own calf named "Pollen" Apparently the wildebeest had had a skirmish with the zebra and gored her in her flank. As we wished to prevent this from ever happening again, we requested Dr. McKernan to please trim the tip of her horns. This required another intervention by darting, and this time it was for Flower Patch the Ngu. The procedure was quick and over in no time and only the tips of her horns were blunted, thus preventing her from injuring another animal, although she still has the use of her horns in other ways..
Without the emergency medical treatment that is only possible due to the support you and others that care have given, Dubie would have died.
We are truly Blessed to have your support for the emergency treatment of wildlife! .
Heartfelt thanks once again
Janet Cuthbertson