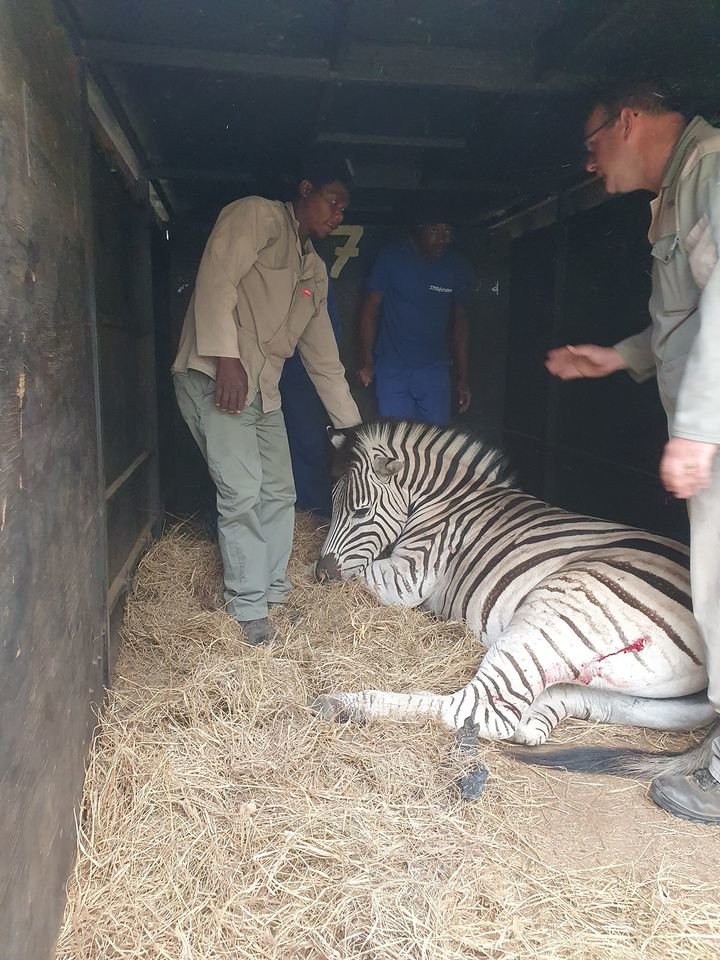 This report is one of Good News! The good news has all been made possible through your most greatly appreciated support of our medical fund.
The medical treatment the injured wildebeest, Short-tail, received has finally healed his wound. Although he has a very slight limp he is doing well and has regained the weight that he lost during the time that his terrible injury was healing. We have also provided supplement feed for him and the other wildebeest and zebra during the dry months before our recent rains.
Our super exciting good news is that a new male zebra "Milkyway" has arrived. He was a stray that had been trying habituate with domestic horses on a sugar cane farm near Eshowe (200 km away) He needed to be moved to a suitable Wildlife Reserve and Suni-Ridge was the perfect place for a forever home! After waiting some months for a relocation permit, our Veterinary Surgeon and his assistant tranquilized him and he was expertly loaded into a wildlife transport trailer and transported to our Wildlife Sanctuary.
We named him Milkyway after the Milk bush which is the meaning of Eshowe in Zulu. Milkyway has settled in well. He is a gentle and friendly young male zebra and much loved. He approaches us if we call him from the fields or bush. He has had to discover all the terrain, new wildlife paths, animals and birds, water holes, and biodiversity of the Sanctuary. He has been seen grazing with nyala, impala, wildebeest, and mongoose, red duiker, baboon and of course the other zebra have all been seen with him. Our medical fund contributed to the Veterinary costs for Milkyway.
We have not had any poaching recently and no injuries from snares. Our medical fund has assisted with various preventative measures such as employing day and night guards to patrol. The work that this provides for our Wildlife Guards is greatly appreciated by them as each worker financially assists up to 10 extended family members.
We still have many summits to reach and during the following months, we hope to raise enough funds to build the much-needed boma and secure medical treatment stables. Your ongoing support is greatly appreciated and truly important. Thank you for caring!
Thank you all, once again for your support! We continue to work tirelessly to maintain and protect the biodiversity of our Sanctuary, and most importantly we continue to provide the very best care for every animal that calls our Sanctuary home!